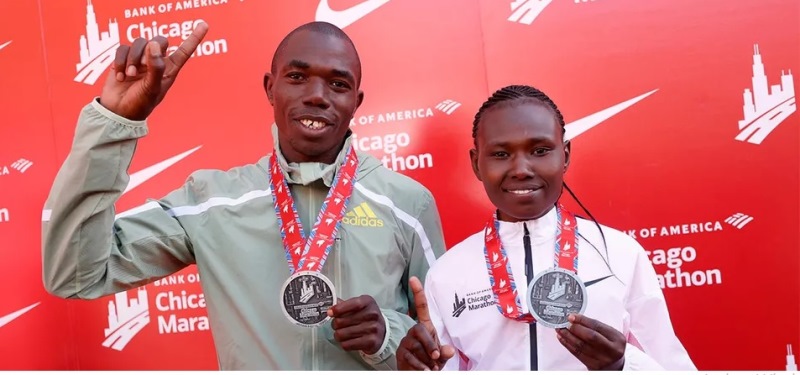 Ruth Chepngetich and Benson Kipruto are back to defend their crowns at the prestigious Bank of America Chicago Marathon, a renowned World Marathon Major and World Athletics Platinum Label Race, on Sunday, October 8.
Chepngetich is set for a face-off with this year's London Marathon winner, Sifan Hassan, and the US record-breaker, Emily Sisson. After consecutive victories in 2021 and 2022, with impressive times of 2:22:31 and a personal best of 2:14:18 respectively, Chepngetich is pursuing her third straight Chicago win. Currently ranked third globally, she trails behind Tigist Assefa, the 2023 world record holder, and 2019 Chicago winner Brigid Kosgei. Chepngetich also boasts a gold medal from the 2019 Doha World Championships.
In her words, Ruth Chepngetich states, "The Bank of America Chicago Marathon is unparalleled. I'm geared up to defend my title and shave off some more seconds."
Hassan, with a Dutch record of 2:18:33, debuted over the marathon distance in London last April. Just six weeks after clinching second in the 5000m and third in the 1500 m at the World Championships in Budapest, Hassan is prepping for her second marathon. She also has two golds and a bronze from Tokyo 2021 Olympics.
Sifan Hassan comments, "Though my training centered around the World Championships, I thrive on challenges. Armed with my London experience, I anticipate what Chicago will teach me."
Sisson, the previous year's Chicago runner-up, improved the US record by 43 seconds, clocking 2:18:29. The American also holds the US half marathon record.
Emily Sisson remarks, "Setting the American marathon record in Chicago was memorable. I eagerly await another exhilarating race this October."
The only time Hassan and Chepngetich raced head-to-head was at the 2018 Copenhagen Half Marathon, with Hassan setting a European record and Chepngetich placing fifth. Hassan has outpaced Sisson four times in 5000m and 10000m races.
The talented Genzebe Dibaba, an Ethiopian with an Olympic silver and world gold medal in the 1500 meters, is preparing for her third marathon. Other formidable contenders include Ethiopians Tadu Teshome and Ababel Yeshaneh, with notable past performances and US athletes Emma Bates and Molly Seidel, both with commendable achievements.
Highlighting the men's competition, Benson Kipruto is poised to defend his 2022 title, where he clocked the fourth-fastest Chicago Marathon time at 2:04:24. If victorious again, Kipruto will be the first to win consecutive editions since Sammy Wanjiru in 2010.
Among Kipruto's challengers is his countryman Kelvin Kiptum, who narrowly missed the world record at the London Marathon last April. Seifu Tura, the previous year's Chicago runner-up, hopes to secure another podium finish, while Olympic bronze medalist Bashir Abdi from Belgium targets a top-three spot.
Promising Ethiopian Kinde Atanaw and other noteworthy athletes such as Mohamed Esa, John Korir, and Wesley Kiptoo are also in the fray. The US front-runners are Galen Rupp and Conner Mantz, both eyeing the Olympic qualifying standard.
With such a formidable line-up of athletes, this year's Chicago Marathon promises to be an electrifying event.
-->