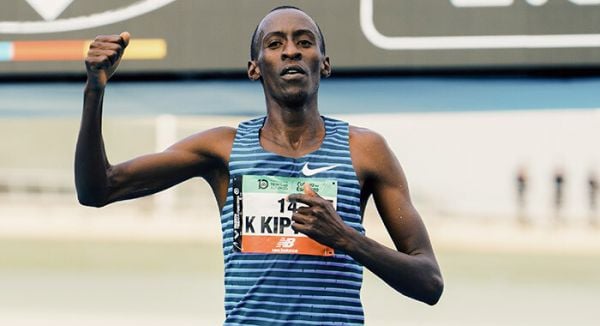 The organizers of the 2023 Bank of America Chicago Marathon, a key part of the Abbott World Marathon Majors series, have unveiled the finalized entry lists for both men's and women's elite fields. The announcement has set the stage for a thrilling race in the Windy City, with top marathon talents gracing the event.
Men's Elite Field
The men's elite field will be headlined by none other than the second fastest marathoner of all time, Kelvin Kiptum. This promising and celebrated group boasts ten runners, each with personal best times of under 2 hours and 10 minutes.
Kiptum, the reigning London Marathon champion, has a clear and ambitious vision for the Chicago Marathon, scheduled for October 8: shattering Eliud Kipchoge's world marathon record. With a stunning victory at the London Marathon held on April 23, where Kiptum clocked an impressive 2:01:25 in just his second-ever marathon race, expectations are sky-high. This near miss to the world record of 2:01:09, established by Kipchoge at the 2022 Berlin Marathon, only fuels the anticipation for a potential record-breaking performance in Chicago.
Women's Elite Field
The women's elite field is equally stellar, led by the illustrious Ruth Chepngetich, the third fastest marathon of all time and former world marathon champion. The lineup is robust, featuring eight exceptional runners with personal bests falling under the 2 hours and 20 minutes mark.
MEN:
Kelvin Kiptum - 2:01:25 (London, 2023) KEN
Bashir Abdi - 2:03:36 (Rotterdam, 2021) BEL
Benson Kipruto - 2:04:24 (Chicago, 2022) KEN
Dawit Wolde - 2:04:27 (Rotterdam, 2021) ETH
Seifu Tura - 2:04:29 (Milan, 2021) ETH
Daniel Do Nascimento - 2:04:51 (Seoul, 2022) BRA
John Korir - 2:05:01 (Chicago, 2022) KEN
Huseydin Mohamed - 2:05:05 (Amsterdam, 2022) ETH
Milkesa Mengesha - 2:05:29 (Valencia, 2022) ETH
Galen Rupp - 2:06:07 (Prague, 2018) USA
Conner Mantz - 2:08:16 (Chicago, 2022) USA
Yuki Matsumura - 2:09:01 (Otsu, 2021) JPN
Takashi Ichida - 2:09:15 (Oita, 2022) JPN
Kei Katanishi - 2:09:27 (Otsu, 2021) JPN
Matt McDonald - 2:09:49 (Chicago, 2022) USA
Jorge Castelblanco - 2:09:49 (Valencia, 2020) PAN
Mick Iacofano - 2:09:55 (Chandler, 2020) USA
Masashi Nonaka - 2:09:57 (Osaka, 2023) JPN
Masaki Tsuda - 2:10:40 (Oita, 2023) JPN
Mizuki Higashi - 2:11:04 (Tokyo, 2023) JPN
Colin Mickow - 2:11:22 (Chandler, 2020) USA
Andrew Colley - 2:11:26 (Rotterdam, 2023) USA
Frank Lara - 2:11:32 (Houston, 2022) USA
Kevin Salvano - 2:11:49 (Duluth, 2023) USA
Clayton Young - 2:11:51 (Chicago, 2022) USA
Joel Reichow - 2:12:11 (Sacramento, 2022) USA
Brian Shrader - 2:12:53 (Paris, 2023) USA
Dan Kremske - 2:14:53 (Chicago 2019) USA
Daniel Mateiko - Debut KEN
Wesley Kiptoo - Debut KEN
Connor Winter - Debut USA
WOMEN:
Ruth Chepngetich - 2:14:18 (Chicago, 2022) KEN
Tadu Teshome Nare - 2:17:36 (Valencia, 2022) ETH
Joyciline Jepkosgei - 2:17:43 (London, 2021) KEN
Genzebe Dibaba - 2:18:05 (Amsterdam, 2022) ETH
Sutume Kebede - 2:18:12 (Seoul, 2022) ETH
Emily Sisson - 2:18:29 (Chicago, 2022) USA
Sifan Hassan - 2:18:33 (London, 2023) NED
Tigist Girma - 2:18:52 (Valencia, 2022) ETH
Ababel Yesheneh - 2:20:51 (Chicago, 2019) ETH
Des Linden - 2:22:38 (Boston, 2011) USA
Emma Bates - 2:23:18 (Eugene, 2022) USA
Aliphine Tuliamuk - 2:24:37 (Boston, 2023) USA
Molly Seidel - 2:24:42 (New York, 2021) USA
Nell Rojas - 2:24:51 (Boston, 2023) USA
Dakotah Lindwurm - 2:25:01 (Duluth, 2022) USA
Sara Vaughn - 2:26:23 (Chicago, 2022) USA
Andrea Ramirez - 2:26:34 (Chandler, 2020) MEX
Tristin Van Ord - 2:27:07 (Houston, 2023) USA
Gabriella Rooker - 2:27:38 (Duluth, 2023) USA
Diane Nukuri - 2:27:50 (London, 2015) USA
Maggie Montoya - 2:28:07 (Chicago, 2022) USA
Dominique Scott - 2:29:19 (London, 2022) RSA
Ann Marie Tuxbury - 2:31:31 (Sacramento, 2022) USA
Stacy Ndiwa - 2:31:53 (Istanbul, 2022) KEN
Alec Sandusky - Debut USA
-->