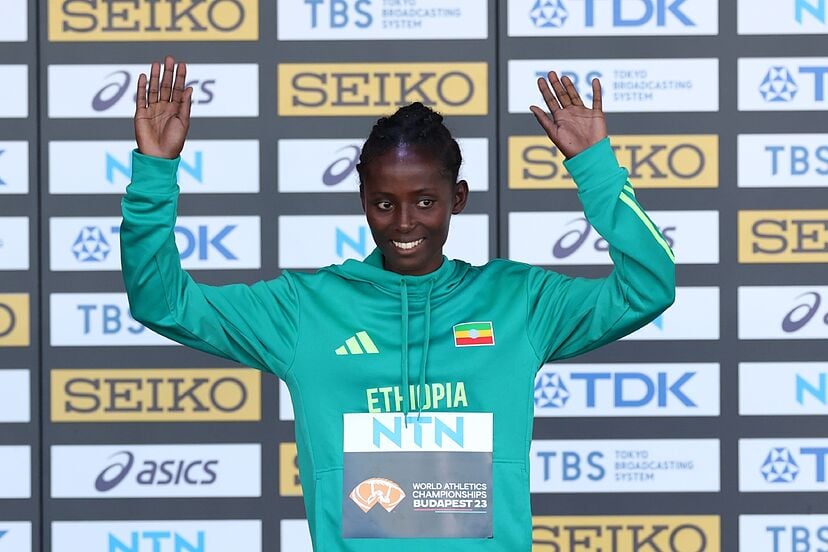 Riga, Latvia – Ethiopia's Diribe Welteji made a stunning statement at the World Athletics Road Running Championships on Sunday, snatching victory from Kenya's Faith Kipyegon to win the inaugural women's world mile title. Showcasing impeccable stamina and speed, she set a new world record of 4:20.98, leaving spectators and competitors in awe.
Welteji executed a stellar performance, breaking away from multiple world champion and world record-holder Kipyegon near the Freedom Monument during the race's climactic moments. Without a backward glance, the 21-year-old world 1500m silver medallist captured her first senior title with a dominating run, leading an Ethiopian one-two finish as Freweyni Hailu overtook Kipyegon to claim silver with a time of 4:23.06 against Kipyegon's 4:24.13.
As the race commenced, Kipyegon's focus was palpable as she led the pack. However, the collective prowess of Welteji, Hailu, and Kenyan Nelly Chepchirchir soon emerged as a formidable challenge, transforming the race into a fierce competition for podium spots.
Kipyegon and Welteji broke away, leading by two seconds after the first kilometer, clocked at 2:41. Despite this lead, uncertainty loomed as they neared Riga's old town finish line. Kipyegon, showing signs of strain and frequently looking back, succumbed to Welteji's strategic and relentless surge by the central landmark.
Crossing the finish line with exuberance, Welteji's triumphant 4:20.98 not only earned her the prestigious world title but also shattered the inaugural road mile record of 4:27.97, previously held by Nikki Hiltz in Des Moines in April.
This victory marked a significant turn from the world 1500m event in Budapest in August, where Kipyegon triumphed over Welteji. Despite a season replete with world records and titles in the 1500m, mile, and 5000m events, Kipyegon couldn't maintain her winning streak in her debut road race in Riga.
-->