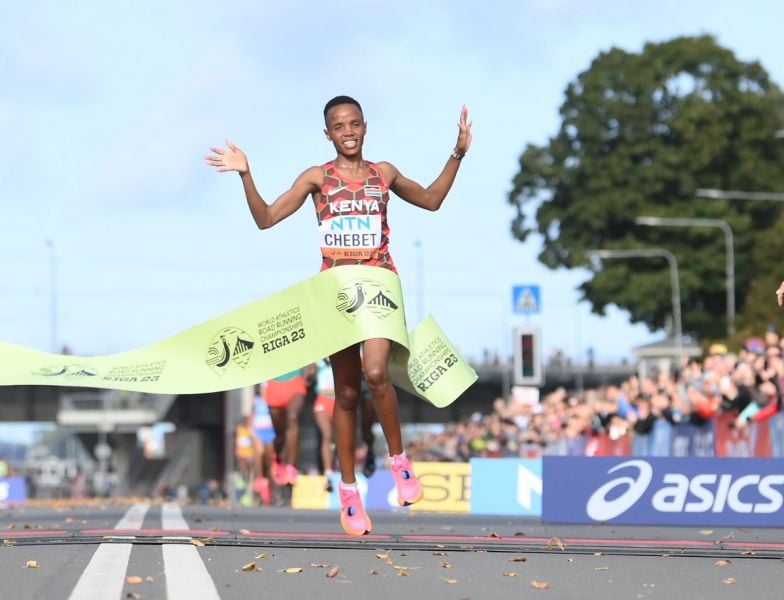 Kenya's Beatrice Chebet triumphed in the 5km race at the inaugural World Road Running Championships held in Riga on Sunday, firmly establishing herself as a dominant force in global athletics.
Chebet completed the course in an astonishing 14:35, marking the fifth fastest time in the history of the 5km road race. This victory adds another prestigious title to her burgeoning collection, following her global Cross Country triumph in Bathurst earlier this year.
In an exhilarating climax to the race, Chebet managed to edge out formidable competitors in a gripping sprint finish. Despite fierce competition, she emerged victorious over her fellow Kenyan, Lilian Rengeruk, and Ethiopia's Ejgayehu Taye, who secured the silver and bronze medals respectively.
Rengeruk and Taye were neck-and-neck with Chebet for much of the race, but in the final stretch, Chebet's phenomenal speed and endurance propelled her to the front, ensuring her first place position on the podium.
In a stunning display of athleticism and strategy, Hagos Gebrhiwet led an Ethiopian 1-2 finish in the men's 5km race at the World Road Running Championships in Riga on Sunday. Demonstrating extraordinary speed and stamina, Gebrhiwet secured the gold medal by completing the course in a lightning-fast time of 12:59.
The decisive moment of the race came in the final kilometer when Gebrhiwet unleashed a blistering 2:28 split, outpacing his rivals and crossing the finish line as the undisputed champion.
Yomif Kejelcha, another Ethiopian star, ran a superb race to claim the silver medal, finishing the course in 13:02. Despite a fierce push, he ultimately settled for second place, adding another significant accomplishment to his already impressive track record.
Nicholas Kimeli of Kenya clinched the bronze medal with a season's best time of 13:16.
-->