Cardiff Half Marathon 2023 Men's ad Women's Elite Field

Posted by:
Watch Athletics
Saturday, 30 September 2023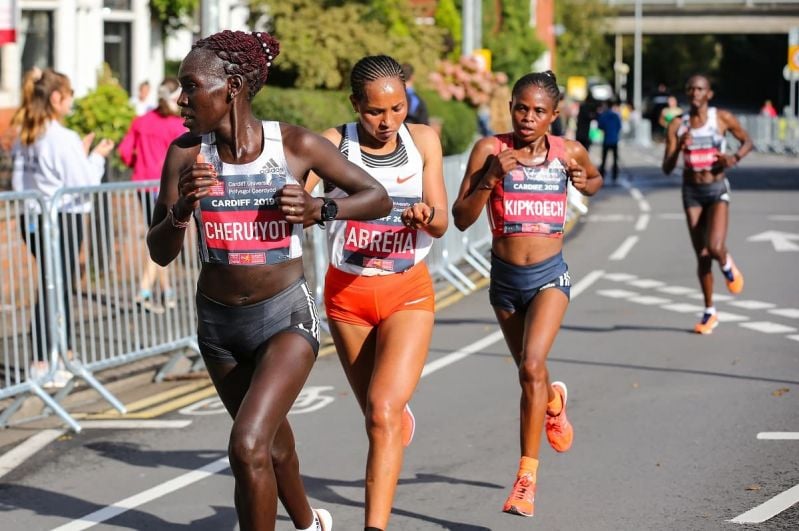 The 20th installment of the Principality Cardiff Half Marathon this Sunday promises a showdown among previous champions in the men's elite field.
Shadrack Kimining, with a record of 59:27, will return to Cardiff, aiming to break the course record at the same event where he first gained international acclaim with a victory in 2016. His last appearance in Cardiff in 2019 saw him narrowly defeated by Leonard Langat, finishing second with a time of 59:32.
Geofrey Koech, last year's winner with a time of 59:32, is also making a comeback, aiming to surpass his previous winning time of 60:01. The champion of the 2019 Birrell Prague 10km, Koech has also claimed victory at the renowned Boston Half Marathon and recently secured a third-place finish at the Prague Half Marathon in April.
Other competitors include Benard Biwott (59:44), the Santa Pola Half Marathon victor near Valencia, and Wesley Kimutai (59:47), who clinched second place at the esteemed Rome Ostia Half Marathon in March.
Morocco's Hicham Amghar (59:53) is also set to compete, hoping to break the illustrious 60-minute mark for the third time this year. He finished fifth at Ras Al Khaimah in February with a time of 59:53 and second in Istanbul, clocking in at 59:58.
Leading the women's race start lists is Mestawut Fikir, boasting a time of 66:44, following her decisive win at the Antrim Coast Half Marathon just last month.
Close behind is her fellow Ethiopian, Betelihem Afenigus (66:44), just two seconds slower in record time, celebrated for her victory at the well-known Venlo Half Marathon earlier this year.
Beatrice Cheserek (66:48), the 2022 winner, is no stranger to the course and is determined to defend her title on Sunday. This year, she has already claimed victories in three half marathons, in Santa Pola, Riyadh, and Tallinn.
Last year's runner-up, Viola Chepngeno (66:48), is another noteworthy contender. She, along with Koech, triumphed in Boston and recently improved her 10km personal best to 31:05 in France this April.
Aminet Ahmed (67:08) recently participated in the Copenhagen Half Marathon, registering a time of 68:01.
Dorcas Kimeli (67:10), who set a historic third-fastest time over 10km with 29:57 at the Birrell Grand Prix in Prague in 2019, also has experience racing in Cardiff back in 2017.
Diana Bogantes-Gonzalez (73:08), the Costa Rican record holder for both the half marathon and the marathon, will also be joining the competition in Cardiff, along with Marcela Joglova (73:46) from the Czech Republic.
Men's Elite Field:
| | | | | | | |
| --- | --- | --- | --- | --- | --- | --- |
| 1 | Shadrack | KIMINING | Kenya | KEN | 59:27 | Second place at the 2022 Riga Half Marathon. Third place at the 2022 Antrim Coast Half Mathon. Former winner in Cardiff. |
| 2 | Geoffrey | KOECH | Kenya | KEN | 59:32 | 2022 Wizz Air Cardiff Half Marathon Champion |
| 3 | Benard | BIWOTT | Kenya | KEN | 59:44 | Winner of the 2023 Santa Pola Half Marathon. |
| 4 | Wesley | KIMUTAI | Kenya | KEN | 59:47 | Second place at the 2023 Roma Ostia Half Marathon. Second at the 2022 Kip Keino Classic (10,000m). |
| 5 | Hicham | AMGHAR | Morocco | MOR | 59:53 | 2nd 2023 Istanbul Half Marathon. 5th 2023 Ras Al Kaimah Half Marathon |
| 6 | Vincent | MUTAI | Kenya | KEN | 60:20 | 5th 2023 Antrim Coast Half Marathon. 2nd 2023 Night of the 10,000m P.B's |
| 7 | Dennis | KITIYO | Kenya | KEN | 61:06 | 27:17 for 10km. 3rd 2023 Napoli Half Marathon |
| 8 | Takuya | KITASAKI | Japan | JPN | 61:51 | 28:07 for 10,000m. 13:50 for 5,000m |
| 9 | Paulos | SURAFEL | Thames Valley | GBR | 61:51 | 2021 Windsor Half Marathon Champion. 7th 2023 Prague Half Marathon |
| 10 | Omar | EL HARRASS | Morroco | MOR | 61:55 | 3rd 2023 International 10km De Marrakech |
Women's Elite Field:
| | | | | | | |
| --- | --- | --- | --- | --- | --- | --- |
| 1 | Mestawut | FIKIR | ETH | ETH | 66:44 | 2023 Antrim Half Marathon Champion. 2023 Rio De Janeiro Half Marathon Champion |
| 2 | Betelihem | AFENIGUS | ETH | ETH | 66:46 | 2023 Venlo Half Marathon Champion. 3rd 2022 Madrid Half Marathon |
| 3 | Beatrice | CHESEREK | KEN | KEN | 66:48 | 2022 Wizz Air Cardiff Half Marathon Champion |
| 4 | Viola | CHEPNGENO | KEN | KEN | 66:48 | 2nd 2022 Wizz Air Cardiff Half Marathon |
| 5 | Aminet | AHMED | ETH | ETH | 67:08 | 3rd 2023 Santa Pola Half Marathon. 4th 2022 Delhi Half Marathon |
| 6 | Dorcas | KIMELI | KEN | KEN | 67:10 | 11th at the 2020 World Half Marathon Championships. 29:57 for 10km |
| 7 | Caryl | EDWARDS | Swansea Harriers | GBR | 71:18 | 2nd 2022 Welsh Cross Country Championships. 2019 Llanelli Half Marathon Champion |
| 8 | Sonia | SAMUELS | Sale Harriers | GBR | 72:19 | Olympian. 2023 Newark Half Marathon Champion |
| 9 | Jenny | NESBITT | Pontypridd Roadents | GBR | 72:54 | 12th 2022 Commonwealth Games for 5,000m. 2019 UK Inter-Counties Cross Country Champs |
| 10 | Diana | BOGANTES – GONZALEZ | Costa Rica | CRI | 73:08 | National Record holder for H/M & Marathon |
| 11 | Anna | BRACEGIRDLE | Salford Harriers | GBR | 73:21 | 2022 Wilmslow Half Marathon Champion |
-->