Eliud Kipchoge Gears Up for a Lightning-Fast Berlin Marathon Challenge

Posted by:
Watch Athletics
Friday, 22 September 2023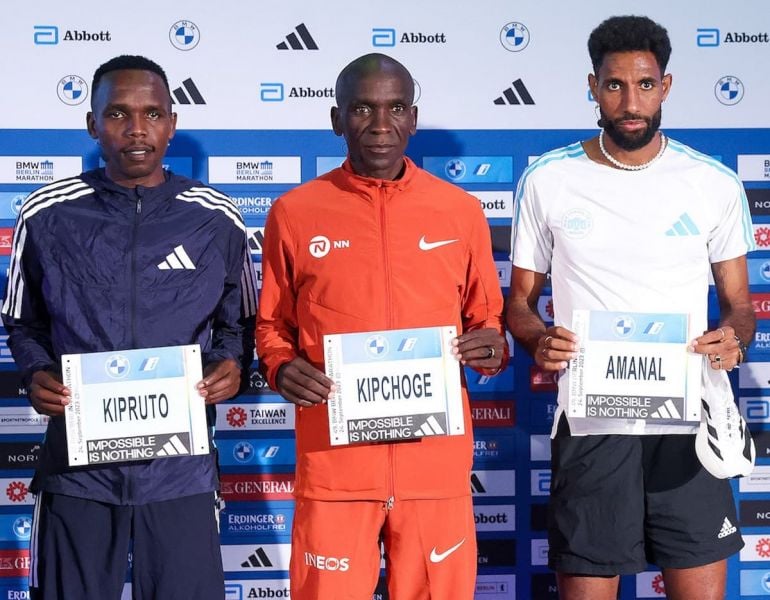 Once again the best marathon runner of all time will be on the start line of the BMW BERLIN-MARATHON. The double Olympic champion from Kenya, who brought his own world record down to 2:01:09 a year ago in Berlin, will be almost compelled to go all out for a fast time on Sunday, such is the enormously competitive running scene among his compatriots where only an extremely fast time within the Olympic qualifying mark will secure one of the three places for the Kenyan men's team in the Olympic Marathon in Paris next year. Eliud Kipchoge's ambition in Paris is to become the first runner in history to win three Olympic Marathon titles. The Kenyan is aiming to use the BMW BERLIN-MARATHON almost as a springboard to book his place in Paris. While Eliud Kipchoge could strike up a world record pace at the head of the field, Germany's marathon star Amanal Petros seeks an unprecedented achievement in the history of the BMW BERLIN-MARATHON by becoming the first to set a men's national record here, a feat so far never accomplished in the previous 48 editions of the event.
A record number of 47,912 runners from 156 nations have entered the 49th edition of the BMW BERLIN-MARATHON. Germany's most spectacular road race is part of the Abbott World Marathon Majors (AWMM) and is also a Platinum Label Road Race of World Athletics.
"We feel honoured that the best marathon runner in sporting history, Eliud Kipchoge, has decided to run the BMW BERLIN-MARATHON for a sixth time. This confirms the outstanding status of the event and raises hopes for an exceptional result," said race director Mark Milde, who has organized Kipchoge's previous five races in Berlin.
"Berlin for me is like home. Looking at the Olympic Games in Paris next year, I considered which races would be the best preparation for me and Berlin was the best option," explained Eliud Kipchoge. A year ago his pace for much of the early stages of the race suggested he might even break two hours. "But that was 2022, it's a different year now and a different race," said the 38-year-old. Winning in Berlin for the fifth time would give him more titles here than any other champion. He is currently level with the legendary Ethiopian Haile Gebrselassie on four victories.
It is not beyond the bounds of possibility that Eliud Kipchoge breaks the world record for the third time in Berlin, although he did not announce any definite goals at the press conference. "I'm nervous, but that shows I'm ready," said Kipchoge. "I'll try to run a good time." Of his 20 marathons, Eliud Kipchoge has emerged victorious in all but three, in itself a unique achievement.
The man with the second fastest time going into the race is also Kenyan, Amos Kipruto. He ran his personal best of 2:03:13 in Tokyo last year, finishing runner-up to Eliud Kipchoge. "My aim on Sunday is to run a personal best," stated Amos Kipruto, whose career highlight so far is winning the London Marathon last year.
A dozen men on the start list show best times of under 2:06, proof of the strength in depth among the elite in this year's BMW BERLIN-MARATHON. "It would be fair to say that every elite runners comes to Berlin to run their personal best," admitted Mark Milde.
Amanal Petros has as his goal in his BMW BERLIN-MARATHON debut that of breaking his own German record of 2:06:07 by a clear margin. "I've trained in Kenya for almost four months at altitude of 2,400 metres, concentrating entirely on Berlin. That was very challenging," said the 28-year-old. "Going through halfway in around 62 minutes is feasible but we can adjust the pace at any time."
Not only the German but the Swiss national record for the marathon could come under pressure. Tadesse Abraham improved his best to 2:06:38 as a 39-year-old last year in Zurich. Now turned 41, he might even threaten the world masters record of none other than Kenenisa Bekele, who ran 2:05:53 in London last year.
Men's elite runners with personal bests
Eliud Kipchoge KEN 2:01:09
not record eligible:1:59:40,2
Amos KiprutoKEN2:03:13
Jonathan MaiyoKEN2:04:56
Eliud Kiptanui KEN 2:05:21
Ghirmay Ghebreslassie ERI 2:05:34
Ronald KorirKEN2:05:37
Tadu Abate ETH 2:05:38
Philemon KiplimoKEN2:05:44
Enock Onchari KEN 2:05:47
Mark Korir KEN 2:05:49
Andualem ShiferawETH2:05:52
Haftu TekluETH2:05:53
Amanal PetrosGER2:06:27
Josphat BoitKEN2:06:34
Tadesse Abraham SUI 2:06:38
Okubay Tsegay ERI2:06:46
Abel KipchumbaKEN2:06:49
Yusuke Ogura JPN2:06:51
Denis ChirchirKEN2:07:17
Eyob Faniel ITA 2:07:19
Justus KangogoKEN2:07:40
Titus Kipkosgei KEN2:07:46
Godadaw BelachewISR2:07:54
Dominic Nyairo KEN2:08:13
Derseh Kindie ETH 2:08:23
Guojian Dong CHN2:08:28
Liam Adams AUS 2:08:39
Scott FaubleUSA2:08:52
Hendrik Pfeiffer GER 2:10:18
Samuel Fitwi GER 2:12:14
Konstantin Wedel GER 2:13:02
More information is available online at: www.berlin-marathon.com
-->