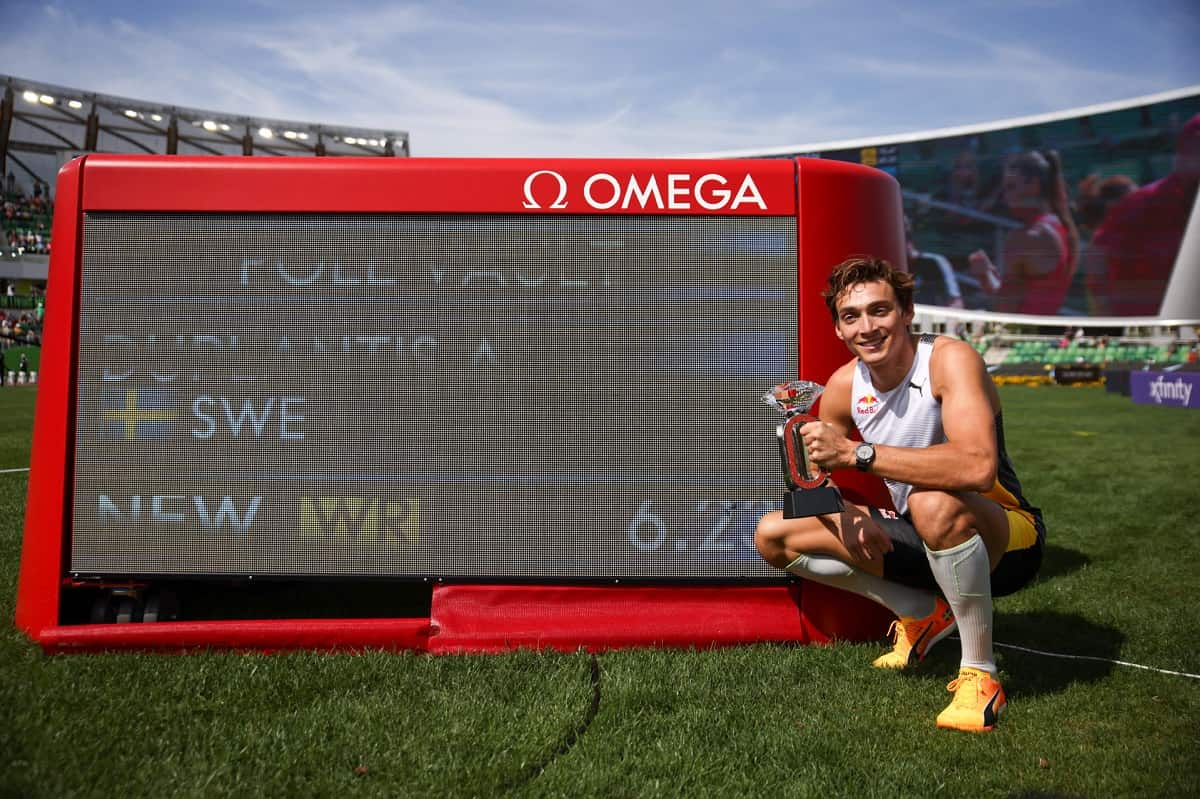 Armand Duplantis broke the world record in the men's pole vault for the seventh time in his career clearing 6.23m in his attempt, one year and two months after winning the world title In the same stadium with his previous record of 6.21. Duplantis cleared all heights at 5.62m, 5.82m, 6.02m and 6.23n in his first attempt. Ernest John Obiena vaulted 5.82m in his second attempt to finish second. Sam Kendricks took third place with 5.72m beating Kurtis Marshall and Christopher Nilsen on countback.
Armand Duplantis: "The limit is very high, and I hope that I can continue to jump well and keep jumping higher than I did today, but for now I am not thinking about anything except enjoying this moment. I love pole vault so much and I loved it ever since I was just a little kid. If I am able to take pole vaulting to another level and I can get as much eyes as possible watching it by jumping really high and doing some cool things, that's a job well done for me. I think the format of the Diamond League is super nice for me to go out and attempt world record and in this case break it. I have been jumping pretty well here, especially in the new stadium. I am two for two on world records coming here to Hayward Field."
Women's 5000 metres:
Gudaf Tsegay broke Faith Kipyegon's world record in the 5000 metres clocking a sensational 14:00.21.
Gudaf Tsegay: "My focus today is the world record, because I was so hungry after the World Championships. My focus was to become the world champion, but I missed 5000m due to my leg injury"
Beatrice Chebet set the third fastest performance in history with 14:05.92. Ejgayehu Taye took third place with 14:21.52 ahead of Lilian Rengeruk (14:40.81), Lemlem Hailu (14:42.29) and Japanese 5000m record holder Nozomi Tanaka (14:42.38).
Men's 3000 metres:
Jakob Ingebrigtsen won a thrilling head-to-head battle in the final straight edging Yomif Kejelcha by just one hundredth of a second improving his own European record to 7:23.63. Ingebrigtsen clinched his second Diamond Trophy in two days. Only Catherine Ibarguen won Trophies in the long jump and in the triple jump on consecutive days.
Women's 400 metres hurdles:
Femke Bol won her sixth Diamond League race in the women's 400 metres hurdles this season clocking her third sub-52 seconds time with a meeting record of 51.98m. Bol claimed her third consecutive Diamond Trophy. Shamier Little finished second with 53.45 beating Rushell Clayton from Jamaica (53.56) in a repeat of the same podium of the World Championships in Budapest. Janieve Russell improved her seasonal best to 53.60 to beat Anna Cockrell (54.48) and Italian record holder Ayomide Folorunso (54.68).
Femke Bol: "I tried to go out a bit fast but when I get tired this is hard for me. I had a really strong finish again and my strides worked like I wanted. Finishing 51 and the the Diamond Trophy win is all I can ask for. I have had an amazing season, amazing races on the Diamond League circuit. Then when I come here it's the Diamond League final and it's where the Worlds were held last year.
Women's 200 metres:
Double world champion Shericka Jackson completed the double by winning her second Diamond Trophy of the weekend in a meeting record of 21.57, the third fastest time of her season. The Jamaican star claimed her second consecutive 200m title in the Diamond League following her triumph in Zurich in 21.80.
Shericka Jackson: "Funny enough one of my goals I wrote that how I wanted to get two trophies. I did not get two trophies and I rewrote that again, that I wanted two trophies this year. I got it and I am grateful. I am healthy and I ran some fast times".
Marie Josée Ta Lou from Ivory Coast improved her seasonal best to 22.10 to finish second ahead of Anthonique Strachan from the Bahamas (22.19m), Twanisha Terry (22.21) and Daryll Neita (22.35).
Men's 200 metres:
Olympic champion André De Grasse set a seasonal best of 19.75 to claim his first Diamond Trophy. Kenny Bednarek placed second in 19.95 holding off Erriyon Knighton (19.97). Alexander Ogando finished fourth with 20.08.
André De Grasse: "It's been a challenging season, but I finished strong, gave it my best I got, and try to come away with something I can learn going next season. Next year is a big season, obviously with the Olympics. I wanted to try to just give all to see where I am at going into next season"
Women's 100 metres hurdles:
Tobi Amusan defended her title in the women's 100 metres hurdles in a seasonal best. The Nigerian hurdler won her third consecutive Diamond League title on the track where she broke the world title with 12.12m at the World Championships last year. Jasmine Camacho Quinn took second place with 12.38 beating Kendra Harrison (12.44), world champion Danielle Williams (12.47), Megan Tapper (12.48) and Alaysha Johnson (12.48).
Men's 110 metres hurdles:
Jamaica's Hansle Parchment beat Grant Holloway for the second time this season improving his PB and the world seasonal lead to 12.93 two weeks after taking the first place in 12.96 in Xiamen. Holloway took second place in 13.06 beating Daniel Roberts (13.07), Shunsuke Izumyia (13.10) and Jason Joseph (13.12).
Hansle Parchment: "The start wasn' perfect. I was really thinking a lot about getting a better start to be a little bit more competitive. I got the PB and the win, so I am happy about that. We have been competing for months now. It's really brilliant to be able to carry this season up until the end. We try to enjoy ourselves as well. It's a friendly rivalry. We try to push each other every time we go there"
Men's shot put:
Joe Kovacs defended his Diamond League title with 22.93m in the fourth round holding off his compatriot Ryan Crouser by just two cm. Kovacs threw over the 22 metres barrier four more times (22.70m, 22.51m, 22.75m, 22.51m). Crouser took second place with 22.91m in the second round and produced a solid series that included 22.42m, 22.76m, 22.81m and 22.86m. Tom Walsh from New Zealand improved his seasonal best to 22.69m to finish third. World silver medallist Leonardo Fabbri from Italy set the second best performance of his career with a throw of 22.31m in the second round.
Joe Kovacs: "This whole season has been tough. First time being a father, especially with twins. It was a crazy year and I am glad to finish strong. The whole year I feel like I have been foul-tipping and missing everything. I am glad to come today and finally get behind the ball and make it go a little further".
Women's high jump:
Yaroslava Mahuchik had a clean sheet clearing all heights until 2.01m in her first attempt. Nicola Olyslagers needed three attempts to clear 1.98m before jumping 2.01m at the first time of asking.
Mahuchik jumped 2.03m in her second attempt, while Olyslagers set the Oceanian record by clearing this height at the third try.
Angelina Topic cleared 1.95m in her first attempt to finish third.
Yaroslava Mahuchik: "I am happy that I have the opportunity to compete and show all the world that we are the strongest. We are from Ukraine. It's really a pleasure to compete here again. Now it's extra important because it's precious that I have the opportunity to represent my country and show all the world that we are fighting and all our people fighting in different sphere. I am fighting on track and after this I have the opportunity to talk to journalists and spread all news to the world"-
Women's 800 metres:
Olympic champion Athing Mu won a thrilling battle in the women's 800 metres breaking the US record with 1:54.97. Mu also improved her own meeting record and her PB of 1:55.04 set in 2021. Mu did not take part in any of the previous Diamond League races and ran in Eugene as a national wild card. For this reason she did not receive the Diamond Trophy. Keely Hodgkinson improved her British record to 1:55.19 to finish second. Natoya Goule broke the Jamaican record with 1:55.96. Mary Moraa finished fourth with 1:57.42.
Athing Mu: "I felt really new and refreshed. I was not hoping for the US record. I was just hoping for a PB. I knew I could do something fast if I could relax and compete"
Men's 800 metres:
Emmanuel Wanyonyi set a world lead and a meeting record of 1:42.80 to win his first Diamond Trophy at the age of 19. Wanyonyi won his fourth Diamond League race this season after winning in Rabat, Paris and Xiamen. Marco Arop improved the Canadian record to 1:42.85. Algeria's Djamel Sedjati and France's Yanis Meziane improved their PBs clocking 1.43.06 and 1:43.94 respectively. Daniel Rowden from Great Britain finished fifth in 1:44.21 ahead of USA's Bryce Hoppel (1:44.63).
Women's discus throw:
Olympic champion Valarie Allman won her third consecutive Diamond Trophy In the women's discus throw with 68.66m in the first round. World gold medallist Laulaga Tausaga threw 68.36m to take the second place. Sandra Perkovic took third place with 66.85m ahead of Jorinde Van Klinken (66.03m).
Men's discus throw:
Kristjan Ceh took the early lead with 67.64m in the second attempt in the men's discus and remained in first place until the sixth round, when Matthew Denny set an Australian record with of 68.43m to take a surprising win. Denny had never won a Diamond League competition. Daniel Stahl took third place with 67.36m beating Andrius Gudzius (65.47m).
Matthew Denny: "I had a lot of energy in me. I was just ready to compete. I knew that I could potentially put something together. I thought we could be on for a PB. I was not going to count Daniel or Kristjan out. I am just so happy to finish on a high note because it's been a great year. To do it on the final throw is pretty good. If I can convert into some better throws for next year and keep improving, because a throw over 68 is not enough to win the Olympics".
Women's 400 metres:
World champion Marileidy Paulino stormed to her second consecutive Diamond League title in the women's 400 metres in 49.58. Natalia Kaczmarek finished second with 50.38m ahead of Lieke Klaver (50.47m).
Women's long jump:
Ese Brume took the lead with 6.85m and was on course for the win, but Vuleta equalled this result by jumping 6.85m in the sixth round to clinch the win on countback thanks to her second best mark of 6.77m
Men's long jump:
Simon Ehammer from Switzerland took the early lead with 8.12m in the first round. Tajay Gayle from Jamaica snatched the lead from Ehammer with 8.22m in the fourth round. Ehammer also leapt to 8.22m in the same round to regain the lead on countback. There were no changes in the final round and Ehammer took the win becoming the first Swiss athlete to win the Diamond Trophy.
Yuki Hashioka from Japan finished third with 8.15m.
Simon Ehammer: "It was a great competition. A lot of good jumps from me at the end of the season with a high level and I think I did pretty well. Last year I won here the bronze medal. At the World Championships, so I have pretty close and good felling in Eugene. I will start competing in the long jump and in the combined events. I hope to compete in both events at the Olympic Games".
-->