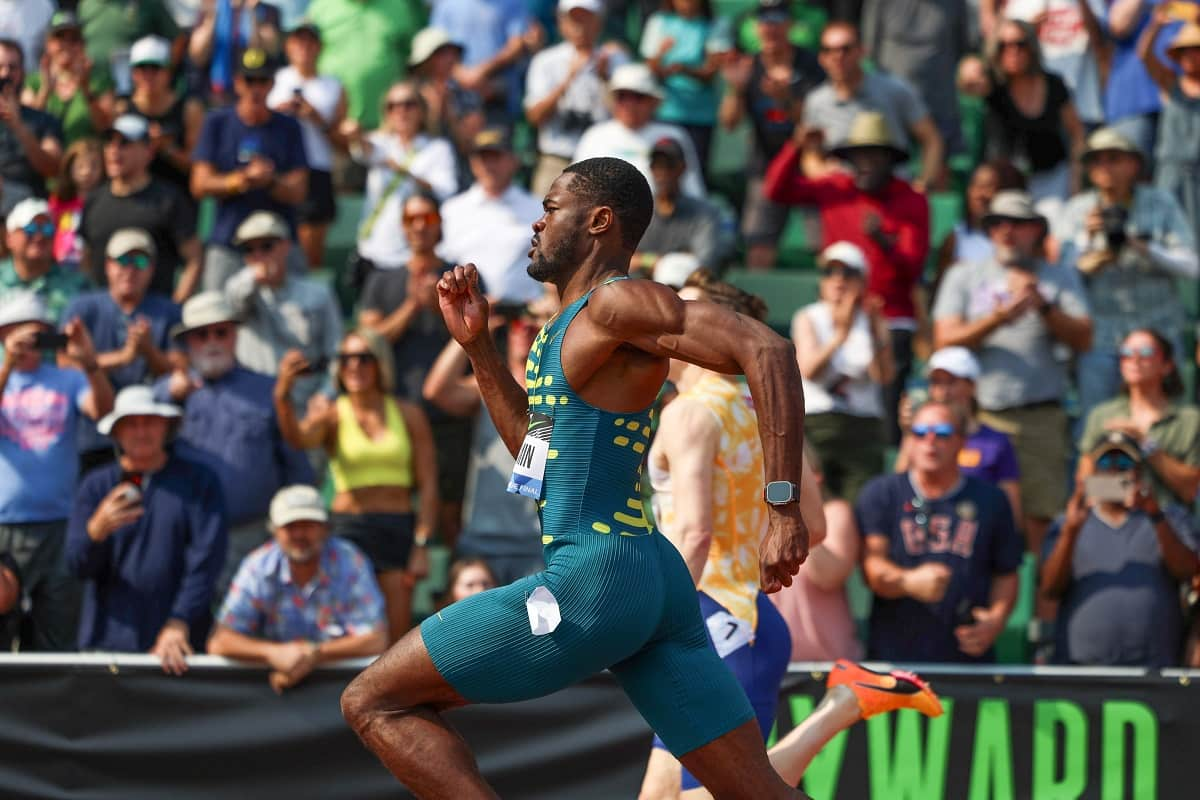 Eugene - Friday, September 16: On the opening day of the 2023 final in Eugene, Jakob Ingebrigtsen and Rai Benjamin shattered previous series records, setting the stage ablaze as the first 15 champions of the Wanda Diamond League were celebrated.
Men's 1 Mile:
Olympic 1500m champion Jakob Ingebrigtsen won the Bowerman Mile for the third time in her career setting the European record, the Diamond League and the meeting record with 3:43.76. The top nine finishers set their PBs. Jared Nuguse also broke the 3:44 barrier improving the North American record to 3:43.97. George Mills smashed his PB to 3:47.65 beating Mario Garcia (3:47.69 Spanish record), Reynold Cheruiyot (3:48.06 world under 20 record), Cole Hocker (3:48.08 PB), Narve Gilje Nordas (3:48.24). Azeddine Habz from France and Niels Laros from the Netherlands improved the national records with 3:48.64 and 3:48.93. Stewart McSweyn and Samuel Tanner dipped under 3:50 clocking 3:49.32 and 3:49.51.
Jakob Ingebrigtsen: "Nuguse ran a good race, He was in good enough shape to run what he did, but at the same time I wanted to race where I could challenge myself to set out at a decent pace, somewhat conservative, and then I went as hard as I could in the last two laps. It was very good. Everything is possible. It's like every other race. There is no difference between September and June. It's like every race. I was here to run the mile. I am jumping in the 3 km because I got the opportunity. It's all about getting back home to the hotel, eat, sleep, try to prepare as good as I can and we will see tomorrow. Hopefully getting married next weekend, so I think I have to prepare for that as well".
Men's 400 metres hurdles:
Raj Benjamin won the men's 400 metres hurdles caught Karsten Warholm on the home straight to win his first Diamond Trophy setting a Diamond League and meeting record, and a world seasonal best of 46.39. Olympic champion Karsten Warholm set the fourth fastest time in his career with 46.53. Two-time Diamond League champion Kyron McMaster from the British Virgin Islands finished third in 47.31. In a race, where seven athletes dipped under the 48 seconds last year's world champion Alison Dos Santos took fourth place in 47.44 ahead of Wilfried Happio (47.63), Ludvy Vaillant (47.93) and Rasmus Magi (47.99).
Raj Benjamin: "Being a sprinter, that's what I am. I went back to my old model, because my second half is amazing. I feel like I did a really good shape. I came here with no expectation, just to have fun and close out the season. My rivalry with Warholm is definitely good. What matters is winning at major championships and I have not done that yet so I need to do that".
Women's 1500 metres:
World champion and record holder Faith Kipyegon crowned a dream season with her fifth Diamond League title in 3:50.72, setting a meeting record and the second fastest time in the world this year after her world record of 3:49.11 in Florence.
Faith Kipyegon: "I did not watch the clock. I was just running my race and see what will happen at the finish line. It was amazing to run a meeting record, just fantastic. I did not worry about anything. I was just going and not looking back who is following me, just go to the tape. This was amazing, starting with the world record and now winning the trophy. It has been a fantastic year. My mind is to defend my title over the 1500m".
The race produced a great depth of results with nine times under the 4 minutes barrier. Diribe Welteji from Ethiopia finished second improving her PB to 3:53.93. Laura Muir set her seasonal best of 3:55.16 beating Freweyni Hailu (3:55.68). Linden Hall improved the Oceanian record to 3:56.92 beating Birke Haylom (3:56.98), Hirut Meshesha (3:57.53), Jessica Hull (3:57.57) and Melissa Courtney Bryant (3:57.57).
Men's 100 metres:
World indoor record holder Christian Coleman won his second Diamond League title in the men's 100 metres equalling the world lead with 9.83 holding off world champion Noah Lyles and Ferdinand Omanyala, who finished second and third with the same time of 9.85. Kishane Thompson from Jamaica also dipped under the 9.90 barrier with 9.87.
Christian Coleman: "I feel like I could have executed the start a little bit better but I was able to put all the experiences throughout the year during the race".
Women's 100 metres:
Seven women broke the 11 seconds barrier. Double world champion Shericka Jackson won her first Diamond League title in the women's 100 metres in 10.70 setting the second fastest time of her career. Marie Josée Ta Lou from Ivory Coast equalled her seasonal best to finish second in 10.75. Five-time Olympic champion Elaine Thompson Herah dipped under the 10.8 barrier for the first time this season clocking 10.79. World champion Sha'Carri Richardson, who sported a new hairstyle, placed fourth in 10.80 beating Twanisha Terry (10.83 seasonal best), Natasha Morrison (10.85 personal best) and Dina Asher Smith (10.96).
Elaine Thompson Herah: "I think I executed a good job to close off the season with a decent time. I am grateful. This was a tough one".
Women's 3000 metres steeplechase:
World champion Winfred Yavi from Barhein held off Jackline Chepkoech in the final lap to win the women's 3000 metres steeplechase in 8:50.66, the second fastest time in the world, a world lead, a meeting record and an Asian record.
Winfred Yavi: "I did not expect to set the second fastest time. I am excited at the same time. This year has been precious. It has been so far good to me this year. Behind the scenes I have been working hard secretly. I have been sacrificing a lot, training hard, doing a lot, doing a lot of strength training, something different than last year".
Women's triple jump:
Olympic champion Yulimar Rojas set a meeting record and a world lead of 15.35m in the fifth round to claim her third consecutive Diamond League. Shanieka Ricketts improved her PB by 2 cm to take second place with 15.03m. Kimberly Williams from Jamaica improved her seasonal best to 14.61m. Italy's Dariya Derkach set her lifetime best with 14.52m beating Thea Lafond (14.46m).
Women's pole vault:
Olympic champion Katie Moon won her first Diamond Trophy with a meeting record of 4.86m beating Tina Sutej from Slovenia in the jump-off. Both Moon and Sutej cleared 4.81m in their first attempt. Sandi Morris cleared 4.71m in the first round to finish third beating Wilma Murto on countback. Nina Kennedy cleared 4.56m before failing her three attempts at 4.71m. Roberta Bruni vaulted 4.56m in the third round.
Men's 400 metres:
Kirani James set a seasonal best of 44.30 to win the third Diamond Trophy of his career in the men's 400 metres. World bronze medallist Quincy Hall from the United States took second place with 44.44 ahead of Vernon Norwood (44.61) and Bryce Deadmon (44.90).
Kirani James: "I just tried to run my own race. I had a knee issue coming in. I did not feel anything much in the first 200 metres, so in the last 200 metres I put everything on the line. It's bit up and down after the death of my coach. I was contemplating whether I should run at the Chanpionships, but thinking of how he is, he would have wanted me to compete. I just tried to finish the season strongly"
Women's shot put:
World champion Chase Ealey won her second consecutive Diamond League title setting a meeting record, and a world lead of 20.61m in the second round and did better by improving the national record to 20.76m in the third round. World silver medallist Sarah Mitton finished second with 19.94m ahead of Auriol Dongmo (19.92m) and Jessica Schilder (19.88m).
Men's high jump:
World indoor champion Sanghyeok Woo from South Korea cleared 2.35m in his third attempt to equal his PB and a national record. Woo had a clean sheet on his previous heights until 2.33m.
Norbert Kobielski from Poland placed second with 2.33m beating world silver medallist Ju'Vaughn Harrison on countback.
Men's 3000 metres steeplechase:
Kenya's Simon Kiprop Koech claimed his first Diamond League in the men's 3000 metres steeplechase with 8:06.26 beating Samuel Firewu from Ethiopia (8:10.74) and George Beamish from New Zealand (8:14.01), Getnet Wale (8:14.98) and Japanese record holder Ryuji Miura (8:15.45).
Men's triple jump:
Italian record holder Andy Diaz Hernandez leapt to 17.43m in the first round to win his second consecutive Diamond Trophy. World champion Fabrice Zango took second place with 17.25m in the fifth round.
Men's javelin throw:
Jakub Vadlejch took the lead with 84.01m in the first round in the men's javelin throw. Neeraj Chopra began to close in with 83.80m in the second round. Vadlejch extended his lead to 84.24m in the final round to clinch the third Diamond League title of his career.
Jakub Vadlejch: "It's always tough competing with Chopra, but victory is for me, very valuable. I am still dreaming. I felt very well. It's difficult at my age. I am almost 33 years old, so it's difficult but javelin throw is my life. This is end of the season. The day after tomorrow I will fly to Prague and I will lie on bed and nothing more"
Women's javelin throw:
World champion Haruka Kitaguchi from Japan threw the javelin to 63.78m in the second round to win her first Diamond League title. Tori Peeters from New Zealand took second place with 61.30m ahead of Mackenzie Little from Australia (61.24m).
-->