Shericka Jackson Triumphs in 100m at Prefontaine Classic

Posted by:
Watch Athletics
Saturday, 16 September 2023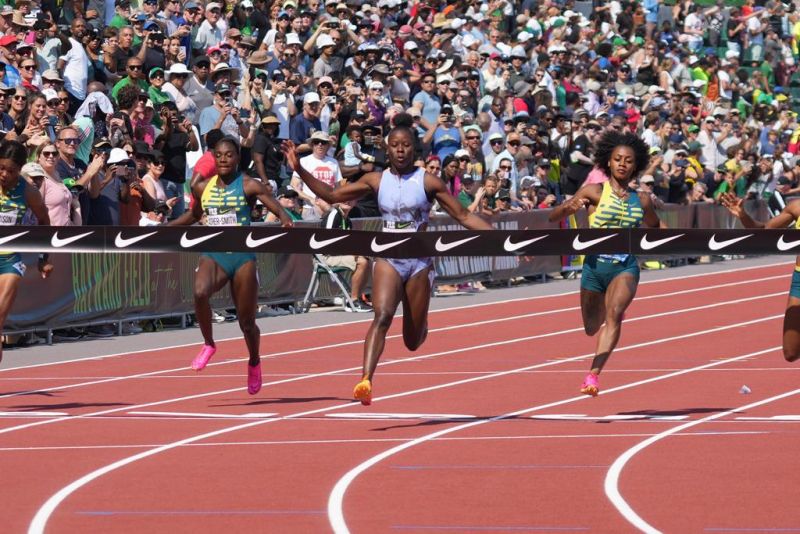 At the iconic Hayward Field, during the Diamond League's grand finale at the Prefontaine Classic, Shericka Jackson of Jamaica showcased her athletic prowess. She triumphed in the women's 100m, clocking an impressive 10.70 seconds. This victory is a pivotal moment as it's the opening act of Jackson's double sprint challenge.
Eyes will be on Jackson again at the climax of the meet. She's aiming to make waves by gunning for the 200m world record, presenting her final shot at the title this season.
From the get-go, Jackson demonstrated impeccable form. By the moment she shifted gears from her acceleration phase, seamlessly reaching her peak speed, she had already claimed her spot at the forefront, fending off the competition. Among those in pursuit was Ivory Coast's Marie-Josee Ta Lou, who managed to clock her season's best at 10.75, taking the runner-up position. Not far behind, Elaine Thompson-Herah of Jamaica also touched a season-high, sealing third place with a time of 10.79.
In a surprising turn of events, Sha'Carri Jackson, the acclaimed world champion from the U.S., faced a rocky start, putting a dent in her hopes for the win. Navigating the tail end of an exhaustive season, she managed a fourth-place finish in 10.80, marginally ahead of her countrywoman, Tee Tee Terry, who clinched fifth with a time of 10.83.
Women's 100m: wind +0.8
| POS | NAME | NAT | RESULT |
| --- | --- | --- | --- |
| 1 | JACKSON Shericka | JAM | 10.70 |
| 2 | TA LOU Marie-Josée | CIV | 10.75 =SB |
| 3 | THOMPSON-HERAH Elaine | JAM | 10.79 SB |
| 4 | RICHARDSON Sha'Carri | USA | 10.80 |
| 5 | TERRY Twanisha | USA | 10.83 SB |
| 6 | MORRISON Natasha | JAM | 10.85 PB |
| 7 | ASHER-SMITH Dina | GBR | 10.96 |
| 8 | LANSIQUOT Imani | GBR | 11.01 |
| 9 | HOBBS Zoe | NZL | 11.18 |
-->