Ingebrigsten Targets Mile and 3000m Showdown at Prefontaine Classic

Posted by:
Watch Athletics
Tuesday, 12 September 2023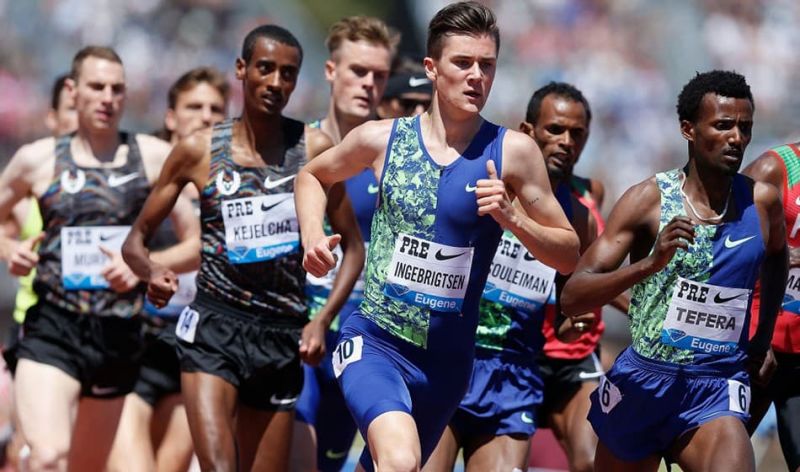 The athletics world is set to converge on the legendary Hayward Field in Eugene this weekend for the iconic Prefontaine Classic, the culminating event of the 2023 Diamond League. The spotlight, without a doubt, will shine brightest on Norway's prodigious talent, Jakob Ingebrigsten, as he readies himself for the Mile and 3000m events.
At only 22, Ingebrigsten has taken the world by storm. This season has been nothing short of meteoric for him. After securing gold and silver medals respectively in the 5000m and 1500m at the World Championships in Budapest – with the 1500m race seeing a shock defeat at the hands of Josh Kerr – he has proven his mettle time and again. The young Norwegian bounced back in spectacular fashion, obliterating two world records in the 2-mile and 2000m events. The latter, set just last Friday, underscores his pristine form and suggests that more fireworks could be in store at Eugene.
The question on everyone's lips: Will Ingebrigsten attempt, and perhaps succeed, in toppling another world record? Given his recent performance, both the 3000m and Mile records seem tantalizingly within reach.
Beyond individual accolades, the weekend will also see the crowning of the 2023 Diamond League Champions. However, for many fans, the narrative of redemption, of young talent pushing boundaries, and the sheer spectacle of watching Jakob Ingebrigsten in full flow will be the primary draw.
It promises to be a weekend of nail-biting finishes, unexpected turnarounds, and perhaps, history being rewritten. As the athletes take their marks, and the world watches with bated breath, one thing is for sure: The Prefontaine Classic is set to be a classic in every sense of the word.
-->