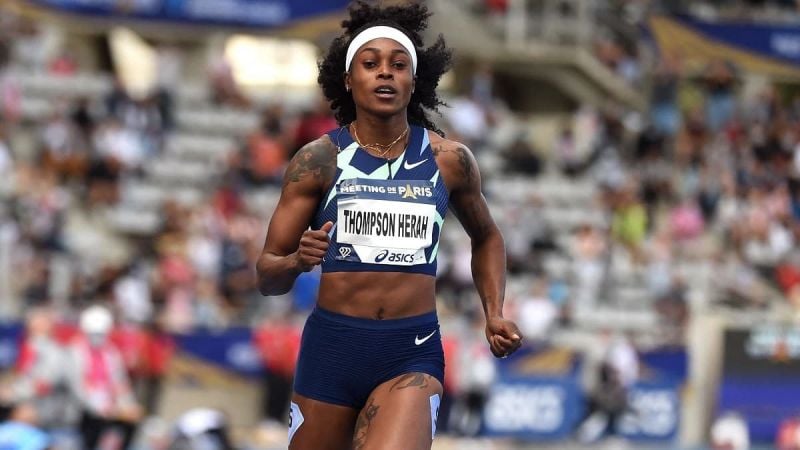 In a spirited display of athleticism, Elaine Thompson-Herah reaffirmed her dominance in the world of sprinting with a commanding victory in the 100m race at the esteemed Gala dei Castelli Bellinoza meeting on Monday, September 4.
Thompson-Herah, who astonishingly missed out on a slot for the individual events for the Jamaican World Championships team in Budapest, silenced critics with her blistering run. She clocked a new season's best time of 10.92 seconds, underscoring her continued prowess and ability to bounce back against adversity.
The evening wasn't only about Thompson-Herah's redemption. British sprint sensation Imani Lansiquot made waves by setting a new personal best of 10.99 seconds to clinch the second spot. This is a clear indication that Lansiquot is becoming a force to be reckoned with on the global sprinting stage.
Gina Bass from Gambia solidified her place on the podium with a time of 11.12 seconds, securing the third position. It's a testament to the depth of talent in women's sprinting, as the race saw competitors from different corners of the world vying for top honors.
While Thompson-Herah's journey this season has been a roller-coaster, her performance in Bellinoza is a strong message to the world: she's not done yet.
"I am happy with my win as I set my season's best in Zurich last week and I improved it again," said Thompson-Herah. "I want to continue this season and run more races." Thompson-Herah said.
Women's 100m A Final - wind 0.0
| POS | NAME | NAT. | RESULT | Info |
| --- | --- | --- | --- | --- |
| 1 | Elaine THOMPSON-HERAH | JAM | 10,92 | SB |
| 2 | Imani LANSIQUOT | GBR | 10,99 | PB |
| 3 | Gina BASS | GAM | 11,12 | |
| 4 | Zoe HOBBS | NZL | 11,20 (.197) | |
| 5 | Shashalee FORBES | JAM | 11,20 (.200) | |
| 6 | Tamara CLARK | USA | 11,22 | |
| 7 | Mujinga KAMBUNDJI | SUI | 11,37 | |
| 8 | N'Ketia SEEDO | NED | 11,42 | |
It was a triumphant day for Jamaica as they clinched double victory in the 100m sprints. Oblique Seville showcased the Caribbean island's renowned sprinting prowess by taking gold in the men's 100m, clocking 10.01 seconds. He faced stiff competition from Kenya's Ferdinand Omanyala, who was hot on his heels and finished just 0.03 seconds behind. South Africa's Akani Simbine, another formidable sprinter in the global arena, secured the third spot with a time of 10.13 seconds.
Jamaica's Natoya Goule -Toppin won the women's 800m for the second consecutive year in Bellinzona in 1:57.53. US 19-year-old Addison Wiley also dipped under the 1:58 barrier, improving her PB to 1:57.64. European U20 champion Audrey Werro finished third with 1:58.13 for the fourth best European U20 time in history, beating three-time European silver medallist Renelle Lamote from France (1:58.42) and Lore Hoffmann from Switzerland (1:58.73) in a high-quality race where nine women dipped under the two-minute barrier.
For the second year in a row, Natoya Goule-Toppin of Jamaica clinched the victory in the women's 800m in Bellinzona, recording a time of 1:57.53. Addison Wiley of the US, at just 19, broke the 1:58 mark, setting her personal best at 1:57.64. Audrey Werro, the European U20 champion, claimed third place with a time of 1:58.13, marking the fourth fastest European U20 record.
In the men's 400m hurdles, Brazil's 2022 world champion, Alison dos Santos, made a remarkable comeback in the final stretch, setting a new meeting record with a time of 47.50 – an improvement of 0.11 from his previous record. Wilfried Happio secured second place with a season's best of 47.56. Not far behind, Frenchman Ludvy Vaillant finished under 48 seconds at 47.92, outpacing Trevor Bassitt, who completed the race in 48.82.
Sweden's Olympic and world champion, Daniel Stahl, secured a win in the men's discus with a second-round throw of 67.24m. He narrowly edged out the previous year's world champion, Kristjan Ceh from Slovenia, who delivered a 67.15m throw in the fourth round. Jamaican Fedrick Dacres clinched third with a distance of 66.19m.
USA's Olympic discus gold medalist, Valarie Allman, clinched a second consecutive victory in Bellinzona, recording a first-round throw of 69.09m. This follows her triumphant 70.47m throw in Berlin a day earlier.
For the second year in a row, Olympic champion Jasmine Camacho-Quinn clinched victory in the women's 100m hurdles, recording a time of 12.56 and surpassing Nadine Visser's previous meeting record by 0.01. Visser secured second place with a time of 12.61, narrowly besting Nia Ali, who finished in 12.63.
-->