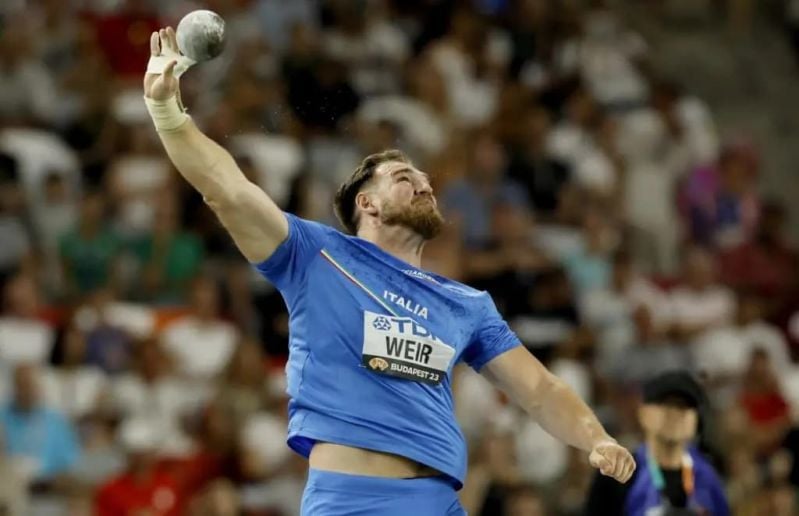 European indoor champion Zane Weir set the meeting record and the fifth best European performance in history with his lifetime best of 22.44m in the second round to win the men's shot put at the International meeting at the Daciano Colbacchini Stadium in Padua.
Two-time world champion Joe Kovacs responded with a throw of 22.40m in the second round. Weir continued his series with four big throws of 22.22m, 21.63m, 21.60m and 22.05m. Weir improved his PB by 29 cm to climb to fourth place in the world seasonal list. Only Alessandro Andrei threw further than Weir in Italian all-time history. Weir set his previous PB of 22.15m in Vicenza in the final meeting before the World Championships in Budapest, where he threw 21.82m in the qualifying round before finishing 11th in the final with 19.99m.
Kovacs produced five more throws over the 21 metres barrier (21.51m, 22.15m, 22.39m, 21.67m, 21.80m). World silver medallist Leonardo Fabbri from Italy finished third with a a throw of 21.49m in the fifth round two weeks after setting his PB of 22.34 in Budapest
Zane Weir: "In Budapest I learnt that you cannot give anything for granted. It was not easy to bounce back from the disappointment at the World Championships in Budapest, but this performance is a big confidence booster. I hope to continue performing well and I am curious to see where is my potential".
Women's 1500 metres:
Italian 5000m record holder Nadia Battocletti launched her kick in the final 200 metres to win the women's 1500 metres in a meeting record of 4:03.34 setting the sixth fastest time on the Italian all-time list. Sinthayehu Vissa finished second in 4:04.10 ahead of Wubrist Kassie from Ethiopia (4:04.19).
Nadia Battocletti: "I am happy with my season, especially with my Italian record in the 5000m in London. I was disappointed with my result in the final at the World Championships in Budapest, but I learnt a lot from this experience."
Men's 1500 metres:
Mohad Abdikhadar took a close win in the men's 1500 metres setting the third fastest time on the Italian all-time list with 3:33.79. Italy's Ossama Meslek also dipped under the 3:34 barrier to finish second with 3:33.92.
Men's 800 metres:
Italian 20-year-old rising star Francesco Pernici won the men's 800 metres in 1:45.41 with his front running tactic holding off Spain's Mariano Garcia (1:45.92) and Italy's Catalin Tecuceanu (1:46.02).
Francesco Pernici: "It was a great feeling to run in front of a full stadium. The first lap was not very fast. The main focus was not the final time, but the win. I have high ambitions for next season starting from the World Indoor Championships in Glasgow".
Women's 800 metres:
US middle distance runner Sinclaire Johnson won the women's 800 metres improving her PB to 1:59.76 beating Irish 1500m European silver medallist Clara Mageean from Ireland (2:00.09) and Anita Horvat from Slovenia (2:00.40)
Women's 100 metres:
Jamaica's Natasha Morrison claimed the win in the women's 100 metres in 11.15 beating world 4x100 champion Twanisha Terry (11.21). World champion Sha'Carri Richardson did not start due to a minor muscle injury and did not take any risk.
Women's 100 metres hurdles:
Jamaica's Amoi Brown stormed to a win in the women's 100 metres hurdles in 12.83 into a headwind of -0.8 m/s. Earlier this year Brown finished fourth in 12.87 at the Jamaican Championships in Kingston and improved her PB to 12.51 in Bern. Anna Toth from Hungary finished second in 13.20.
Women's 400 metres:
World 4x400 mixed relay champion Alexis Holmes clocked 50.66 to win the women's 400 metres in 50.66m with a big margin over Kaylin Whitney (51.94).
Men's 100 metres:
USA's Kyree King took a close win in the men's 100 metres in 10.27 into a headwind of -0.7 m/s edging Michael Campbell (10.28) and Olympic 200 metres finalist Aaron Brown (10.31).
Men's long jump:
Tom Campagne from Franc took a surprising win with 8.09m in the third round beating world bronze medallist Tajay Gayle (8.00m).
Women's long jump:
Ruth Osoro from Nigeria leapt to 6.75m in the fourth round to win the women's long jump.
Men's 110 metres hurdles:
Roger Iribarne from Cuba won the men's 110 metres hurdles in 13.54 into a headwind of -1.4 m/s ahead of US hurdler Jamal Britt (13.71).
Men's 400 metres:
Inaki Canal from Spain (world indoor silver medallist in Belgrade 2022) took the win in the 400 metres in 45"57 ahead of Dubem Nwachukwu from Nigeria (45.95), Baboloki Thebe from Botswana (46.00) and Edoardo Scotti from Italy (46"09).
-->