Gidey's Stunning 14:08.79 in 5000m Falls Just Short of Kipyegon's World Record at ISTAF Berlin Meet

Posted by:
Watch Athletics
Sunday, 03 September 2023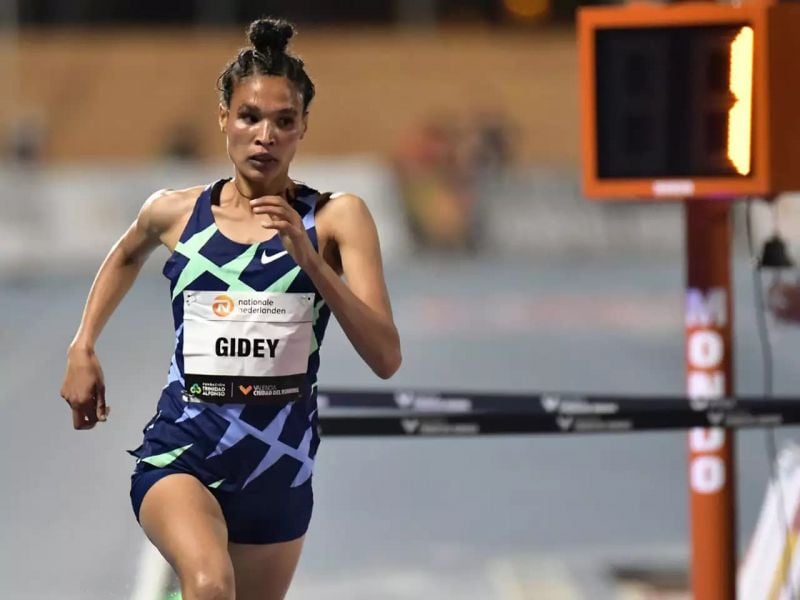 At Berlin's ISTAF Meeting, Letesenbet Gidey showcased her exceptional prowess, clocking an outstanding 14:08.79 in the 5,000m. Though she narrowly missed reclaiming the world record by a heart-wrenching margin of less than four seconds, her performance still stands as the fourth fastest ever in this category. Not far behind in making headlines was the 25-year-old Ethiopian's incredible feat, known for her 10,000m and world half marathon records. Another sensation of the day was Valarie Allman, who dazzled 34,500 spectators at the Berlin Olympic Stadium, a venue that held the World Athletics' Continental Tour Silver meeting. The Olympic Discus Champion from the US clinched victory, setting a world lead with an astonishing throw of 70.47 m.
"It has been the athletics festival, we've been hoping for. We saw incredible performances by the athletes and many small and great stories could be told. That's what athletics stands for," said Meeting Director Martin Seeber.
Women's events
As expected the women's events produced the headlines at the ISTAF. With wavelights installed and strong pacemakers in the race there was no question that Letesenbet Gidey, who won a silver medal in the 10,000 m at the World Championships in Budapest and then did not contest the 5,000 m, would attack the world record she lost to Faith Kipyegon earlier this season. The Kenyan improved the mark to 14:05.20.
It was fellow-Ethiopian Abersh Minsewo who led through 1,000 m in 2:50.58. Then the steeple chase world record holder Beatrice Chepkoech took over. The Kenyan passed through 2 and 3k in 5:40.96 and 8:30.16 respectively. Soon after that Letesenbet Gidey had to continue alone at the front. When she reached 4,000 m in 11:18.18 the record was still just within reach. But her next lap of 70.11 was some seconds slower and left her with a mountain to climb. Although the Ethiopian was able to pick up the pace again the record was then out of reach. But with 14:08.79 Letesenbet Gidey clocked the fourth fastest time ever with only herself on two occasions and Faith Kipyegon having run superior times. Gidey's PB and former world record stands at 14:06.62. She did of course smash the 22 year-old ISTAF meeting record of 14:29.32 from Russia's Olga Yegorova.
Kenyans Winnie Jemutai and Edinah Jebitok clocked 14:56.99 and 15:01.97 for second and third. Spain's Marta Garcia was fourth with 15:02.11.
"The race was good, I felt really good. The pace from Beatrice Chepkoech was perfect. But today it was a little bit windy, so it was very hard at the end. Because of this wind I could not run a better time," said Letesenbet Gidey.
Valarie Allman took the discus throw at the ISTAF for the third time in a row and achieved 70+ meters on all three occasions. Two years ago the American even threw 71.16, which at that time was a North American record. On Sunday the World Championships' silver medallist was leading the competition throughout with a first throw of 64:51. She then improved to 65.61 and 65.84 in rounds two and four respectively. Her winning throw of 70.47 came in round five, when she improved her own world lead by 22 centimeters. "Berlin is my favourite city, the Olympic Stadium always gives me a special energy," said Valarie Allman, who won the event from Germany's Kristin Pudenz (64.90) and Jorinde van Klinken of the Netherlands (64.11).
There was another athletics star with a dominant performance in the 100 m hurdles. World Champion Danielle Williams took the lead coming out of the blocks. While at first it looked as if Australia's Michelle Janneke might be able to challenge the gold medal winner from Budapest this did not materialize. In the second half of the race the Jamaican established a good lead and won with 12.71 from Michelle Janneke (12.89). Amber Hughes of the US was third in 12.98 while Germany's Marlene Meier took fourth with 13.00. "This race was not quite as fast, I wanted a better time. Thank God I came out and finished healthy. Now I have the Diamond League Final left and really want to run a PB. Hopefully for the last race, I can put it together," said Danielle Williams.
Norway's Henriette Jaeger showed great form late in the season, winning the 400 m with a national record of 51.03. She improved her own mark by 0.03 seconds and was well ahead of Switzerland's Julia Niederberger and Alica Schmidt of Germany who finished 52.02 and with a PB of 52.07 respectively. "I am very happy. I did not think a record was possible today for me because I was tired after the season. But the atmosphere is great and helpful. After 150 metres I thought to myself I have more energy and I tried to accelerate and it worked," said Henriette Jaeger.
On a comeback route after giving birth earlier this year double Olympic 400 m Champion Shaune Miller-Uibo dropped out of the contest after around 200 meters. Running well at first the athlete from the Bahamas started slowing on the back straight and then stopped.
Men's events
Competing with four men who also feature personal bests of at least 6.00 m Ernest John Obiena's first time clearance of 5.82 would have been enough to win the event. Second placed Norwegian Sondre Guttormsen and USA's KC Lightfoot, who took third, both jumped 5.82 at their second attempts and then could not match 5.92. Obiena however did go over this height with his last attempt and then the World Championships' silver medallist from the Philippines had three unsuccessful jumps at 6.01. That would have been a personal best for him. "My shape is ok and I am doing good. I am happy to take the win. On September 30th I still have the Asian Games and before that Aachen on the 6th, Brussels on the 8th and Eugene. So, it was important to enjoy jumping today," said Ernest John Obiena.
After a disappointing world championships with no medals there were some encouraging wins for German athletes. Julian Weber, who was fourth in Budapest, confirmed his fine form with a winning throw of 84.09 m in the javelin. While Joshua Hartmann took the 200 m in 20.14 from Noah Lyles' brother Josephus Lyles (USA/20.52) Jean Paul Bredau won the 400 m, breaking 45 seconds for the first time with 44.96. In the 400 m Hurdles Joshua Abuaku confirmed his fine form with a PB winning time of 48.12. Rasmus Magie of Estland was second in 48.31 and Germany's Emil Agyekum followed in third with 48.47.
-->