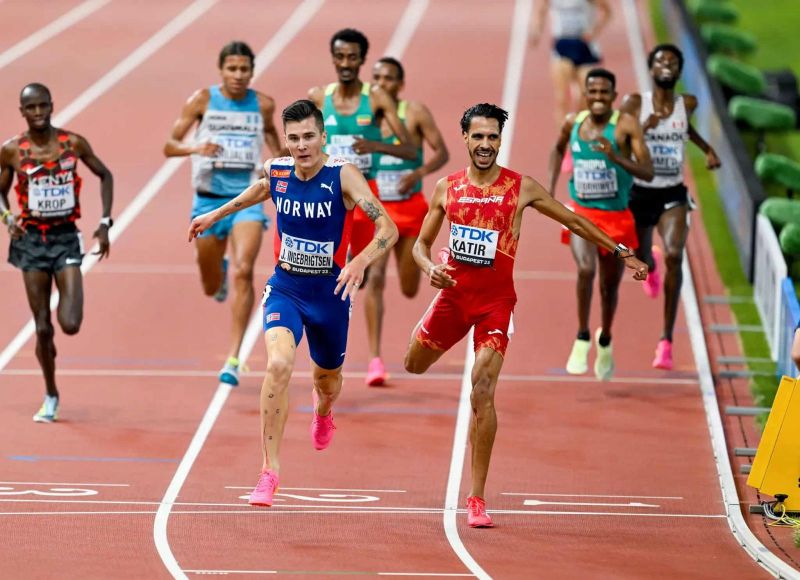 BUDAPEST - History has a peculiar way of repeating itself. After the disappointment in the 1500m, Jakob Ingebrigtsen rekindled memories of last year's championships in Oregon by clinching gold in the 5000m, his second event at the World Athletics championships in Budapest.
In a tactical masterclass, the Norwegian ace appeared to have learned from his earlier setback, taking a deliberate approach to the 12-and-a-half-lap race. While many expected Ingebrigtsen to make his move early, he nestled comfortably within the pack, keeping his cards close to his chest. As the bell chimed for the final lap, he unleashed a devastating turn of speed, setting the stage for an electrifying finish.
Spain's Mohamed Katir, having led for a significant portion of the race, seemed destined to hold his ground. The roaring crowd held its breath as both athletes entered the home stretch, but it was Ingebrigtsen's resilience that won the day, clocking in at 13:11.30, a mere 0.14 seconds ahead of Katir's impressive 13:11.44.
Last year's silver medalist from Oregon, Kenya's Jacob Krop, added another medal to his collection, settling for bronze. While Guatemala's rising star, Luis Grijalva, couldn't improve upon his previous fourth-place position, his consistency at the world stage solidifies him as a name to watch in future championships.
-->