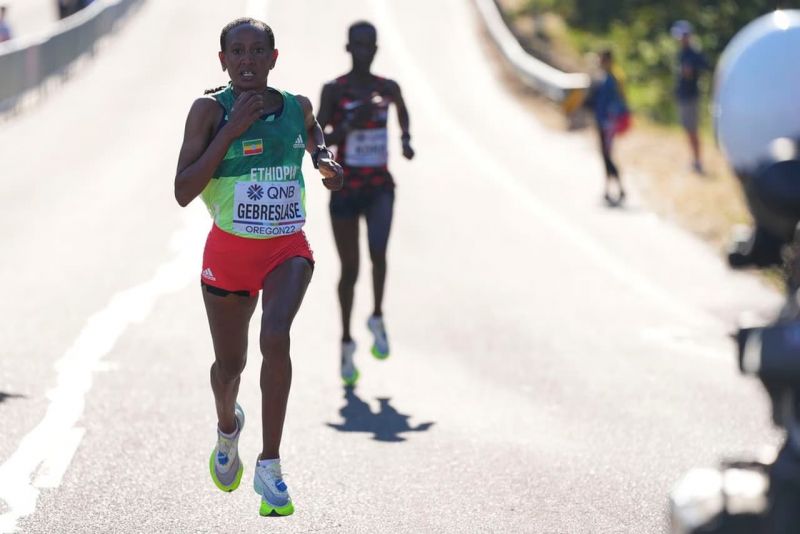 As the world gears up for the much-anticipated Women's Marathon event at the World Athletics Championships, all eyes are on Ethiopia's Gotytom Gebrselase, the reigning champion and championship record holder. Last year, Gebrselase clinched the gold medal in Eugene with a stunning time of 2:18:11, showcasing her exceptional endurance and speed.
Gebrselase's journey to the top has been marked by notable achievements. Emerging as the world under 18 champion in the 3000 meters back in 2011 in Lille, her transition to the marathon has been nothing short of remarkable. She secured victory at the Berlin Marathon in 2021 with a time of 2:20:09 and followed it up with a third-place finish in Tokyo with a time of 2:18:18. However, her performances in New York (2:23:23) and Boston (2:24:34) in 2022 were a testament to the challenges elite athletes face.
This year's competition promises to be fierce, as Gebrselase faces off against two of the fastest women in marathon history. Amane Beriso Shunkule, who clocked an astonishing 2:14:58 at the Valencia Marathon, now ranks as the third-fastest marathoner of all time. Beriso's recent second-place finish at the Boston Marathon, where she trailed two-time 5000 meters world champion Hellen Obiri, showcased her resilience and determination.
The Ethiopian contingent also boasts Yalemzerf Yehualaw, the world 10 km record holder, who made a splash in her marathon debut with a time of 2:17:23 in Hamburg in 2022. Yehualaw's consistent performance, including a fifth-place finish in London with a time of 2:18:56, underlines her potential as a strong contender. Tsehay Gemechu, another Ethiopian athlete, brings her track prowess to the marathon, having clinched fourth place in the 5000 meters at the World Championships in Doha 2019 and securing a second-place finish in Tokyo with an impressive time of 2:16:56.
However, the Kenyan contingent is not to be underestimated. Rosemary Wanjiru, who clocked an impressive 2:16:28 at the Tokyo Marathon, is a force to be reckoned with. With a fourth-place finish in the 10000 meters at the World Championships in Doha 2019 and a second-place finish in Berlin in 2:18:00, Wanjiru's versatility is a key asset for the Kenyan team. Joining her are Selly Kaptch, a world half marathon bronze medalist, and Shyline Jepkorir, the victor at Enschede in 2:22:45 in 2022, both of whom contribute to Kenya's formidable lineup.
Adding international flair to the competition are Australia's Lisa Weightmann and Aleksandra Lisowska, the European marathon gold medalist in Munich 2022. Weightmann's Commonwealth Games medals and her fourth-place finish in Osaka in 2:23:15 highlight her tenacity, while Lisowska's recent European triumph positions her as a contender to watch. Former world marathon champion Rose Chelimo from Bahrain adds further depth to the event.
As the stage is set for an electrifying battle of endurance, strategy, and determination, fans worldwide eagerly await the World Athletics Championships Women's Marathon on Saturday, August 26 at 7:00am local time (GMT +2). The convergence of these remarkable athletes promises a spectacle that will leave an indelible mark on the world of athletics.
-->