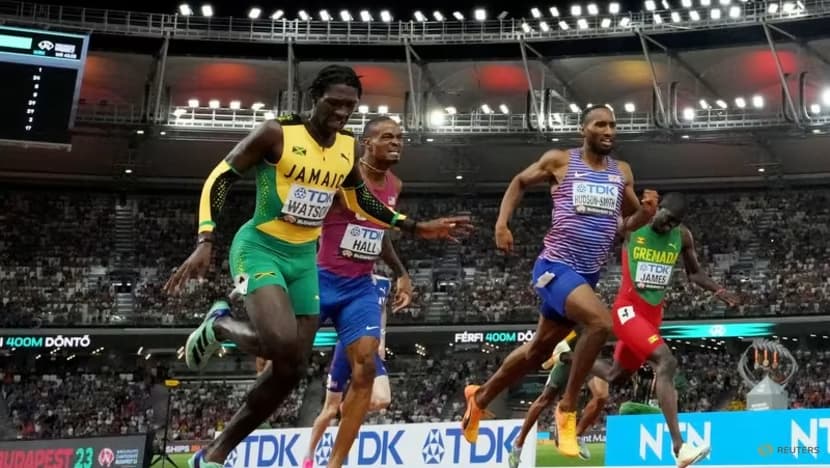 Antonio Watson from Jamaica took the global 400m title on an exciting night of the World Championships in Budapest on Thursday (24).
Matthew Hudson-Smith from Great Britain took an explosive start, fueled by his determination to upgrade his bronze from the previous year's championships in Oregon to a coveted gold. However, the closing stages of the race saw a remarkable turn of events that left the crowd in awe.
Hudson-Smith's strategy was clear from the outset: go out hard and dominate the race from start to finish. With the finish line in his sights and the taste of victory motivating every stride, he commanded the race for a significant portion. His powerful strides and unwavering resolve made him a formidable contender for the title.
But the 400m is a grueling race, testing even the fittest athletes to their limits. As the race unfolded and the finish line approached, signs of exhaustion began to show on Hudson-Smith's face. The fatigue that accompanies such an intense sprint began to take its toll, allowing Antonio Watson from Jamaica to surge forward with astonishing speed.
Watson, known for his strong finish and ability to maintain pace even in the toughest moments, used this to his advantage. With each stride, he drew closer to Hudson-Smith, and in a burst of acceleration, he overtook the British athlete. The crowd's roars reached a crescendo as Watson maintained his momentum down the homestretch, crossing the finish line in a sensational time of 44.22 seconds, clinching the gold medal.
Despite being overtaken by Watson, Hudson-Smith managed to hold on and secure the silver medal, finishing with a time of 44.31 seconds. His performance was a testament to his unwavering spirit and the sheer strength he exhibited throughout the race.
Adding to the excitement was the USA's Quincy Hall, who put on a remarkable performance of his own. Hall pushed himself to achieve a personal best, finishing strong with a time of 44.37 seconds, earning him the bronze medal.
-->