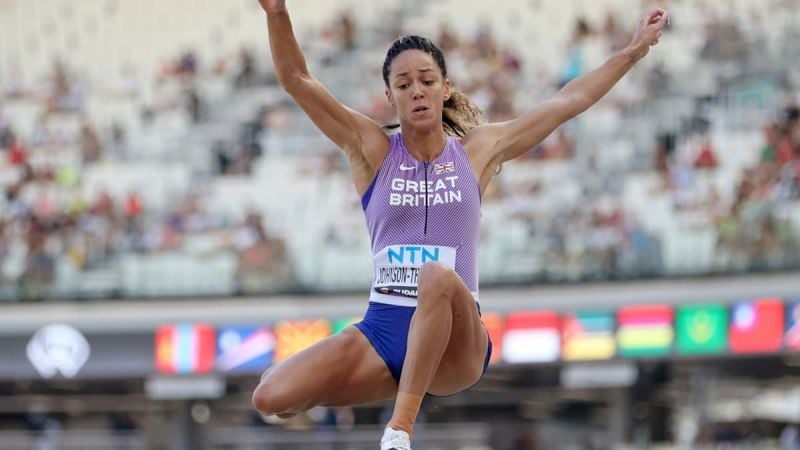 The Budapest arena was abuzz with anticipation as heptathletes readied themselves for the 800m race, the final event in the heptathlon. Fans from all around the world gathered, flags waving, cheering for their favorite athletes. Among them, three names were on everyone's lips: Great Britain's Katarina Johnson-Thompson, USA's Anna Hall, and Netherlands' Anouk Vetter.
Johnson-Thompson's resilience and mental fortitude were admirable throughout the competition. The memory of her long jump and javelin performance earlier in the day had given the Brit a renewed confidence. However, Anna Hall, despite the evident discomfort from the strapping on her leg, was not to be underestimated. A fierce competitor, she had consistently shown she could pull out all stops when needed.
The 800m event began. The athletes positioned themselves on the start line. The gun sounded, and they were off. Hall, renowned for her prowess in the 800m, immediately started pushing the pace. Johnson-Thompson, mindful of the time gap she needed to maintain, kept Hall in her sights, refusing to let her extend the lead.
Anouk Vetter, though not as swift in the 800m, had the cushion of her exceptional javelin throw and thus was also in the fight for the podium.
As the race progressed, the crowd's roars grew louder. Every step Johnson-Thompson took was with a world title on the line. Hall, feeling the pressure, gave it her all, her determination evident in every stride. But Johnson-Thompson matched her, stride for stride.
Coming into the final lap, Hall made a move, increasing her pace, trying to shake off Johnson-Thompson. But the Brit responded, staying close and refusing to be left behind. As they rounded the final bend, the energy in the arena was palpable.
Hall crossed the line in 2:04.09, but just a heartbeat later, Johnson-Thompson finished in 2:05.63, setting a new personal best. The mathematics was quickly done: with a difference of just 1.6 seconds in the 800m, Johnson-Thompson had done enough to secure the world title with 6740 points just 20 points more than Hall.
Emotions ran high. Johnson-Thompson, out of breath but elated, draped the British flag around her shoulders. Her journey to regaining the world title had been one of grit, determination, and unparalleled athleticism.
For Johnson-Thompson, this victory was a testament to her tenacity and a symbol of her return to the pinnacle of the sport. For Hall and Vetter, their performances were a reminder of the sheer depth of talent in women's athletics. Vetter with 6501 points secured the bronze medal for Netherlands.
-->