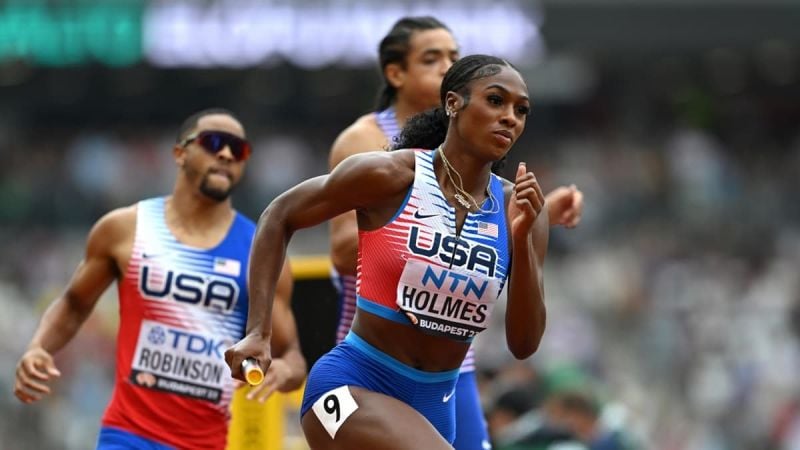 In a thrilling display of athleticism and determination, the United States emerged victorious in the mixed 4x400m relay at the World Athletics Championships in Budapest on Saturday night. This victory was not only a triumph for the American team but also a record-breaking feat. The US squad managed to shatter their own world record, completing the race in an astonishing time of 3:08.80.
The race took an unexpected turn when Femke Bol, the world indoor 400m record-holder from the Netherlands, suffered a dramatic fall just three strides from the finish line. Bol had been on the verge of securing a victory for her team, showing remarkable speed and determination throughout the race. However, fate had a different plan, and she found herself hitting the ground as victory slipped through her grasp.
As Bol's hopes were dashed, it was Alexis Holmes from the United States who seized the opportunity to make a breathtaking move. With sheer determination etched on her face, Holmes pushed herself to the limit in the final 50 meters. The sight of Bol stumbling so close to the spot where her Dutch teammate Sifan Hassan had also experienced a fall in the preceding women's 10,000m final added a sense of déjà vu to the tense atmosphere.
Holmes' determination paid off as she managed to close the gap and challenge Bol for the lead. The final moments of the race saw a fierce battle between the two athletes, showcasing their unwavering dedication to the sport. Ultimately, it was Holmes who managed to cross the finish line first, securing the victory for the United States in this incredible mixed 4x400m relay.
Women's 4x400m Mixed Relay Results
-->