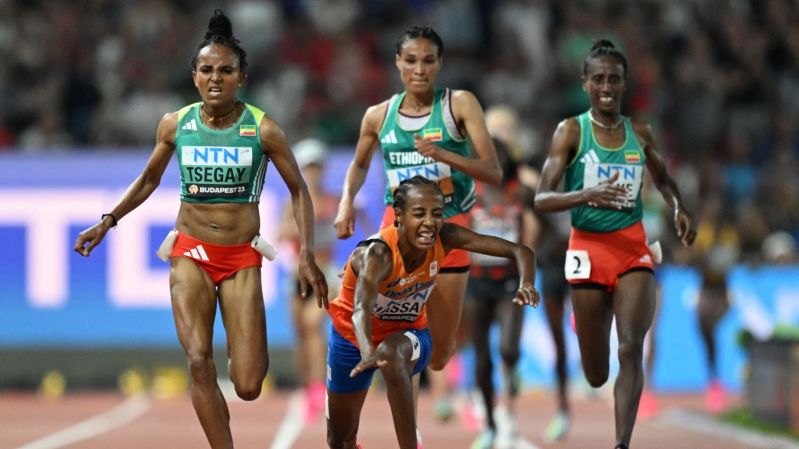 BUDAPEST - In a breathtaking finish at the World Championships, Ethiopian distance runner Gudaf Tsegay showcased her indomitable spirit by securing the women's 10,000m gold medal. Thousands of spectators at the stadium in Budapest witnessed a race that will undoubtedly go down in the history of athletics as one of the most dramatic.
From the starting gun, the 25-lap race saw numerous lead changes, strategic maneuvers, and a pace that held everyone's attention. But it was the final laps that transformed this contest into a legendary battle.
As the bell rang signaling the last lap, Tsegay was among the leading pack, locked in fierce competition with rivals who had their eyes on the coveted prize. There was incredible speed, determination, and drama that followed.
Sifan Hassan, known for her remarkable speed and endurance, made an electrifying move into the lead with a mere 200m left in the race. Close on her heels were the formidable Gudaf Tsegay and the world record holder and the defending champion, Letesenbet Gidey, turning the final stretch into an intense showdown. In an exhilarating climax during the home stretch, Hassan found herself sprinting shoulder to shoulder with Tsegay, each athlete pushing the other to their limit. However, in a heart-wrenching twist, just 20m from the finish, Hassan lost her footing and stumbled to the ground. The packed stadium watched in collective disbelief as one of the race favorites missed out on a medal opportunity. Displaying her undying spirit, Hassan, albeit devastated, rose to her feet and walked across the finish line, ultimately placing 13th.
In the midst of the drama that unfolded with Hassan's fall, Tsegay charged ahead, maintaining her momentum. She crossed the finish line in 31:27.18, securing her maiden 10,000m World title. Tsegay's victory was especially significant given her journey to this pivotal moment. Known primarily for her exploits over the middle distances, her decision to tackle the 10,000m was seen as a bold move. But with this win, she silenced any doubters and demonstrated her versatility on the track.
In the aftermath of the race, an elated Tsegay shared, "This gold means everything to me. To represent my country and to show that with hard work, dedication, and belief, anything is possible."
The podium was completed by Letesenbet Gidey (31:28.16 SB) and Ejgayehu Taye (31:28.31) who secured silver and bronze, respectively, in a thrilling competition from start to finish.
This World Championships has already seen numerous standout performances, and with several days of competition still remaining, fans worldwide are eager to see what other stories of triumph will unfold in Budapest.
-->