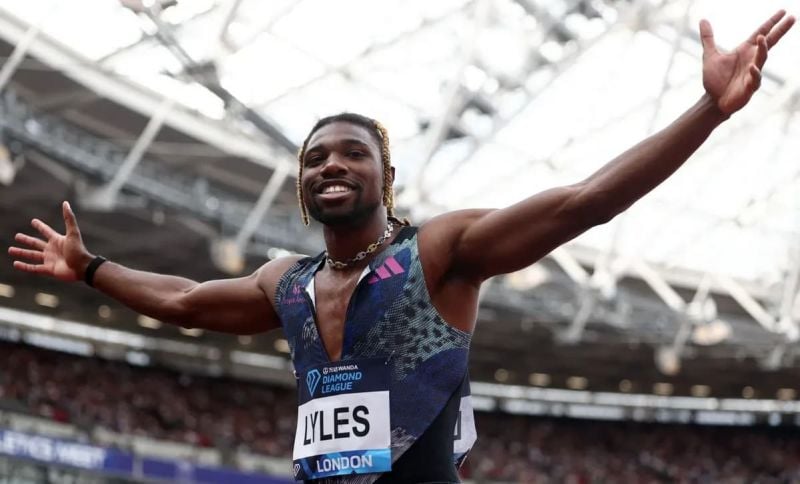 Men's 200m at London Diamond League saw defending World champion Noah Lyles set the world-leading 19.47, Letsile Tebogo smash the African record and Zharnel Hughes brake the 30-year-old British national record.
Around the bend, Lyles was challenged hard by British sprint double champion Zharnel Hughes and Botswana's teenage sprint prodigy Letsile Tebogo.
Despite Tebogo's hard efforts, Lyles crossed the line first in 19.47, bettering his own 2023 world-leading time and smashing Usain Bolt's meeting record. It was also Lyles third fastest time of his career.
Tebogo crossed the line second, moving up from 54th to sixth on the all-time 200m list with his 19.50, which was a new African record.
Noah Lyles: "The atmosphere was very good. The energy is there and I wanted to give something special today, the Lyles way. It is my first time in this stadium. I set my third best time ever, so it is very special. I am so glad we did not run yesterday in the wind and rain. The sun came out today and it all went to plan. I am going back to the USA then a relay camp before Budapest".
Just a month after breaking Linford Christie's 100m record, Hughes broke John Regis' 30-year-old British record with a 19.73.
Zharnel Hughes: "I did it again. I predicted it. I wrote it down that exact time this morning at about 9.30. I wanted to get the British record here on home soil and I did it. I did not care about winning, as long as I execute the time that my coach wanted and the British record. We have got things I can work on but I executed my race and that was to get to 60m as fast as possible then just maintain from there".
Kyree King improved his seasonal best to 20.01 ahead of Alexander Ogando (20.14).
Men's 200m Results: wind +1.6
| POS | NAME | NAT | RESULT |
| --- | --- | --- | --- |
| 1 | LYLES Noah | USA | 19.47 MR WL |
| 2 | TEBOGO Letsile | BOT | 19.50 AR PB |
| 3 | HUGHES Zharnel | GBR | 19.73 NR PB |
| 4 | KING Kyree | USA | 20.01 SB |
| 5 | OGANDO Alexander | DOM | 20.14 |
| 6 | MATADI Emmanuel | LBR | 20.35 |
| 7 | FERGUSON Joe | GBR | 20.44 SB |
| 8 | EFOLOKO Jona | GBR | 20.56 |
Women's 400 metres hurdles:
Femke Bol clocked a sensational 51.45 in the women's 400 metres hurdles setting the third fastest time ever, a European record, a Diamond League record and a world leading time. Only Sydney McLaughlin ran faster than Bol in history with 50.68 at the World Championships in Eugene and 51.41 at the US Championships in Eugene.
Femke Bol: "Amazing, I cannot believe it yet. To be honest, I felt really good at some points in the race. I tried not to think about the goal. I felt so strong coming over the last hurdle, so I am really happy. I have been wanting to run a 51 time since the Olympic Games in Tokyo. I had a feeling I could do it but still I can't believe I have done it. I hope we can put up a great race at the World Championships and put on a great show, I hope I am in even better shape than I am now. There is always room to improve but for now I am going to enjoy it".
Janieve Russell finished second with 53.75 edging US champion Shamier Little by 0.01. Jamaica's Rushell Clayton also dipped under the 54 seconds with 53.97.
Women's 100 metres:
Marie Josée Ta Lou from Ivory Coast chased down Dina Asher Smith in the women's 100 metres to improve Shelly Ann Fraser Pryce's meeting record with 10.74. Ta Lou won her fourth Diamond League competition this season.
Marie Josée Ta Lou: "Today has been so great. I was not feeling my best at first, but I have been listening to everything my coach has told me and I won. I hope to go back and train even harder for Budapest because I know it will take more to win there. I will just fix up on a few small things. I know my finish is strong but my start could be better and I need to improve it to make sure I can achieve my goal of winning gold".
Asher Smith improved her seasonal best to 10.85 to finish second in front of her home fans. In a race with six women under 11 seconds Shericka Jackson finished third with 10.94 ahead of Daryil Neita (10.96), Aleia Hobbs and Twanisha Terry (10.99).
Women's 5000 metres:
Gudaf Tsegay from Ethiopia won a great 5000 metres race setting the third fastest time in history and the meeting record of 14:12.29. Kenya's Beatrice Chebet improved her PB to 14:12.92 sealing her qualification for the Wanda Diamond League Final. Sifan Hassan finished third improving the European record with 14:13.42.
Gudaf Tsegay: "Today it was all about my time. At the Championships it is about the positions. Today my coach wanted to look at my 5000m speed. We will decide about running the 5000m or the 10000m at the World Championships nearer the time. My coach will decide about which or both to do".
Medina Eisa broke the world under 20 record in fourth place in 14:16.54. Alicia Monson improved the North American record to 14:19.45. Birke Haylom made her debut in the 5000 metres with 14:37.94. Melknat Wudu from Ethiopia improved her PB to 14:39.36.
Nadia Battocletti improved Roberta Brunet's Italian record by five seconds to 14:41.30 beating European Cross Country champion Karoline Bjerkeli Grovdal (14.45.24).
Men's shot put:
Ryan Crouser set a meeting record of 22.63m in the second round in the men's shot put and improved it by 2 cm to 22.65m. The world record holder threw over the 23 metres barrier with his third meeting record of the day with 23.07m in the fifth round to claim his third consecutive Wanda Diamond League win this season.
Ryan Crouser: "It was a fantastic atmosphere with a great crowd in a beautiful stadium. I was a bit concerned with us being a bit early on in the programme, but the crowd filled so many seats and really cheered us on throughout. It's great to have the Diamond League back in London again and witness such great support. It means the world to us as athletes. The fifth round was my best throw and a really good indicator for the World Championships".
Tom Walsh from New Zealand improved his seasonal best to 22.58m in the second round to take second place. Joe Kovacs finished third with 21.87m beating Payton Otterdahl (21.74m), Jacko Gill (21.11m), Filip Mihaljevic (21.06m) and Tomas Stanek (21.04m).
Men's high jump:
Olympic and three-time world champion Mutaz Barshim cleared 2.33m on his second attempt. US champion Ju'Vaughn Harrison sailed over 2.33m on his third attempt. Harrison jumped 2.35m to win his third Diamond League competition of the season. Barshim was not able to clear two attempts at 2.35m and his final try at 2.37m.
Thomas Carmoy from Belgium cleared 2.27m to take third place on countback over Joel Clarke Khan from Great Britain.
Ju'Vaughn Harrison: "I felt good coming into the competition. It was fun to battle with Mutaz Barshim. He is a great competitor. My hopes are to win in Budapest and get a PB which I feel confident that I can do it because I am having a great season. I will be heading to the US tomorrow to get some more training in and hopefully a little bit of rest".
Men's 110 metres hurdles:
Double world champion Grant Holloway claimed his third Diamond League competition of the season with 13.02 in his first appearance ever on the track of the London Stadium. Holloway has already booked his place in the Diamond League final.
Grant Holloway: "It feels good to be in London. The crowd was absolutely amazing. It's made me really excited for Budapest and now I just have to stay consistent. I got off the plane two days ago so I have been working through jet lag and I am just so proud for today's performance".
Men's 400 metres:
Wayde Van Niekerk held on the home straight to take a close win in the men's 400 metres in 44.36 edging US champion Bryce Deadmon (44.40) and Vernon Norwood (44.46).
Wayde Van Niekerk: "To an extent I wanted to replicate the result I had here six years ago. The last time I ran here I was son much in control of the 400 metres than this year. I am glad that I put down a fight and show myself that I can fight through difficult days too and get a victory. When I go to Budapest I can compete for medals. It's still a love/hate relationship, 400 metres has never been my favourite event but it has definitely been the most rewarding. I am in the to three in the world now, so in Budapest I will be fighting for a medal and I know I have the abilities to grow and improve by then".
Women's 3000 metres steeplechase:
Jackline Chepkoech pulled away from the rest of the field to cruise to win the women's 3000 steeplechase in a world leading time and a meeting record of 8:57.35. Beatrice Chepkoech finished second in 9:04.36. Aimee Pratt from Great Britain crossed the finish-line in 9:16.10.
Men's discus throw:
Olympic champion Daniel Stahl won the men's discus throw with 67.03m in the fourth round. Matthew Denny improved his seasonal best to 66.77m to take second place. World gold medallist Kristjan Ceh finished third with 66.02m and suffered his first defeat in two years.
Men's 1500 metres:
Yared Nuguse won the first Diamond League competition with 3:30.44. Narve Gilje Nordas from Norway took second place with 3:30.58 holding off British indoor record holder Neil Gourley, who improved his PB to 3:30.60. Elliot Giles dipped under the 3:31 barrier for the first time setting a lifetime best of 3:30.92. Matthew Stonier from Great Britain finished fifth in a PB of 3:31.30.
Yared Nuguse: "The first half of the race I was trying to stay relaxed and connected and by the end I managed to keep it up. Next I will be training for the World Championships in St. Moritz then off to Budapest where I am hoping to medal. It will be my first time at a World Championships. I know I have the potential so now I have just got to do it".
Women's 800 metres:
Jemma Reekie from Great Britain set a meeting record of 1:57.30 to win the women's 800 metres to the delight of British fans. Jamaican record holder Natoya Goule Toppin finished second in a seasonal best of 1:57.61 edging Halimah Nakaayi from Uganda, who improved the national record to 1:57.62. Catriona Bisset finished fourth setting the Oceanian record with 1:57.78. Katie Snowden from Great Britain improved her PB to 1:58.00 to finish sixth ahead of Renelle Lamote (1:58.64).
Women's pole vault:
European indoor and outdoor champion Wilma Murto from Finland cleared 4.80m in her second attempt to take the win on countback over Olympic and world gold medallist Katie Moon, who needed three attempts to clear this height. Tina Sutej from Slovenia cleared 4.71m in her first attempt to finish third on countback over world bronze medallist Nina Kennedy.
Former Olympic champion Katerina Stefanidi set her seasonal best of 4.62m to take fifth place.
Wilma Murto: "I was on a new pole, so it was a bit experimental but I am very happy with my performance. I have the National Championships next weekend so step by step working towards the World Championships in Budapest. In terms of being in London, this is the stadium I have always dreamed of competing at. I was in the team for 2017 but I was injured so I could not compete".
Katie Moon: "I feel pretty good considering that the conditions were not great for pole vault in the wind. All three women will be competing in Budapest, so it's been great preparation for that, as well as the conditions. Once I pick up my pole and go, I just focus on exactly what I am trying to execute and it has really paid off today. The atmosphere was amazing and almost felt homely to me. Overall it's been a fantastic day. I am going back to train in Atlanta and maybe squeeze in a small meeting but if not, Budapest is up next for me".
Women's long jump:
US Quanesha Burks leapt to 6.98m to take the win in the women's long jump. Brooke Bushkuehl from Australia took second place with 6.72m beating Tara Davis Woodhall on countback.
Men's 800 metres:
Max Burgin from Great Britain won a strong domestic 800 metres race in 1:43.85 beating Ben Pattison (1:44.02), Alex Botteril (1:44.75), Guy Learmonth (1:44.80), Tom Randolph (1:44.88) and Ethan Hussey (1:44.98).
Men's 4x100 relay:
A strong Japanese team formed by Sakai, Yanagita, Koike and Ueyama won the 4x100 equalling the world seasonal list with 37.80. Great Britain 1 (Azu, Hughes, Efoloko and Ramdhan) finished second ahead of Great Britain 2 (Gemili, Bromby, Kilty and Ferguson), third with 38.14, Germany (38.21) and Switzerland (38.53).
Women's 4x100 relay:
The Dutch team formed by Seedo, Van Hunenstjin, Samuel and Jiya took the win in 42.38 ahead of the United States (42.47) and Great Britain (42.59).
-->