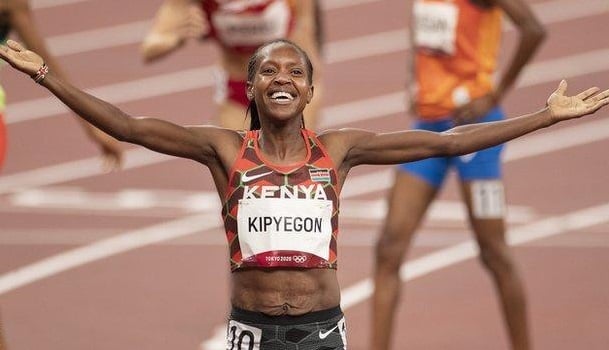 Faith Kipyegon smashed the world record over the mile distance with a sensational time of 4:07.64 at a fabulous edition of the Herculis EBS meeting at the Stade Louis II in Monaco. The top-eight finishers dipped under the 4:17 barrier.
The Olympic champion took almost five seconds off the previous world record set by Sifan Hassan on the same track in 2019 with 4:12.33.
Kipyegon set her third world record in this year's edition of the Diamond League after clocking 3:49.11 on the 1500 metres in Florence and 14:05.20 in the 5000 metres in Paris.
Kipyegon ran behind pacemakers, who went through the 400 metres in 1:01.76 and the 800 metres in 2:04.10. Kipyegon took the lead and was level with the trackside wavelights indicating world record pace. She was ahead of the lights at the bell. She launched her kick to leave the wavelights far behind and closed the finish-line in 4:07.64.
Faith Kipyegon: "It was a blessing to do with these ladies. I can see that they are all happy for me. It is so emotional. It is a blessing. It just does not happen everytime you run. I have to say thanks God for this record. I really enjoyed the race. I came for that. I wanted to chase the world record and thanks God. It was amazing to break the world record just before the World Championships. I was really forward to running here. I have done some good training so far and I just came for it. It was really good because the race was well planned. It just went smoothly. I want to double my world title at 1500m in Hungary and I am going to defend with 5000m".
Clara Mageean finished second setting an Irish record of 4:14.68 to move up into fifth on the world all-time list. Freweyni Hailu crossed the finish-line in 4:14.79. Laura Muir improved the British record to finish fourth with 4:15.24. Jessica Hull from Australia broke the Oceanian record with 4:15.34. Nikki Hiltz from the USA set the North American record with 4:16.35. There were PBs for Melissa Courtney Bryant (4:16.38)Elise Cranny (4:16.47) and Abbey Caldwell (4:20.51).
| POS | NAME | NAT | RESULT |
| --- | --- | --- | --- |
| 1 | KIPYEGON Faith | KEN | 4:07.64 WR |
| 2 | MAGEEAN Ciara | IRL | 4:14.58 NR PB |
| 3 | HAILU Freweyni | ETH | 4:14.79 SB |
| 4 | MUIR Laura | GBR | 4:15.24 NR PB |
| 5 | HULL Jessica | AUS | 4:15.34 AR PB |
| 6 | HILTZ Nikki | USA | 4:16.35 AR PB |
| 7 | COURTNEY-BRYANT Melissa | GBR | 4:16.38 PB |
| 8 | CRANNY Elise | USA | 4:16.47 PB |
| 9 | CALDWELL Abbey | AUS | 4:20.51 PB |
| 10 | GUERRERO Esther | ESP | 4:22.28 PB |
| 11 | CLEYET-MERLE Berenice | FRA | 4:26.06 NR PB |
| 12 | GUILLEMOT Agathe | FRA | 4:26.92 PB |
| 13 | BREA Joselyn Daniely | VEN | 4:27.41 AR PB |
| DNF | NANYONDO Winnie 1200m - 3:06.75 | UGA | |
| DNF | SCHOFFIELD Kristie 800m - 2:04.5 min | USA | |
Men's 400 metres hurdles:
Olympic champion and world record holder Karsten Warholm won his third Diamond League competition of the season with 46.51, just one hundredth of a second faster than his previous world seasonal best set in Oslo. Warholm set a world leading time, a meeting record and a world leading time. The 47 seconds barrier was broken for the first time in the history of the Herculis meeting.
Karsten Warholm: ""It was really nice to do this again, that 0.01 sec of the Diamond League record and also the track record. I had a very good warm-up, so I was ready to play hard. Conditions were very good, a little windy and warm. I was just going hard and my goal is always to fight until the end. My last race was in the 17 degrees and rain. Seeing that things are still working and I can go faster and faster everytime, that means a lot. This is a nice timing as the World Championships is just around the corner. Since I was injured last year last year, I enjoyed the racing more"
Alison Dos Santos started his season with a second place in 47.66. CJ Allen finished third in a PB of 47.84 edging Ludvy Vaillant, who smashed his lifetime best to 47.85.
Men's 800 metres:
Wycliffe Kinyamal pulled away from Marco Arop at the final bend to win the men's 800 metres in a world leading time of 1:43.22. Six men dipped under the 1:44 seconds barrier. Slimane Moula from Algeria finished second with 1:43.40 ahead of Front runner Marco Arop from Canada (1:43.51), Djamel Sedjati from Algeria (1:43.88), Daniel Rowden from Great Britain (1:43.95) and Bryce Hoppel (1:43.96). Fresh European Under 23 champion Yanis Meziane from France improved his PB to 1:44.30.
Men's 5000 metres:
World silver medallist Hagos Gebrhiwet from Ethiopia launched his kick in the final 500 metres to win the 5000 metres in a lifetime best of 12:42.18. Gebrhiwet held off world seasonal leader Berihu Aregawi (12:42.58) and Telahun Bekele, who smashed his PB to 12:42.70. Mohamed Katir from Spain set the European record with 12:45.01 Jacob Krop from Kenya and Jacob Kiplimo from Uganda also dipped under the 12:50 barrier with 12:45.02 and 12:48.78. There were also a seasonal best for Nicholas Kipkorir (12:55.46), a PB for Thierry Ndikwumwenayo from Spain (12:55.47) and a French record for Jimmy Gressier (12:56.09).
Hagos Gebrhiwet: "Today I am very glad for my performance because 12:42 in a huge performance for me. The race was very good and I am glad for my compatriots. We are not training in different training groups. We have different coaches but we helped each other in the race. We are friends, but on the other hand, we are also opponents. In Budapest I will run the 5000 metres,
Women's 100 metres hurdles:
This year's US champion Nia Ali won the women's 100 metres hurdles setting the world seasonal lead, the meeting record and her PB with 12.30. Ali edged Kendra Harrison by 0.01 in a repeat of this year's US Championships. Alaysha Johnson took third place with 12.39 edging Tia Jones with the same time. Pia Skriszowska finished fifth with 12.68.
Nia Ali: "I feel amazing. It was a PB for me: It is the first time I win in a Diamond League. I cannot believe it and it is lovely to have won here in Monaco. It is a beautiful place and I really enjoy myself here. I really fight for it because I felt myself a bit behind in the last hurdle, but I have just attacked the finish line and and won my best race. My objective for the rest of the season is to stay healthy and try to improve my technique. I know Budapest will be a very strong competition and a very fast race so I am looking forward for the challenges".
Women's 200 metres:
Reigning world champion and Diamond League champion Shericka Jackson cruised to claim her second win of the season in the women's 200 metres in 21.85 ahead of NCAA 100m and 200m Julien Alfred from Santa Lucia (22.08) and 2019 world champion Dina Asher Smith, who improved her seasonal best of 22.23.
Shericka Jackson: "It was great for me today. The last time I was second here, so to come here and take the win, it was really good. I have three competitions in a week, so it is a bit hard for me. One more coming up. It will be London. I don't think that the curve was as good as I wanted, but I managed to go until the finish so it was good. I am glad that I finished this one healthy. I was able to run 21 seconds so this is one. I want to make sure I am on the top of my shape in Budapest".
Men's 100 metres:
African record holder Ferdinand Omanyala edged Letsile Tebogo by one hundredth of a second to win to win the men's 100 metres in 9.92. Jamaica's Ackeem Blake finished third in 10.00 edging his compatriot Yohan Blake by 0.01. Kishane Thompson too fifth place in 10.04.
Ferdinand Omanyala: "I will be the next world champion. There are no doubts about it. I am ready to do it. I just confirmed what I am capable of it. I will not call a perfect race but I am ready, It was a blessing to win here. I wanted a faster time but win is a win".
Men's pole vault:
Chris Nilsen needed two attempts to clear 5.72m and 5.82m before equalling his seasonal best of 5.92m in his first attempt to take the win. Ernest John Obiena cleared 5.82m on his first attempt to finish ahead of Kurtis Marshall on countback.
Armand Duplantis cleared 5.72m on his first attempt but he passed the height of 5.82m. The Swede failed two attempts at 5.82m and one final try at 5.92m. Duplantis shared fourth place with Sam Kendricks, Bo Kanda Baehre and Pal Haugen Lillefosse.
Christopher Nilsen: "This is my second Diamon League win. I had some struggles at the beginning of the season but I feel more comfortable. The World Championships will be a completely different day. We have now a month to be fully prepared and a lot of things can happen. My main goal is to stay in the same shape I have right now. The crowd and the atmosphere in Monaco is so good. It is one of my favourite meeting, because everyone knew who we were. It was really really a honour and experience".
Women's 400 metres:
Natalia Kaczmarek clinched her third Diamond League race of the season dipping under the 50 seconds with 49.63. Four women broke the 50 seconds. Shamier Little improved her PB to 49.68 to finish second. Lieke Klaver took third place in 49.99 sharing the same time with Rhasidat Adeleke. Sada Williams improved her seasonal best to 50.00.
Men's triple jump:
World silver medal Fabrice Hugues Zango leapt to 17.70m in the Final 3 to move from third into first to win the men's triple jump beating world under 20 champion Jaydon Hibbert, who led until the fifth round with 17.66m on his Dimaond League debut.
Women's long jump:
European indoor silver medallist Larissa Iapichino won her third consecutive Diamond League competition of the season improving her PB by two cm with 6.95m in the Final 3.
Hilary Kpatcha from France took the early lead with 6.77m in the first round. Ivana Vuleta moved past Kpatcha with a seasonal best of 6.86m in the fourth round. Tara Davis Woodhall moved from eighth into first place with 6.88m in the fifth round overtaking Vuleta by two cm. Iapichino jumped 6.81m in the fifth round before setting the second best performance in Italian athletics history with 6.95m. Only her mother Fiona May jumped further with her Italian record of 7.11m.
Larissa Iapichino: "I am very happy because it is a competition where I had to manage all the conditions. I was not feeling in at the beginning maybe it was because of the heat. It was very hot and then I managed everything. I have to confrontate myself myself without my coach because he was not here so it was a bit difficult but it ended very good. For the moment ahead of the World Championships ahead of the World Championships it is a bit stressful because of all these travels. I am a bit tired but I will try to rest as much as possible for the competition".
Women's high jump:
Nicola Olyslagers needed three attempts to clear 1.96m and 1.99m. The Australian jumper failed one attempt at 2.01m and two tried at 2.03m. Iryna Gerashchenko cleared 1.96m in her first attempt, but she failed three attempts at 1.99m.
Yaroslava Mahuchik cleared 1.96m in her second attempt. The Ukrainian jumper cleared 1.96m in her second attempt. Mahuchik failed two attempts at 1.99 and passed to 2.01m before failing her final attempt at 2.03m.
Eleanor Patterson and Angelina Topic shared the fourth place with 1.96m.
Men's javelin throw:
World silver medallist Jakub Vadlejch claimed the win in the men's javelin with 85.95m to beat European champion Julian Weber (84.23m) and 2012 Olympic champion Keshorn Walcott from Trinidad and Tobago (81.31m).
Men's 3000 metres steeplechase:
Twenty- year Simon Kiprop Koech won his first ever Diamond League race in the men's 3000 metres steeplechase setting a PB of 8:04.19. Abraham Kibiwot claimed second place with 8:09.54. Abrham Sime from Ethiopia and Samuel Firewu with 8:10.56 and 8:10.57. George Beamish from New Zealand set the Oceanian record with 8:13.26.
800 metres B race:
Niels Laros won the 800 metres B race improving his PN to 1:44.78. Laros made a major breakthough last year when he won two gold medals in the 1500 and 3000 metres at the European Under 18 Championships in Jerusalem. Ermias Germia finished second with 1:44.88.
Complete Monaco Diamond League Results
-->