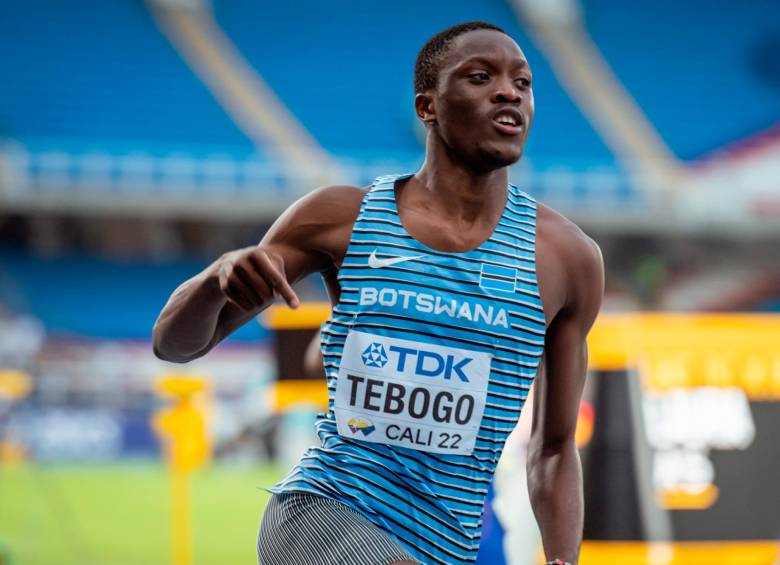 World 100m under 20 champion Letsile Tebogo from Botswana stepped up in distance smashing his PB in the men's 400 metres to 44.75. The meeting record set by Emmanuel Korir in 2018 with 44.52 remained unbeaten.
Before this race Tebogo had a previous PB of 46.09. Tebogo set the world under 20 record with 9.91 in the 100m at the World Under 20 championships in Cali last year and improved his PB to 19.87 in the 200m this year. Two weeks ago the two-time world under 20 champion won his first 200 metres race in the Diamond League in Lausanne in 20.01 into a headwind of -1.4 m/s. Rusheen McDonald from Jamaica dipped under 45 seconds with 44.83 beating world under 20 champion Lythe Pillay (45.57).
Women's long jump:
European outdoor champion Ivana Vuleta from Serbia improved her seasonal best to 6.77m into a headwind of -0.8 m/s. The five-time Diamond League champion started her competition with a leapt to 6.68m in the first round and increased her mark to 6.69m and 6.71m before producing her winning mark in her sixth attempt.
Ivana Vuleta: "I wanted to jump further but I am very happy with this competition. I enjoyed coming to Lignano. I would like to come back in the future. I have still two Diamond League competitions in Monaco and London before the World Championships in Budapest".
Men's 100 metres:
Rohan Watson won his first European 100m race in 10.11 after taking the victory at the Jamaican Championships in Kingston. Emmanuel Matadi from Liberia, who won in Lignano last year, finished second with 10.17 beating Yennis Fernandez from Cuba (10.20). Two-time world under 20 medallist Benjamin Richardson won the B race in 10.22.
Rohan Watson: "It means a lot to win my first European race. I enjoy training in Lignano. My goal for the World Championships in Budapest is to set a new PB".
Women's 100 metres:
Jonielle Smith from Jamaica completed the Jamaican sprint double by winning the women's 100 metres in 11.19. Smith followed in the footsteps of her illustrious compatriots Shelly Ann Fraser Pryce, Elaine Thompson Herah and Shericka Jackson, who won the 100m in the past editions of this meeting. Natasha Morrison finished second in 11.25 one week after her third place at the Jamaican Championships. Carina Horn from South Africa took third place with 11.42.
Jonielle Smith: "It was amazing to win my first European race of the season. I am training hard in Lignano. It's my second year here".
Women's 100 metres hurdles:
Taylon Bieldt from South Africa won the women's 100 metres hurdles in 12.81 equalling the meeting record held by Kellie Wells since 2011. Bieldt took her second win on Italian soil after finishing first in Lucca in 12.76.
Amber Hughes from the USA finished second in 12.89 beating Jamaican Championships fourth placer Amoi Brown (12.92) in a global competition with six athletes from six different countries.
Taylon Bieldt: "It was very special to win my second race in Italy. I love competing in this country. All European races are very competitive. It's important to be consistent at high level. I will run my next race in Lucerne on 20 July".
Women's 400 metres:
World bronze medallist Sada Williams from Barbados won the women's 400 metres in 50.80 improving the meeting record held by Phyllis Francis with 50.86 since 2017.
Men's 200 metres:
World finalist Luxolo Adams from South Africa won the men's 200 metres in 20.41 beating his compatriot Benjamin Richardson (20.51).
Men's 800 metres:
Daniel Rowden from Great Britain won the men's 800 metres in 1:44.29 missing Khadevis Robinson's meeting record by just 0.04. Rowden ran faster only once in his career with 1:44.09 in Zagreb. Ramzi Abdenouz from Algeria finished second in 1:45.62 ahead of former NCAA champion Mahad Zahafi from Morocco (1:45.93).
Women's 800 metres:
Australia's Carley Thomas took the women's 800 metres breaking the 2 minutes barrier for the first time in her career with 1:59.95. Thomas improved her previous PB of 2:01.01.
Carley Thomas: "I am very happy, as I broke my previous PB that I set a long time ago. I had a big injury. I am based in Seattle in the United States".
Men's 1500 metres:
USA's Joe Waskom won the men's 1500 metres improving Ossama Meslek's meeting record with 3:34.64. Joao Bussotti from Italy improved his pb by 0.34 to 3:35..65 to take second place ahead of Ethiopia's Abdisa Fayisa (3:36.18).
Women's 1500 metres:
Helen Schlachtenhaufen completed the US double by winning the women's 1500 metres 4:05.05 beating Australia's Sarah Billings (4:06.77 PB) and Rose Davies (4:08.76)
Men's high jump:
Manuel Lando from Italy, European Under 23 silver medallist in Tallin 2021, won the men's high jump improving his PB twice to 2.22m in his third attempt and 2.25m at the first time of asking in the competition dedicated to late Italian high jumper Alessandro Talotti. Lando had a previous PB of 2.21. Former Italian record holder Marco Fassinotti finished second with 2.22m.
Men's 400 metres hurdles:
Seamus Derbyshire from Great Britain won the men's 400 metres hurdles in 50.08 ahead of Italy's Mario Lambrughi (50.20) in the competition dedicated to Ottavio Missoni, Olympic finalist in the 400 metres hurdles in London 1948 and fashion designer.
-->