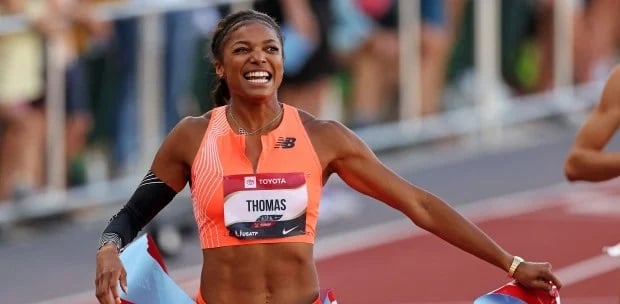 Gabby Thomas won the women's 200m, setting an impressive world-lead on the final day of the USA Track and Field championships on Sunday (9 July) in Eugene, Oregon.
In the 200m final, Thomas posted a 21.60, a personal best, a meeting record, and the fastest time of the year. Just hours earlier, reigning 200m World champion Shericka Jackson posted 21.71, which was at the time the fastest time of the season.
"It felt really empowering to reclaim my title. Coming here last year and being injured was really heart-breaking for me. I was more than ready this year. I was hungry, I wanted it more than anyone." Thomas told NBC.
A second U.S. title would have been a dream come true for Sha'Carri Richardson, who finished second behind Tokyo Olympics 200m bronze medalist Thomas. Richardson came in second with a personal best 21.94, while Kayla White came in third with a personal best 22.01.
Women's 200m Final - Sunday, July 9
Wind -0.4m/s
| POS | NAME | RESULT |
| --- | --- | --- |
| 1 | Gabby Thomas | 21.60 WL MR |
| 2 | Sha'Carri Richardson | 21.94 |
| 3 | Kayla White | 22.01 |
| 4 | Abby Steiner | 22.07 |
| 5 | Twanisha Terry | 22.17 |
| 6 | Jenna Prandini | 22.43 |
| 7 | Tamara Clark | 22.45 |
| 8 | Mia Brahe-Pedersen | 22.65 |
In the men's 200m final, the 19-year-old Erriyon Knighton held off Kenny Bednarek for the win in 19.72 seconds. Kenny Bednarek clocked 19.82 to take second, while Courtney Lindsey was third at 19.85.
Last summer in Eugene, Oregon, Bednarek and Knighton won silver and bronze medals, respectively.
Noah Lyles, the defending World champion, sat out the race because he has an automatic berth to worlds in the 200m. Additionally, he qualified for the 100 meters.
Fred Kerley finished fourth, his first defeat of the season. Currently, Kerley is the reigning world champion in the 100 meters and has a place at worlds in that event.
Men's 200m Final: Wind - 0.1m/s
| POS | NAME | RESULT |
| --- | --- | --- |
| 1 | Erriyon Knighton | 19.72 SB |
| 2 | Kenny Bednarek | 19.82 SB |
| 3 | Courtney Lindsey | 19.85 PB |
| 4 | Fred Kerley | 19.86 SB |
| 5 | Robert Gregory | 19.90 |
| 6 | Christian Coleman | 19.95 |
| 7 | Kyree King | 21.89 |
| 8 | Cameron Miller | 1:11.97 |
USATF OUTDOOR CHAMPIONSHIPS 2023 RESULTS
Men's and women's 400m hurdles
The reigning Olympic and world silver medallist, Rai Benjamin, who recently recovered from a significant knee injury last February, made his presence felt at Hayward Field. Benjamin won his 4th consecutive USA 400m hurdles title by clocking 46.62 - the fifth fastest performance of all time. Additionally, he overtook Karsten Warholm's world lead of 46.76 set two days earlier in the Norwegian championships.
Behind Benjamin, CJ Allen clocked 48.18 for silver while Trevor Bassitt ran 48.26 to take US Championship bronze.
Shamier Little won the 400m hurdles in 53.34 to make the US team along with 2019 world champion Dalilah Muhammad (53.53) and Anna Cockrell (54.24).
Elsewhere on the track
The 110m hurdles were won by Daniel Roberts in 13.05, followed by Cordell Tinch in 13.08 and Freddie Crittenden in 13.23. Grant Holloway, the two-time world champion, clocked 13.10 in the semifinals but did not compete in the final. As defending champion, he has a bye at the World Championships in Budapest,
In the women's 800m final, Nia Akins won in 1:59.50, while Raevyn Rogers finished second in 1:59.83.
Bryce Hoppel won the 800m in 1:46.20 after surviving a tense and strenuous ealry stages of the race. Isaiah Harris took second in 1:46.68 and Clayton Murphy was third in 1:46.82.
Field Events
The reigning shot put champion continued his dominance and finished the final attempt with a 22.86m to win his sixth national title. Josh Awotunde, who won the bronze medal at the world championships, finished in second place with a 22.10m on his fourth attempt. Payton Otterdahl took third with a 22.09m personal best.
The reigning Olympic champion Valarie Allman won the discus throw with 67.66m. Tara Davis-Woodhall won the long jump with (6.87m), ahead of Quanesha Burks (6.82m) and Jasmine Moore (6.74m).
Olympic and world champion Katie Moon topped the 4.90m WL to take her second national outdoor title. Sandi Morris cleared 4.61m for silver, while 18-year-old Hana Moll, the world U20 champion, was third with a 4.61m PB.
USATF OUTDOOR CHAMPIONSHIPS 2023 RESULTS
-->