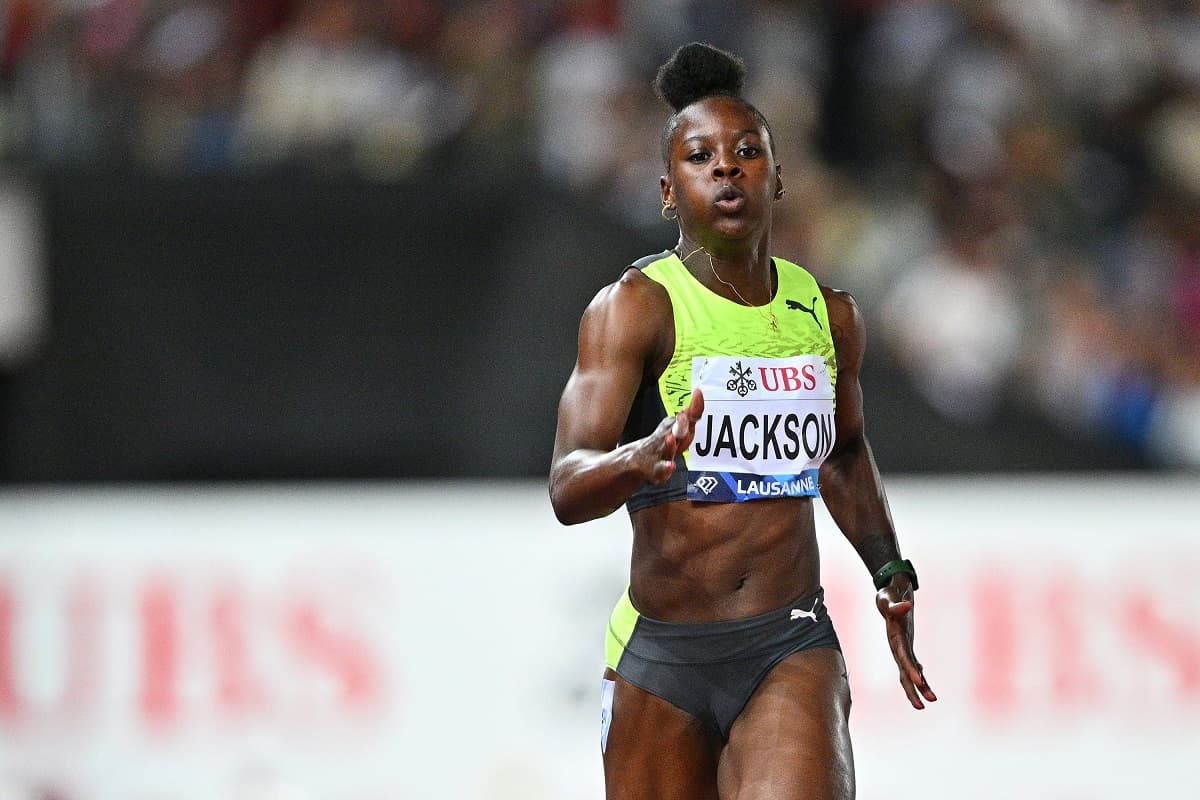 Shericka Jackson proved she was the fastest in the world, defending her JAAA/PUMA National Senior Championship 200m title with a world lead inside the National Stadium.
It was Jackson who dominated the 200m race, posting a world-leading time of 21.71 seconds, followed home by Shellly-Ann Fraser-Pryce, who ran a 22.26 in just her second race of the year. Lanae Tava-Thomas was third in 22.55 seconds.
Jackson performed impressively at the Jamaica Track and Field Championships on Friday night, setting her personal best and world lead of 10.65 seconds.
Women's 200m Final Results: wind -0.5m/s
1. Shericka Jackson - 21.71
2. Shelly Ann Fraser Pryce - 22.26
3. Lanae-Tava Thomas - 22.55
4. Natalliah Whyte - 22.67
5. Kevona Davis 22.80
6. Shashalee Forbes - 22.91
7. Natasha Morrison 23.27
8. Jodean Williams - 23.35
Watch Race Video
Elsewhere
Rasheed Broadbell won the 110m national title with a personal best and world-leading 12.94 seconds (0.7m/s) in a close race against Olympic champion Hansle Parchment (13.12). He broke his previous personal best of 12.99 set last year and took over the world lead from American Cordell Tinch's 12.96 seconds.
Andrew Hudson won the men's 200m title for a second straight year in 20.11 seconds (-0.2m/s). He beat Rasheed Dwyer, who ran 20.26 seconds, and Tyquendo Tracey, who ran 20.48 seconds. Yohan Blake, the second fastest man ever over the distance, placed fourth in 20.51 seconds.
With a flying start, Olympic Games bronze medalist Megan Tapper held off NCAA champion Ackera Nugent in a thrilling women's 100m hurdles final. After running a lifetime best 12.44 seconds in Saturday's semi-finals, Tapper won the title with 12.64 seconds (-1.9m/s), Nugent ran 12.67 seconds, and Danielle Williams crossed the line third at 12.82.
After a fierce battle with Antonio Watson, Sean Bailey won the 400m national title for the second time in a row. Bailey broke the tape at 44.48 seconds, just ahead of Watson who set his personal best for the 400m with 44.54 to take silver. Jevaughn Powell took third place in 45.19 seconds.
Asnickesha Pryce won her first women's 400m title, holding off Janieve Russell to win in a time of 50.21 seconds, a new personal best.
Russell, the 400m hurdles champion, also improved her personal best to 50.76 seconds while last year's champion, Candice McLeod, took third in 51.01.
In the men's triple jump 18-year-old Jaydon Hibbert, the world leader in the event, successfully defended his title with a leap of 17.68m (1.4m/s). Jordan Scott was second with a wind-aided 16.73m (3.0m/s) while Ryan Brown was third with a wind-aided 16.03m (2.5m/s).
FULL RESULTS JAMAICAN TRACK AND FIELD CHAMPIOSHIPS 2023
-->