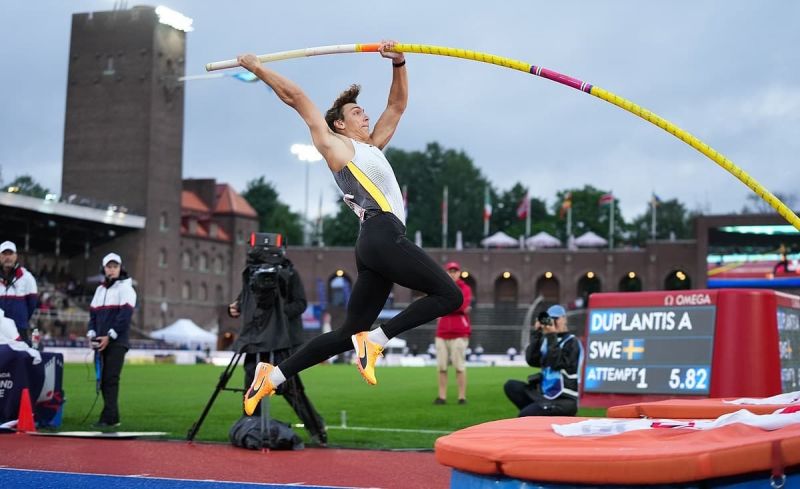 Armand Duplantis won for the fifth time at the Bauhaus Galan in Stockholm with 6.05m in front of his home fans in a competition delayed by rain in a cool evening with a maximum temperature of 15°C/59F.
Duplantis had a clean sheet clearing 5.62m, 5.82m, 5.95m and 6.05m in his first attempts. He then made three unsuccessful attempts at the world record height of 6.23m.
Armand Duplantis: "I found some rhythm on the runway despite the cold weather. It was not the weather we wanted of course but I always wanted to jump well in every meeting. Especially here this is the most important meeting, outside the world championships, for me in the year. Mentally I felt I was there and with a chance of the world record which is why I wanted to go for it as well as for the people that had stayed so long into the evening to see me. I wanted to get closer to it but the conditions and tiredness caught with me in the end there. I used the biggest pole I had in the bag. I was really fired up and felt I could conquer the world. The crowd were amazing to stay like that and says so much about their passion for watching athletics and I will always be grateful for that".
Ernest John Obiena from the Philippines cleared 5.82m in the second attempt before failing three attempts at 5.95m. Pal Haugen Lillefosse from Norway had a clean sheet until 5.72m before making three unsuccessful attempts at 5.82m.
Men's discus throw:
World champion Kristjan Ceh took his third Diamond League win this season with a throw of 69.83m in the second round. The Slovenian thrower has extended his overall winning streak in the Diamond League to eight consecutive victories including five wins in the 2022 season.
Olympic gold medallist Daniel Stahl from Sweden took second place with 67.57m in the second round in his only valid throw. Stahl almost threw 70 metres but he stepped out the track.
Kristjan Ceh: "The rain did not bother me because I have a really good discus grip, my technique was almost perfect and I really had the power today to throw over the 70 metres barrier. I got 69 metres twice, so it shows a really good consistency. It was a little bit tough but the contact with the discus was really good also in the rain, so I cannot complain. It was almost like normal. It is like a crazy discus year. Five men threw over 70 metres this season and they were in the line-up today. It was a tough field and everybody did the best they could.
Men's 400 metres hurdles:
World record holder Karsten Warholm cruised to his second consecutive Diamond League win in 47.57. Olympic finalist Kyron McMaster from Virgin British Island finished second in 48.94 ahead Rasmus Magi from Estonia (49.04) and Alessandro Sibilio from Italy (49.11).
Karsten Warholm: "I felt very good before the start and the conditions make it a little bit challenging, but I felt I had to get in and got to post another good time, so I am very vert pleased. I am 100% exactly where I want to be. I am in a good position now, I am running fast times, so I think I actually have never felt better in my career. So I continue to run the records. That is something I want to do. I want to hold the world record. I want to break it myself a couple of times, but it is going to be tough because the time I ran in Tokyo is really good, but I think I can really do better. I have to say thanks to all the people coming out there tonight because it has been really rainy day."
Men's 3000m Steeplechase:
Following his win in Rabat last month, Olympic and world champion Soufiane El Bakkali claimed his second Diamond League victory of the year in the 3000m steeplechase. With determination and self-belief, he followed Ethiopian Getnet Wale, an Olympic fourth-place finisher, before taking the lead on the last lap.
After pushing past every barrier, he finished in 8:09.84 with a considerable lead. A second-place finisher by a mile, Wale clocked in at 8:12.27, while Ethiopian teammate Abrham Sime came in third at 8:16.82.
"It's only my second race this season and I feel good," said El Bakkali. "Now I have to see with my coach how to adapt training."
He added: "The main goal this season remains to extend my world title in Budapest. I won the World Championships in Eugene last year and the Olympic Games in Tokyo, so I really want to win my first world title in Europe."
Women's 100 metres hurdles:
World champion and record holder Tobi Amusan from Nigeria clinched her first Diamond League competition of the season in the women's 100 metres in a solid 12.52 with a tailwind of +0.9 m/s following her third places in Ostrava and Lausanne. World indoor finalist Sarah Lavin from Ireland improved her PB to 12.73 to finish ahead of European champion Pia Skrzyszowska (12.78).
Tobi Amusan: "I am excited to be out here competing and it is great to get the win on the back of Lausanne. The rain stopped but it was still very cold. I am not very happy with where I am but I trust in my coach even when it is not necessarily processing right. I trust in my coach and God and myself. I didn't get well warmed up out as it was cold but I got through and I am running consistently so it is good".
Women's 200 metres:
Darryil Neita from Great Britain moved past Marie Josée Ta Lou and Dina Asher Smith after the bend to win her first Diamond League competition in the women's 200 metres in 22.50. Dina Asher Smith, who won the 200m three times in Stockolm, completed the British double finishing second in 22.58 ahead of Jael Bestue from Spain (22.59) and Marie Josée Ta Lou from Ivory Coast (22.70).
Darryil Neita: "I had a fantastic warm-up. It's a shame with the weather, but the sunshine came out when we started warming up. I am in great shape and it feels great to win my first ever Diamond League. I have worked so hard with my coach Marco Airale to be in this position. It gives me a lot of confidence to know that I am in good in the 200m as well."
Women's discus throw:
Two-time Olympic champion Sandra Perkovic took lead with 64.37m in the first round and increased her best mark to 64.49m in the second attempt. It was enough for Perkovic to score the 46th win of her career in the Diamond League. Jorinde Van Klinken from the Netherlands, who won the Diamond League competition in Oslo and the NCAA title this year, finished runner-up with 62.96m ahead of Olympic silver medallist Kristin Pudenz from Germany (62.33m). Valarie Allman made three fouls to end the competition without any Diamond League points.
Sandra Perkovic: "This victory means a lot for me because it's my 70th Diamond League competition and 46th win and 67th on the podium. After 13 years I am still here winning Diamond League competitions. I have all those numbers in mind. Stockolm is always special for me and I want to thank the amazing crowd, because without them It would not have been possible to have so many good throws. It's too bad that I miss out on the Olympic standard by one cm. This has been my last competition before the World Championships. I actually had a throw that could have been 66m, but it was a foul. The speaker said that the Diamond Queen is coming to the circle so I had to show something. I am really proud with my performance."
Women's long jump:
Diamond League champion Ivana Vuleta led the long jump after the first two rounds with 6.58m, but Olympic and world gold medallist Malaika Mihambo edged by just one cm with 6.59m in the third attempt. European indoor silver medallist Larissa Iapichino from Italy took the lead in the fourth round with 6.67m. Mihambo came very close by leaping a seasonal best of 6.66m. Iapichino increased her lead to 6.69m in the Final 3 jump to win her second Diamond League competition this season following her victory in her home city Florence.
Larissa Iapichino: "It was difficult today because I have never competed in such bad weather. It was an experience. I thought that my competition would be really bad but in the end, I am glad I managed some decent jumps. It is a part of the process, so maybe next time, I can run into it faster than I I did today. I can mess up sometimes but now I can manage this difficult situations. I will take it positively and learn from it, how to get out of the difficult situation, so the next time it happens, I can manage it even better than today. I wanted to jump as good as possible despite the fact that you feel uneasy".
Men's 100 metres:
Akani Simbine from South Africa won the men's 100 metres for the second consecutive edition of the Bauhaus Galan in a good 10.03 in tough weather conditions beating Reece Prescod (10.14) and Joshua Hartman (10.23).
Akani Simbine: "It seems like a good season. Towards the World Championships, I am satisfied with the results and the training so far. I just wanted the win here and I got it so glad at the moment and let's go building up on it in such conditions. If the conditions are ideal, it means it could be a very fast time, somewhere around my PB but we leave that for the World Championships. I have a two weeks break now, I go back to training and then get ready for the Silesia DL. I do not like rain, I was cold, I just went there and ran."
Men's 800 metres:
Djamel Sedjati from Algeria won the men's 800 metres in 1:44.59 to take the top in the Diamond League standings with 19 points. Saul Ordonez from Spain took second place in 1:44.67 following his win in Ostrava last Tuesday. Gabriel Tual from France also dipped under the 1:45 to take third place in 1:44.85 ahead of Andreas Kramer from Sweden (1:45.01).
Women's 1500 metres:
Freweyni Hailu from Ethiopia won a tactical 1500 metres race to clinch the second win of her career in the Diamond League in 4:02.31 beating her compatriots Diribe Welteji (4:02.79) and Hirut Meshesha (4:03.01). Clara Mageean from Ireland was the first European finisher in fourth place in 4:03.46 ahead of British athletes Melissa Courtney Bryant (4:03.81) and Laura Muir (4:03.83).
Men's 400 metres:
South Africa's Zakhiti Nene won the first Diamond League of his career with 45.30 in rainy weather conditions ahead of this year's NCAA outdoor champion Emmanuel Bamidele from Nigeria (45.48) and European outdoor champion Matthew Hudson Smith from Great Britain (45.57).
Men's high jump:
High jumpers struggled in rainy conditions. Olympic champion Gianmarco Tamberi was not able to clear 2.16m and finished sixth with 2.12m on countback behind Dowe Amels, Brandon Starc. World indoor bronze medallist Hamish Kerr from New Zealand was the only jumper to deal with the tough weather conditions and cleared 2.24m in his second attempt to take the win. Thomas Carmoy from Belgium cleared 2.20m in the first attempt to take second place. Andiy Protsenko from the Ukraine placed third with 2.16m.
Hamish Kerr: "It is tough conditions but I am in a really good form at the moment and I was hoping to jump really high today. I did not do that but I managed to jump higher than anyone else, So I definitely take the win. It was a little bit colder so I stopped. My legs were feeling a little bit colder to continue. I think I am in a PB shape. I was ready to try for the 2.33."
Women's shot put:
Jamaica's Danniel Thomas Dodd beat European champion Jessica Schilder by just one cm with a throw of 19.04m in the final round in a close women's shot put.
Men's 3000 metres:
Sweden's Emil Danielsson improved his PB to 7:39.70 to beat his compatriot Andreas Almgren (7:40.01) and France's Jimmy Gressier (7:40.21).
-->