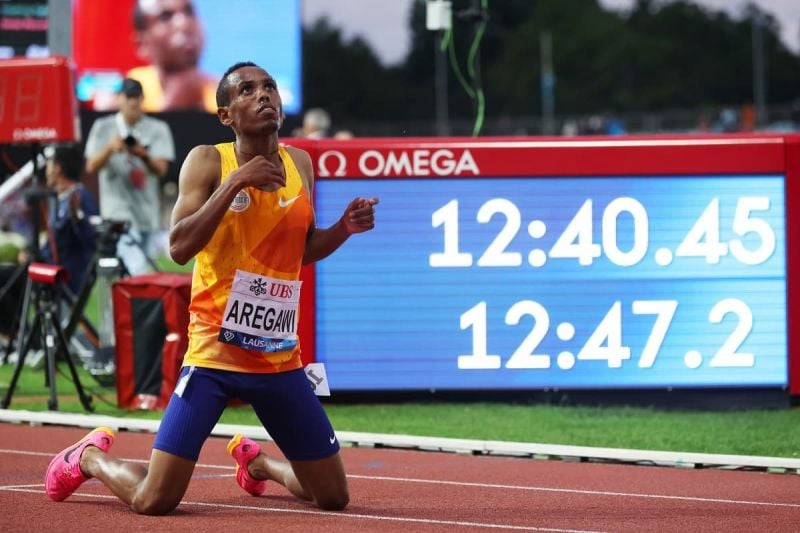 Meeting records set by Berihu Aregawi in the 5000 metres (12:40.45), Jakob Ingebrigtsen in the men's 1500 metres (3:28.72) and Femke Bol in the women's 400 metres hurdles (52.76) and a world lead by Katie Moon in the women's pole vault (4.82m) highlighted the Athletissima meeting at the Pontaise Stadium in Lausanne.
Men's 5000 metres:
As he did the week before when he took down Olympic champ Selemon Barega to win the Ethiopian 10000m trials, Berihu Aregawi ripped through a world-class field to win the race in 12:40.45. He improved his personal best by 10 seconds and moved to #5 on the all-time list. World record holder Joshua Cheptegei was second in 12:41.61. Hagos Gebrhiwet and Haile Telahun Bekele from Ethiopia also dipped under the 13 minutes barrier with 12:49.80 and 12:49.81.
Berihu Aregawi: "I am delighted to be here and to win against Joshua. It was a great atmosphere. I enjoyed this race. Thank you Lausanne".
Men's 1500 metres:
Jakob Ingebrigtsen controlled the 1500m from the start and launched his kick in the final straight to win for the second edition in a row in Lausanne smashing Timothy Cheruiyot's meeting record to 3:28.72. World 3000 metres steeplechase record holder Lamecha Girma set the Ethiopian record to take second place with 3:29.51 ahead of Olympic bronze medallist Josh Kerr, who dipped under 3:30 for the second time in his career with 3:29.64. Elliot Giles from Great Britain improved his PB to 3:31.56.
During the Diamond League circuit this year, Jakob Ingebrigtsen has raced the 1500 three times and won almost unchallenged on all three occasions.
Jakob Inbebrigtsen: "I have had to make some adjustments with my strategy. I have been putting extra miles in the last couple of weeks. It's all to get myself in the best shape possible for the Worlds. I am competing in Poland next. I did not win the 1500m in Oregon and I am looking to address that in Budapest"
Women's 100 metres hurdles:
Olympic champion Jasmine Camacho Quinn won the women's 100 metres hurdles for the second consecutive edition at Athletissima in 12.40 into a strong headwind of -1.4 m/s. Tobi Amusan from Nigeria equalled her seasonal best of 12.47 to finish second ahead of 2018 world under 20 champion Tia Jones (12.51). Pia Scrzyszowzka from Poland was the first European hurdler in fourth place with 12.81 ahead of European bronze medallist Ditaji Kambundji from Switzerland (12.83).
Jasmine Camacho Quinn: "It felt great but I also know what I need to work on. I have been racing a lot lately. For now I just want to work on. I just want to have fun, enjoy the races, stay focused, calm and stay focused that I can and I trust that everything will be taking care of itself. I like Lausanne very much and the stadium's atmosphere is spectacular"
Women's pole vault:
Olympic and world champion Katie Moon needed three attempts to clear 4.71m and passed 4.77m. The US vaulter then cleared a world leading mark of 4.82m in her third attempt to win the women's pole vault. Moon made three unsuccessful attempts at 4.90m. Wilma Murto from Finland set a seasonal best with 4.77m to finish runner-up. Eliza McCartney took third place with 4.71m.
Kate Moon: "I love to compete. As much as one could train but there is nothing like the adrenaline of the actual competition. A world leading performance a week ahead of the US Trials is amazing. Although I do not have usual pressure that we feel ahead of the US Trials as I am already qualified but it's the US Trials and it is always competitive. The focus is on Budapest, generally I am completely exhausted after a major event but I feel good this year and I will try to keep going and compete at Diamond League Diamond League meetings after Budapest".
Women's 400 metres hurdles:
European champion Femke Bol from the Netherlands won for the third consecutive year at Athletissima improving her meeting record with 52.76. Viivi Lehikonen from Finland finished a distant second in 54.67 ahead of Italian record holder Ayomide Folorunso (55.12) and Jessie Knight from Great Britain (55.13).
Femke Bol: "Today my race plan was to go fast in the first 200m, which I did even though I knew that the last 100m would be painful. It's good that I confronted myself to it, so that I can work on it in my training, so that I will be able to reah my goals in Budapest"
Women's 100 metres:
Marie Josée Ta Lou from Ivory Coast stormed to her second win of her career on the fast Lausanne track in 10.88 on a cool evening. Ta Lou has already dipped under the 11 seconds six times this year. She has maintained her unbeaten streak in the Diamond League this season with her third win following her victories in Florence in 10.97 and Oslo in 10.75.
Marie Josée Ta Lou: "I am happy with the race, but not with my time. I will have to work as usual with my coach. The conditions were not ideal. It was cold for me, but I am happy that at least I ran under the 11 seconds barrier"
Men's shot put:
World record holder Ryan Crouser won his second consecutive men's shot competition on European soil this week with 22.29m on his second attempt. Crouser produced four more throws over the 22 metres (22.27m, 22.19m, 22.07m, 22.01m). Olympic bronze medallist Tom Walsh came very close to the 22 metres barrier with 21.99m. This year's Florence Diamond League winner Leonardo Fabbri threw 21.41m in his first attempt to take the third palce and maintained this position until the fifth round, when Filip Mihljevic moved him past by 21.42m to qualify for the Final 3. Zane Weir from Italy and US Adrian Piperi also threw over the 21 metres barrier with 21.36m and 21.24m.
Ryan Crouser: "To be honest, I am a bit disappointed. I felt great and the potential for a really big throw was there and that's why I am not entirely happy. I have had quite a quite good season so far and I am very positive about what can be achieved this year".
Men's 200 metres:
World 100m under 20 champion Letsile Tebogo from Botswana won his first Diamond League race in the men's 200 metres in 20.01 into a headwind of -1.4 m/s beating last year's Commonwealth Games champion Jereem Richards from Trinidad and Tebogo (20.11) and Joseph Fahnbulleh from Liberia (20.21).
Letsile Tebogo: "It felt great tonight. You have to trust the process and then everything will fall into place just as it's supposed to be. This was my second time here in Lausanne. There is a special feel. The crowd is unbelievable. Last year I was third, so I performed much better this year. I am now aiming to repeat the first place at Athletissima next year".
Women's high jump (City Event held on 29 June)
Olympic silver medallist Nicola Olyslagers equalled her Oceanian record with 2.02m to win the women's high jump City Event held on Tuesday 29 June at the Place Centrale at the Flon District in Lausanne.
Olyslagers added one centimetre to the world seasonal lead she had shared with Yaroslava Mahuchick. The Australian jumper had cleared 2.01m at the Continental Tour Gold meeting in Turku.
Iryna Gerashchenko from the Ukraine equalled her PB with 2.00m to finish second. European gold medallist Yaroslava Mahuchik cleared 1.97m to finish third. Morgan Lake had a clean sheet until 1.94m to finish fourth on beating Yuliya Levchenko, Dniela Stanciu and European under 18 champion Angelina Topic on a countback. Olympic and World heptathlon champion Nafissatou Thiam placed seventh with 1.91m.
Olyslagers had a clean-sheet clearing 1.87m, 1.91m, 1.94m, on her first attempts. Gerashchenko, Mahuchik and Morgan Lake also cleared all heights until 1.94m at the first time of asking.
Olyslagers cleared 1.97m on her first attempt. Mahuchik jumped this height on her second try. Gerashschenko needed three attempts to remain in the competition.
Olyslalagers maintained her clean-sheet at 2.00m. Gerashchenko also cleared this height on her first attempt to equal her PB she set at the World Championships in Eugene, where she finished fourth.
Olylsagers cleared 2.02, on her second attempt equalling the Oceanian record she set at the Olympic Games in Tokyo, where she won the silver medal. Olyslagers made three unsuccessful attempts at 2.05m.
Nicola Olyslagers: "To jump 2.02m is awesome. The second attempt at 2.05m, I reckon I am going to look at that again and learn from it".
Men's javelin throw:
Olympic champion Neeraj Chopra from India threw the javelin to 87.66m to win for the second consecutive year in Lausanne beating European champion Julian Weber, who produced his best throw of 87.03m in the sixth attempt. Jakub Vadlejch took third place with 86.13m.
Neeraj Chopra: "I was feeling a bit nervous coming back from an injury. It was a bit cold tonight. I am still far from my best, but I feel it is getting better. I am relieved it's coming together well for me. A win is a win and I will take it happily".
Women's 800 metres:
Last year's Diamond League champion Mary Moraa improved her seasonal best to 1:57.43 to win the women's 800 metres ahead of Olympic and world silver medallist Keely Hodgkinson from Great Britain (1:58,37) and Jamaica's Natoya Goule (1:58.90), Australia's Catriona Bisset (1:58.95) and Jemma Reekie from Great Britain (1:59.32). Swiss 19-year-old rising star Audrey Werro dipped under the 2:00 minutes again with 1:59.71 to the delight of her local fans.
Mary Moraa: "It was very challenging race and I felt completely empty at the end of it. The weather was particularly difficult for me. My mentor would have been extremely proud of my achievements today.
Women's 3000 metres steeplechase:
World record holder Beatrice Chepkoech broke the meeting record with 9:05.98 to win the women's 3000 metres steeplechase beating this year's Florence Diamond League winner Sembo Almayew (9:06.82) and Olympic champion Peruth Chemutai from Uganda (9:11.82).
Men's 110 metres hurdles:
Japanese record holder Shunsuke Izumya won the first Diamond League race of his career on his debut in this circuit in 13.22 in a close photo-finish edging Swiss record holder Jason Joseph by 0.01. Just Kwaou Mathey from France finished in the top 3 in a Diamond League race for the second time this season following his second place in Paris in 13.09. European indoor fourth placer Lorenzo Simonelli missed his Italian under 23 record by 0.01 with 13.41 to finish fourth.
Women's javelin throw:
Mackenzie Little from Australia threw 65.70m in the fifth round in the women's javelin throw to claim the win ahead of this year's Paris Diamond League winner Haruka Kitaguchi (63.34m).
Men's long jump:
LaQuain Nairn from the Bahamas leapt to 8.11m in the third round to take a surprising win in the men's long jump ahead of Olympic champion Miltiadis Tentoglou (8.07m), Yuki Hakiosha from Japan (7.98m) and Simon Ehammer (7.97m).
Men's 400 metres:
Leungo Scotch from Botswana dipped under 45 seconds to win a non-DL 400 metres race in 44.94 ahead of Dylan Borlée from Belgium (45.86), Lionel Spitz from Switzerland (45.92) and Davide Re from Italy (46.95m).
Women's 4x100 relay:
Ivory Coast formed by Murielle Ahouré Demps, Marie Josée Ta Lou, Jessika Gbai and Maboundou Koné won the women's 4x100 in a national record of 42.23 ahead of the Netherlands (43.18) and Switzerland (43.35).
-->