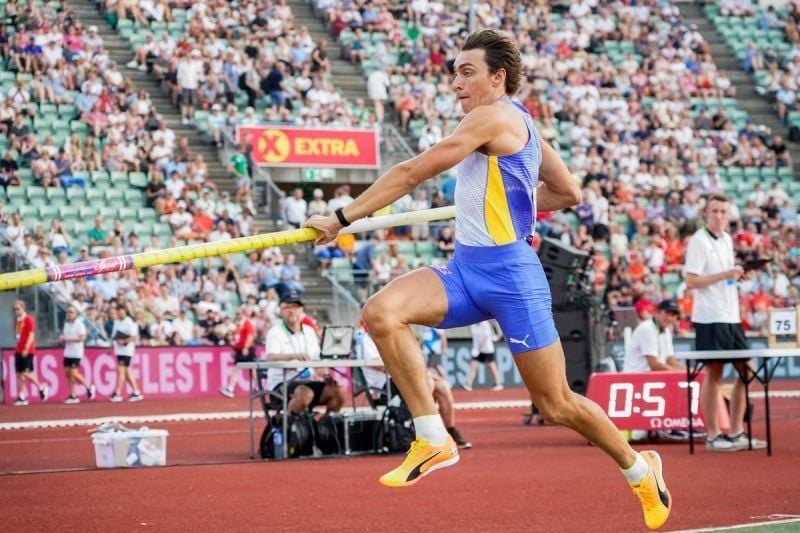 Five meeting records set by Armand Duplantis in the men's pole vault (6.12m), Kristjan Ceh in the men's discus throw (68.55m), Ryan Crouser in the men's shot put (22.63m), Jasmine Camacho Quinn in the women's 100 metres hurdles (12.42), Diribe Welteji in the women's 1500 metres (3:57.38) highlighted the 62nd edition of the Golden Spike meeting at the Metzky Stadium on a chilly evening in Ostrava.
Men's pole vault:
World record holder Armand Duplantis cleared 5.90m in his second attempt before making the first 6 metres clearance in the history of the Golden Spike meeting in his first attempt before clearing 6.12m again at the first time of asking.
Duplantis improved the previous meeting record held by Sam Kendricks with 5.93m since 2019.
The Swede then failed three attempts at 6.17m.
Two-time Commonwealth Games champion Kurtis Marshall cleared 5.90m in his first attempt to beat Ernest John Obiena from the Philippines on countback. Piotr Lisek and Pal Haugen Lillefosse shared the fourth place with 5.70m.
Armand Duplantis: "I think 6.12m was pretty much about the highest I was going to make today. I am pretty satisfied. I liked the way I was jumping. The jump at 6.12m was good. It was good jump for the day. It was a little bit colder than I would have liked today. You learn to not worry about that too much. I genuinely just want to do the best that I possibly can and I am going to try to get the highest bar that I possibly can. I can't really do any more than that. I am going to go in there and have confidence that I am going to jump high, and I am going over six metres and at least try and put the meeting record up there a little higher than it is. I can't really control everybody else's expectations. If I didn't want people to have high expectations, I would have jumped lower in the past two years".
Women's 100 metres hurdles:
Olympic champion Jasmine Camacho Quinn won for the second consecutive edition in 12.42 improving the meeting record held by Sharicka Nelvis with 12.55 since 2018. Tia Jones equalled her seasonal best to finish second with 12.44. World champion and record holder Tobi Amusan also improved her seasonal best to 12.47.
Jasmine Camacho Quinn: "I will take it. A win is a win. It was cold out here. I have a lot of things to clean up. If we had the weather, it might have been been faster. I have trained and raced against Tia a lot, so I know how she is, once she gets going. At that point, I was just trying to keep it together before I crossed the line".
Men's 100 metres:
Olympic and world finalist Akani Simbine stormed to a win in the men's 100 metres in 9.98 dipping under the 10 seconds barrier for the fifth time this year. European Indoor champion Samuele Ceccarelli placed second in 10.15 narrowly missing his PB by two hundredths of a second. The Italian sprinter held off Olympic 200 metres champion André De Grasse from Canada (10.21), Jan Volko (10.25) and Joseph Fahnbulleh (10.26).
Men's shot put:
World record holder Ryan Crouser set a meeting record of 22.63m in the second attempt to win the men's shot put in his first appearance on European soil this year. Crouser threw over the 22 metres three more times with 22.17m, 22.16m and 22.14m.
Tom Walsh missed his seasonal best by 7 cm with 22.15m in the fourth round to finish second. European Indoor bronze medallist Tomas Stanek equalled his seasonal best with 21.71m. Italy's Leonardo Fabbri continued his consistent season with 21.37m to finish fourth.
Ryan Crouser: "It is the third full day for me in Europe. I have had one of the higher jet lag days, so I am happy to come out and throw an un ugly 22.60m plus. I was not pretty, it was not technically proficient. The brain-body connection wasn't quite working. I was even having trouble setting my feet just how I want them. I just didn't have that top end gear to accelerate through the ball".
Men's discus throw:
World champion Kristjan Ceh won the men's discus throw with 68.55m in the sixth round improving the long-standing meeting record held by Luiz Mariano Delis with 68.06m since 1983. The Slovenian thrower also produced two more valid throws of 66.99m and 67.02m in the second and fourth round respectively.
Men's 110 metres hurdles:
Former European indoor champion Wilhelm Belocian from France won the men's 110 metres hurdles in 13.25 holding off his compatriot Just Kwaou Mathey (13.32) and Roger Iribarne from Cuba (13.33)
Women's 1500 metres:
Ethiopia's Diribe Welteji, world under 20 champion in the 800m in Tampere 2018, won the women's 1500 metres in 3:57.38 breaking the previous meeting record held by Faith Kipyegon with 3:59.05 since 2020. Welteji's compatriots Hirut Meshesha and Tigist Girma also dipped under the 4 minutes barrier setting a seasonal best of 3:57.87 and a PB of 3:59.33 respectively. Sarah Healy from Ireland improved her PB to 4:01.75 beating Axumawit Embaye from Ethiopia (4:01.79) and Italy's Gaia Sabbatini, who set her seasonal best of 4:03.84.
Men's 1500 metres:
World 3000 metres steeplechase record holder Lamecha Girma won a hard-fought 1500 metres race improving his PB by 0.62 to 3:33.15. Girma held off Ryan Mphahlele from South Africa (3:33.38) and George Mills from Great Britain (3:33:85) in a thrilling sprint in the final straight.
Men's javelin throw:
Olympic silver medallist Jakub Vadlejch threw to 81.93m to win the men's javelin throw ahead of Belgian record holder Timothy Herman (77.41m).
Women's javelin throw:
World bronze medallist Haruka Kitaguchi from Japan won the women's javelin throw with 63.72m. European silver medallist Adriana Vilagos threw 61.22m in the final round to finish second with 61.22m. Two-time Olympic champion Barbora Spotakova took sixth place with 57.23m on her come-back to competition.
Men's 800 metres:
Saul Ordonez from Spain took a close win in the men's 800 metres in 1:44.85. Simone Barontini from Italy and Elliot Giles from Great Britain shared the second place setting their seasonal best times with 1.45.03. Giles moved past Ordonez with 150 metres to go, but Ordonez regained the lead in the final 50 metres.
Men's 200 metres:
Luxolo Adams from South Africa won the men's 200 metres in a seasonal best of 20.22 ahead of Sinesipho Dambile (20.58m).
Men's 400 metres:
Muzala Samukonga from Zambia accelerated in the final straight to win his third Continental Tour Gold race this season in the men's 400 metres in 45.05 ahead of Zakhiti Nene (45.22). and Oleksander Pohorilko (45.37).
Women's 400 metres:
European silver medallist Natalia Kacmarek pulled away in the final 100 metres to win the women's 400 metres in 50.88 beating Lada Vondrova (51.43).
Women's pole vault:
European bronze medallist Tina Sutej won the women's pole vault with 4.54m beating European indoor bronze medallist Amalie Svabikova and France's Margot Chevrier on countback.
Women's 400 metres hurdles:
Jessica Knight from Czech Republic won the women's 400 metres hurdles in 54.96 ahead of Nikoleta Jichova from Czech Republic (55.17) and Taylon Bieldt (55.35).
-->