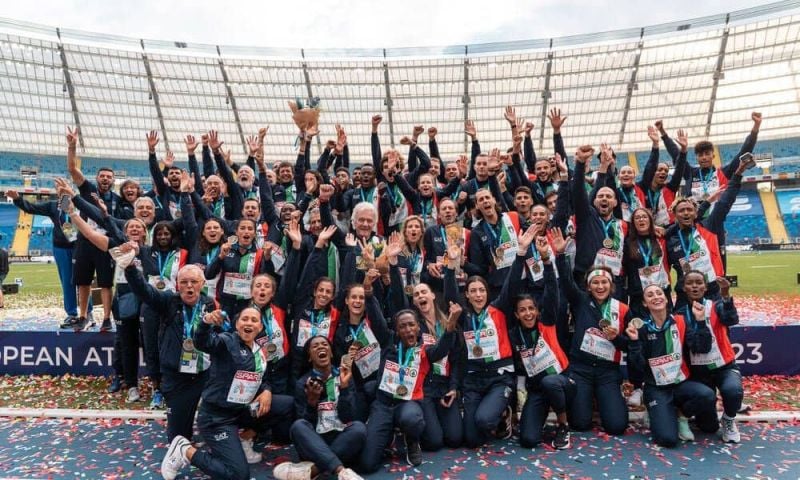 Italy won the European Team Championships for the first time in the history of this event at the Slaski Stadium in Chorzow with seven individual wins one year before the European Championships at the Olympic Stadium in Rome. The Italian team scored a total of 426,5 points ahead of Poland (402,5 points) and Germany (387,5).
Belgium, Turkey and Norway will be relegated to Division two and will replaced by Hungary, Ukraine and Lithuania.
Men's high jump:
Olympic champion and Italian team captain Gianmarco Tamberi claimed maximum points by clearing 2.29m on his seasonal debut in the men's high jump. Tamberi and 2021 European Indoor bronze medallist Thomas Carmoy had a clean sheet until 2.23m before failing their first attempts at 2.26m. Both jumpers cleared 2.26m on their second time of asking. Tamberi cleared 2.29m at the first time of asking to take the win on countback over Carmoy, who needed two attempts at this height.
Gianmarco Tamberi: "That was my first competition after 9-month break, but these championships are almost team spirit, but not individual achievements. What we have to achieve is to win the Trophy to Italy. Being the captain of our Italian squad, I would like to see every single athlete and every single coach on the tribune to support each other. I am happy that I can be inspiration for some athletes in the team. I never seen our team as strong as here as I am incredibly happy to be the captain of the strongest Italian athletics team ever. The numbers do not matter today. I liked the feelings during warm-up and competition's jumps. I decided to jump from the full approach and 2.29m in this situation is a pretty good result as we just started our serious technical work".
Men's shot put:
European Indoor champion Zane Weir from Italy won another continental title this year in the men's shot put with 21.59m. Weir threw twice more over the 21 metres barrier with 21.02m and 21.22m. Weir's coach Paolo Dal Soglio won two editions of the European Cup in 1994 and 1996.
Scott Lincoln from Great Britain threw a seasonal best of 21.10m in the fourth round.
Zane Weir: "I have been struggling a bit since the opening of the outdoor season. I am in great physical shape, but I am still trying to work things out technically. The season is long and the World Championships are still two months away. I am trying hard to enjoy competing. There is a lot of pressure and expectation, but I want it to be a celebration of the hard work. It's always good to get good points".
Women's long jump:
Hilary Kpatcha from France, who claimed the European Under 23 gold medal in 2019, won the women's long jump with a leap to 6.75m in the first round ahead of this year's European Indoor silver medallist Larissa Iapichino from Italy, who jumped 6.66m in the second round. Fatima Diame from Spain took third place with 6.56m.
Hillary Kpatcha: "I have had an injury exactly here. It was very important for me to come here and win, focus on the future. Last injury was associated with my knees, it was hard time but now I was enjoying the competition. I am dreaming about the gold medal at the World Championships everyday. Athletics is like following a certain path. My injury was part of this journey. I have managed to go further. It's the most important thing personally"
Larissa Iapichino: "I am not really pleased with the competition today. I wanted to do more than I jumped today. It was a bad day, but I am grateful I got a lot of points for my team on our way to victory here. The secret for Italian success is that we have a great team. We cheer on each other. There is a lot of support. I want to have fun from jumping. It's about joy and passion. I call my mother Fiona May all the time. I love to hear of her experiences as an international athlete. She is an inspiration to me both as a woman and an athlete".
Men's 5000 metres:
Thierry Ndikwumenayo sprinted to win the men's 5000 metres in 13:25.48 in his first appearance for Spain. Ndikumwenayo ran a last km in 2:31 to hold off Andreas Almgren from Sweden, who finished second in 13:25.70. Yemaneberhan Crippa, who won the previous edition in 2021 on the same track, finished third in a seasonal best of 13:34.29.
Thierry Ndikwumenayo: "In our event we never know how race will go. Sometimes it's fast, but sometimes it's slow and very tactical. I was ready to both variants but we had really tactical race tonight. I took under control Italian runner Yeman Crippa because I know him and I expected to have him among my main rivals. It wasn't easy to win but I did my best to get maximum points to team Spain. They are very necessary and important".
Women's 200 metres:
Lieke Klaver from the Netherlands won the women's 200 metres in her lifetime best of 22.46 with a tailwind of +1.2 m/s coming very close to the championships record set by her compatriot Dafne Schippers, who clocked 22.45 in 2015. Bianca Williams from Great Britain finished second in 22.75 ahead of Greece's Polynik Emmanouilidou (22.85) and Poland's Anna Kielbasinska (22.92). European Under 23 champion Dalia Kaddari won the B race in a seasonal best of 23.09 into a headwind of -0.3 m/s setting the fifth fastest overall time.
Lieke Klaver: "I have very different feelings after the crossing the finish-line. On one hand, it's very good to set my PB with 22.46m, but on the other hand, I missed the Championships record by 0.01. I am happy to understand that my speed is better and better, but 200 metres is a sidestep from what I do usually in athletics. It's not a big change, because I do 200 metres every season as part of my preparation for the 400 metres".
Men's 200 metres:
Ryan Zezé from France, European silver medallist in the 4x100 relay in Munich last year, won the men's 200 metres improving his seasonal best to 20.29 ahead of Albert Komanski from Poland (20.50) and Olympic 4x100 relay champion Filippo Tortu (20.61). Zeze won the 4x100 relay B race on Saturday.
Ryan Zezé: "Today our goal was to catch up with the leading teams and I am happy that I could add other points. My race was good and I think the other competitors were fast too. I can not be happier with today's result"
4x400 mixed relay:
Czech Republic won the mixed 4x400 B heat in 3:12.34 to move to fifth on the European all-time list.
Natalia Kaczmarek ran a fast anchor leg to earn the win for Poland in the A race in 3:12.87 ahead of France (3:13.36) and Italy (3:13.56), but Czech Republic won this event overall as their finishing time was faster than Poland's winning time.
Natalia Kaczmarek: "We tried to set up everything in order to maximize our chances for a win. We did not know what our rivals were going to do, as they could change their team. I just knew that I had to catch our rivals".
Women's 1500 metres:
Spain's Esther Guerrero took a very close win in the women's 1500 metres in a photo-finish beating Poland's Martyna Galant by one hundredth of a second in 4:11.77.
Women's 3000 metres steeplechase:
Poland's Alicja Konieczek made a decisive move on the last lap to take her second win at the European Team Championships in the women's 3000 metres steeplechase in 9:38.72 ahead of Flavie Renouard from France (9:40.40).
Women's high jump:
France's Nawal Meniker won the women's high jump with 1.92m, just one centimetre off her lifetime best. Meniker beat Merel Maes on countback.
-->