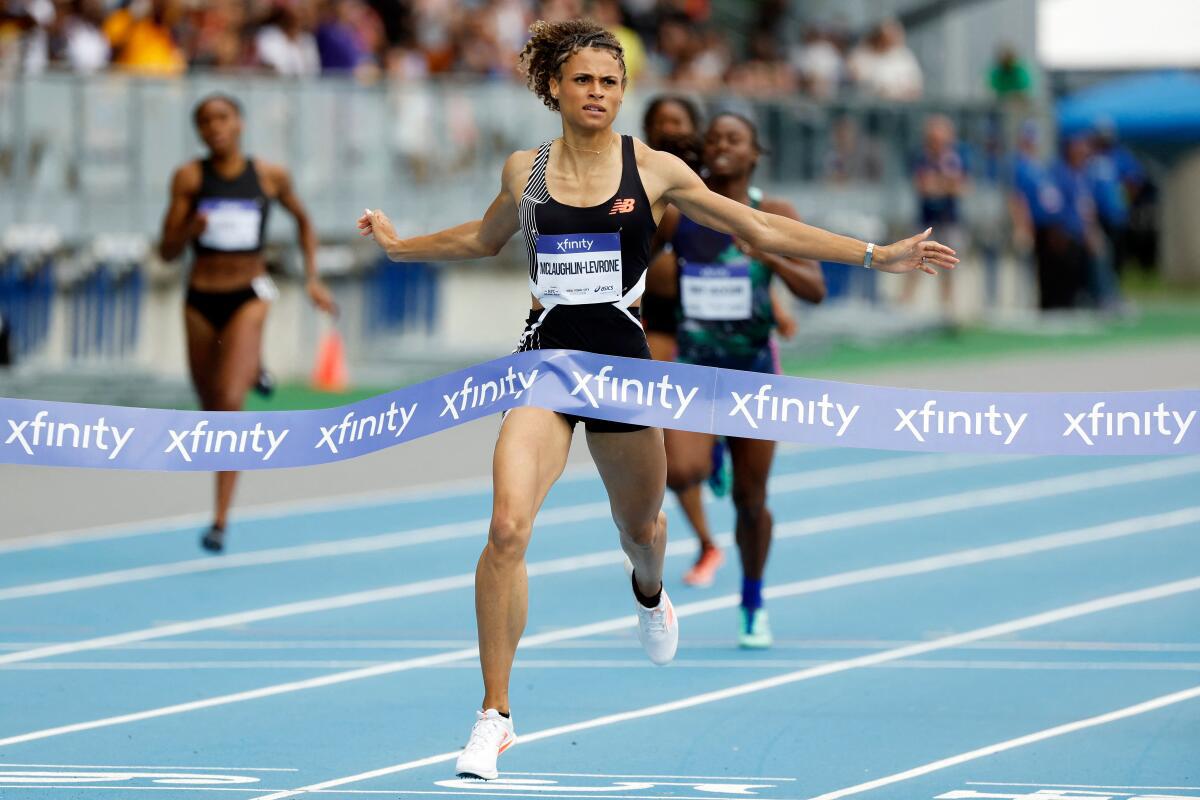 Zharen Huges' British 100m record, Athing Mu's season debut, Sydney McLaughlin's big 400m personal best and Noah Lyles' dominance in the 200m highlighted a spectacular night of athletics at the 2023 USATF New York City Grand Prix on Saturday (24).
Men's 100m:
European 200 metres champion Zharnell Hughes stormed to a world leading time of 9.83 in the men's 100 metres at the New York Grand Prix in front of 4000 spectators in the Icahn Stadium on Randall Island taking 0.04 off the long-standing British record set by Linford Christie at the 1993 World Championships in Stuttgart. Hughes moves to second on the European all-time list behind Olympic champion Marcell Jacobs.
Hughes ran the second fastest ever time on the track of the Icahn Stadium in New York. Only world record holder Usain Bolt ran faster when he set his previous world record with 9.72 in 2008. Hughes trained with Bolt under the guidance of Jamaican coach Glenn Mills.
Ackeem Blake also dipped under the 10 seconds barrier with 9.93 beating Christian Coleman (10.02).
Zharnell Hughes: "9"83 is a dream. I wrote this down this morning. I can't believe it. My coach also told me that I was going to run a PB in New York. I am not sure many people expected this. It's amazing and something I have been working toward for a while. I am not rushing anything, though. I have patience. The job is not done yet. I always give respect to Linford. He always supports me when I am in the UK. Sometimes he helps me out with my training sessions. I am looking forward to seeing him, shaking his hand, and telling him that this is long overdue. Glen Mills is a great coach. He trained the fastest man in the world and has an eye for error and critique everything he sees".
Men's 200 metres:
Double world champion Noah Lyles won the men's 200 metres for the second consecutive year at the New York Grand Prix in 19.83. Lyles pulled away from Suriname's Issamade Asinga after 50 metres and entered the home straight with one-metre lead. Asinga placed second in 20.25 ahead of Elijah Morrow (20.30).
Noah Lyles: "The first 100 metres went really fast. Off the turn it was a little bit of a journey, but I had to shut the door quick on them. The crowd was the winner on this one. This race was really about having fun and trying to get to top speed, especially in the first 100 metres. I was really proud of this moment".
Women's 400 metres:
Olympic 400 meters hurdles champion Sydney McLaughlin won her first 400 metres of the season in a lifetime best of 49.51. McLaughlin Levrone ran an even more paced race compared to her previous race in Paris Charlety, when she started too fast and then struggled in the final metres. This time McLaughlin Levrone drew level with Olympic 200 metres bronze medallist Gabby Thomas and reached the 200 metres in 23.7. McLaughlin Levrone pulled away from Thomas in the final metres to take the win. Thomas, who set her PB of 49.68 earlier this year, held on to finish second in 50.29.
Sydney McLaughlin Levrone: "The flat distance is definitely harder. It's harder to figure out your cadence midway. At least with hurdles I know where I am at. It's a different pain but the challenging good one. Compared to the Diamond League race in Paris I went out a little more conservately to feel the back end a little bit better. I did a good job of that. Some things to clean up, but PR is PR".
Women's 800 metres:
Olympic and world 800 metres champion Athing Mu started her season with a win in the women's 800 metres in 1:58.73. Mu went through the first 400 metres in 59.57 a few metres behind the pacemaker. Mu pulled away from the rest of the field in the final 300 metres to cross the finish-line two seconds ahead of Sage Hurta Klecker (2:00.77). Allie Wilson took third place in 2:00.80.
Women's 100 metres hurdles:
Olympic silver medallist Kendra Harrison won the 100 metres hurdles in a wind-assisted 12.29 (+2.8 m/s) edging out her compatriot Alaysha Johnson (12.30) and 2015 world champion Danielle Williams from Jamaica (12.33) in a very close finish.
Williams had a slight lead over Harrison at 50 metres, but Harrison edged ahead and maintained her lead until the end holding off a fast finishing Johnson and Williams. Harrison now trains with Sydney McLaughlin Levrone and Athing Mu under the guidance of US coach Bob Kersee.
Kendra Harrison: "I feel like the women's hurdles is one of the toughest things out there. You definitely have to bring your A game because any of these girls can come out and take it. That's what makes me train harder. It's not an easy task".
Men's 110 metres hurdles:
Daniel Roberts held off Devon Allen in a close 110 metres hurdles race in 13.01 (+1.6 m/s) missing his PB by just 0.01. Allen finished second in his seasonal best of 13.04.
Women's 100 metres:
US indoor champion Aleia Hobbs won her fifth race in the women's 100 metres in 10.98 holding off Jamaica's former 100m and 200m world under 20 champion Briana Williams (11.04) and USA's Melissa Jefferson (11.06). Gabby Thomas finished fifth setting a seasonal best of 11.08 before running the 400 metres.
Women's 200 metres:
Last year's US National champion Abby Steiner won the women's 200 metres in a seasonal best of 22.19 ahead Tamara Clarke (22.43).
Men's 400 metres:
Jamaica's Zandrion Barnes won the men's 400 metres in 45.05 edging ahead of Matthew Boling (45.58) in the final straight.
Women's discus throw:
Former world champion Yaime Perez won the women's discus throw setting her best performance in two years with 67.44m in the first roumd. Veronica Fraley finished runner-up in a PB of 63.51m
Men's discus throw:
Jamaica's Travis Smickle came out on top in the men's discus throw with 65.36m beating Samoa's Alex Rose (64.63m).
Women's shot put:
Maggie Ewen won the women's shot put with 19.68m ahead of 2019 world silver medallist Danniel Thomas Dodd (19.38m) and last year's world champion Chase Ealey (19.25m).
Men's shot put:
Former NCAA champion Payton Otterdahl won a close competition in the men's shot put with 21.50m beating Nigeria's Chuku Enekwechi by just 7 centimetres.
Men's hammer throw:
US record holder Rudy Winkler won the men's hammer throw with 78.70m ahead of Olympic finalist Daniel Haugh (75.75m).
Women's high jump:
Former world indoor champion Vashti Cunningham cleared 1.95m to win the women's high jump.
Women's triple jump:
World finalist Thea Lafond from Dominica leapt to a win-assisted 14.47m to take the win in the women's triple jump.
-->