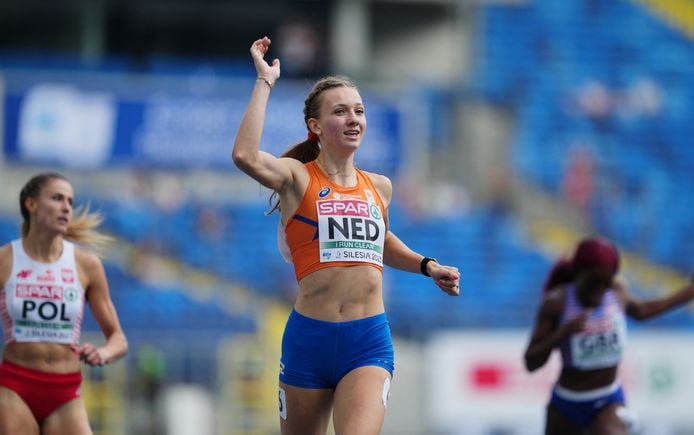 Italy leads over Great Britain by 9.5 points scoring a total of 141 points at the end of the first day of the European Team Championships at the Slaski Stadium in Chorzow (Silesia). Poland is third with 127 points. The opening day was highlighted by three championships records set by Femke Bol in the women's 400 metres (49.82), Havard Ingvaldsen in the men's 400 metres (44.88) and Ewa Swoboda in the women's 100 metres (11.09).
Italy achieved four individual wins with Samuele Ceccarelli in the men's 100 metres, Nadia Battocletti in the women's 5000 metres, Tobia Bocchi in the men's triple jump and Sara Fantini in the women's hammer throw.
Women's 400 metres:
European indoor and outdoor champion Femke Bol won the women's 400 metres setting the championships record with 49.82, the first sub-50 seconds time in the history of the European Team Championships. Nataliya Kazmarek from Poland finished second in 50.34. Cynthia Bolingo from Belgium improved her seasonal best in third place with 50.95.
Bol broke the 50 seconds barrier for the first time in her career clocking 49.75 at last year's edition of the Diamond League meeting in Chorzow
Femke Bol: "It's one of my favourite stadiums. The crowd is great. I always want to run faster. I focus on the hurdles now. so it's a bit harder to get the pace on the flat and I was a bit lost. The most important thing is that I got maximum points for the Netherlands. At the World Championships I just want to enjoy racing. If I don't enjoy racing, what's the point of doing it".
Women's 100 metres:
European indoor silver medallist Ewa Swoboda from Poland won the women's 100 metres in a championships record of 11.09. Rani Rosius from Belgium finished second equalling her PB with 11.20 ahead of N'Ketia Seedo from the Netherlands, who took third place with 11.24.
Ewa Swoboda: "I am very happy about my race. I was going crazy by today's weather. I have fulfilled my plan 100%, maybe 95%. I have given all my best and tomorrow we will see each other in the relay. First I thought the other girls were much closer to me but now I see I have made the difference. The most important thing is to get the points for the team. After my last team competitions I was a little bit nervous. I was afraid about my bad luck. This time it went awesome".
Men's 400 metres:
Havard Ingvaldsen Bentdal from Norway won the men's 400 metres setting a championships record with 44.88. Ingvaldsen recently improved Karsten Warholm's Norwegian record with 44.86 at the Bislett Games in Oslo. Joao Coelho improved the Portuguese record to finish second with 45.05 holding off Liemarvin Bonecia from the Netherlands by 0.01.
Havard Ingvaldsen Bentdal: "I was a bit shocked when I saw the time. I was hoping for a time under 45.5 and I did not expect a 44 time at all. I have run with the best competitors in the world and it makes my head stronger".
Men's 100 metres:
European 60m Indoor champion Samuele Ceccarelli won the men's 100 metres in 10.13 equalling his PB set three weeks ago at the Golden Gala in Florence. Ceccarelli edged out Dutch 21-year-old Raphael Bouju by just one hundredth of a second. European bronze medallist Jeremiah Azu from Great Britain took third place equalling his seasonal best with 10.16.
Samuele Ceccarelli: "That is definitely a good year for me. The main difference between this year and the previous ones is that I had fought with many injuries in the past. I could return to my usual training and into my real shape only last winter. Even if I was able to repeat my PB of 10.13 in Chorzow, that was not my main goal for these championships. It was important to win and to grab as many points for my team as possible. Now I am satisfied. The best competitor I like to compete against is myself. I like to do something better than I expected and tonight I had the race like this. I ran better than at the Golden Gala. My next race will be the Golden Spike in Ostrava".
Men's pole vault:
Dutch record holder Menno Vlonn cleared 5.85m in his first attempt to win a high-quality pole vault competition. Vlonn then failed three attempts at 5.90m. European indoor silver medallist Emmanouil Karalis from Greece had a clean sheet until 5.80m before failing three attempts at 5.90m. Karalis finished second beating Thibaut Collet from France, Piotr Lisek from Poland and Claudio Michel Stecchi on countback.
Women's hammer throw:
European bronze medallist Sara Fantini won the women's hammer throw equalling her seasonal best with 73.26m in her sixth attempt. Fantini also produced three more throws over the 70 metres barrier (73.02m, 72.31m, 70.63m). Olympic bronze medallist Malwina Kopron moved up to second place with 70.77m and improved to 71.18m in the sixth round.
Sara Fantini: "I cannot even describe how it was important for me to put on the Italian vest and to compete here representing our team. We have really great, friendly and strong team at the European Team Championships and it was important to get these 16 points. I hope that many of my teammates will have as bright performances as I had. I felt the pressure competing for my country, but on the other hand I felt huge support. When I threw the World Leading mark early this year, I expected to improve from one competition to another, but I had some technical problems".
Men's triple jump:
Italy's Tobia Bocchi leapt to 16.84m in the third attempt to win the men's triple jump. Bocchi, who finished fourth at the European Championships in Munich and improved his PB to 17.26m in Castellon earlier this month, also produced the second best jump of the day with 16.78m in the second attempt, which would have earned him the win. Necat Er from Turkey finished runner-up with a seasonal best of 16.71m.
Tobia Bocchi: "As we all know, this is a team championships. So it's important to get the points. My first jump was for the team, the next five jumps were for myself, trying to improve my results. I had a big improvement in the third attempt. After that, as it often happens when you try to get that extra centimetre, I failed. We came here with the ambition to win the title and we started well. Now I can't wait to check the standings and cheer for my team".
Women's 5000 metres:
European under 23 cross country champion Nadia Battocletti claimed her second consecutive win at the European Team Championships in the women's 5000 metres in 15:25.09 beating Great Britain's Hannah Nuttall (15:29.49). Battocletti ran the final lap in 59.93.
Nadia Battocletti: "To win here means. Italy is a young team with big ambitions and I felt responsibility to gain as much points for my team as possible. Two years ago I won the European Under 23 title and then I got to the Olympic final in Tokyo. I am now more experienced and focused on preparation for the World Championships in Budapest. Before the race we discussed with my father, who is my coach as well, what we can expect on the track. I was ready for everything, including the very fast race, but after 2 km I already understood that today it will be all about tactic. I tried to save power for the last lap and finally I was really surprised knowing that I covered the last 400 metres in 59 seconds. I am now planning to train at altitude before running the 5000m at the Diamond League meeting in London on 23 July".
Women's discus throw:
Olympic silver medallist Kristin Pudenz from Germany set her seasonal best with 66.84m in the fifth attempt to win the women's discus throw. Pudenz back up this result with three more valid throws of 64.01m, 63.37m and 64.19m Daisy Osakue from Italy finished runner-up setting the second best performance of her career with 64.35m in the sixth attempt. French 43-year-old Melina Robert Michon, who won the Olympic silver medal in Rio 2016, placed third with 64.21m in the sixth round.
Kristin Pudenz: "It was a preparation for the German National Championships and World Championships. Today I am very happy I could set my seasonal best. I am taking at as a good sign before the upcoming competitions. It's a nice feeling to give your best and make everything for your national team securing top points".
Women's shot put:
Two-time European Indoor champion Auriol Dongmo from Portugal moved into the lead with 19.07m in the fourth round to overtake Yemisi Ogunleye from Germany, who finished second with 18.27m.
Men's 800 metres:
Andreas Kramer from Sweden held off Ben Pattison from Great Britain to win a close 800 metres race by two hundredths of a second in 1:46.92. Mateusz Borkowski took third place in 1:47.18 ahead of European indoor champion Adrian Ben from Spain (1:47.36).
Men's 3000 metres steeplechase:
European seasonal leader Daniel Arce from Spain won the men's 3000 metres steeplechase in 8:25.88 ahead of Emil Bloomberg from Sweden (8:26.27), Zak Seddon from Great Britain (8:27.42) and European bronze medallist Osama Zoghlami from Italy (8:30.09).
-->