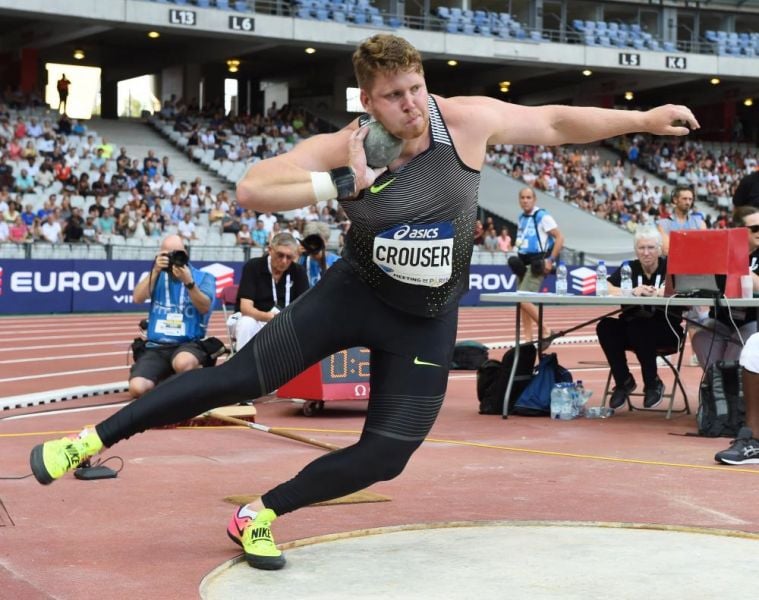 Ryan Crouser broke the world record with a sensational mark of 23.56m in the men's shot put at the USATF Los Angeles Grand Prix at the Drake Stadium. Crouser added 19 cm to his previous world record. He set three of the six farthest puts in history in the same day.
Ryan Crouser: "The best thing is that I am still on high volume training, heavy throws in the ring and heavy weights in the weight room, so we are just starting to work in some speed. I am perfecting a new technique. It felt like I had a lot of power and I caught a big one, but there is still a lot more there which is really exciting".
Crouser opened the competition with two marks of 23.23m and 23.31 in the first two rounds. The double Olympic champion produced a put of 22.94m in the third round before setting the world record in the fourth round. Crouser completed the competition with 22.80m and 22.86m in the fifth and sixth rounds.
Two-time Olympic bronze medallist Tom Walsh placed second with 22.12m beating Payton Otterdahl (21.99m). Uziel Munoz set the Mexican record with 21.88m beating Chuk Enekwechi (21.69m) and Adrian Piperi (21.49m).
Men's pole vault:
Olympic champion Armand Duplantis cleared 5.91 at the first attempt to set a world seasonal lead in the men's pole vault. Two-time world champion Sam Kendricks cleared 5.91m at the second time of asking. Both vaulters failed three attempts at 6.01m and Duplantis won the competition on countback.
Armand Duplantis: "A jump over 6.01m was definitely on the card, but it was too windy today".
Women's 100 metres hurdles:
Olympic champion Jasmine Camacho Quinn set the fastest time in the world this year with 12.31 into a headwind of -0.2m/s. Former world record holder Kendra Harrison set a seasonal best of 12.35 to place second In 12.35 ahead of Tia Jones (12.50), Alaysha Marshall (12.52), Tonea Marshall (12.55), Danielle Williams (12.59), Nia Ali (12.65) and world record holder Tobi Amusan (12.69).
Women's 400 metres:
Olympic and world silver medallist Marileidy Paulino broke the 49 seconds barrier for the second time in her career with 48.98 to win ahead of 2019 Salwa Eid Naser (50.27), Lynna Irby (50.38) and world bronze medallist Sada Williams from Barbados (51.00).
Women's 100 metres:
Sha'Carri Richardson won the first heat with 10.90 into a headwind of -0.8 m/s ahead of Morolake Akinosun and Jamaican rising star Alana Reid, who shared the same time of 11.12. Celera Barnes followed in fourth place in 11.13 beating Melissa Jefferson (11.16) and Olympic 200m bronze medallist Gabby Thomas (11.23).
Marie Josée Ta Lou showed again her good period of form by winning the second heat in 10.87 ahead of Aleia Hobbs (10.95). Shashalee Forbes finished third in 11.20. Ta Lou caught up Hobbs with 30 metres remaining and eased down in the closing metres.
Richardson did not run the final due to cramps, where Akinosun took the win in 10.97 ahead of Jefferson (11.07) and Reid (11.08). Ta Lou and Hobbs also opted to skip the final.
Men's 100 metres:
Ackeem Blake from Jamaica stormed to 9.89 to win the men's 100 metres . Cravont Charleston took a surprising second place in a PB of 9.91 edging Christian Coleman by one thousandth of a second. Ronnie Baker placed fourth in 10.01 ahead of world silver medallist Marvin Bracy (10.03). Blake moves to third in the world seasonal list behind Ferdinand Omanyala (9.84) and Fred Kerley (9.88).
Women's 200 metres:
Jenna Prandini won the women's 200 metres in 22.34 ahead of Twanisha Terry (22.44) and Anavia Battle (22.57).
Men's 200 metres:
Terrance Laird, who won the NCAA title in the 100 metres in 2021, won the men's 200 metres in 20.06 edging Commonwealth Games gold medallist Jereem Richards by 0.02. Elijah Morrow took third place in 20.22 sharing the same time as world 4x100 relay champion Aaron Brown.
Men's 400 metres hurdles:
CJ Allen improved his PB by 0.02 to 47.91 ahead of world finalist Khallifah Rosser (48.60) and Trevor Bassitt (48.62).
Men's 400 metres:
Jamaica's Sean Bailey set his lifetime best with 44.43 to win the men's 400 metres ahead of three-time Olympic and world medallist Kirani James from Grenada (44.50) and Quincy Hall (45.09).
Women's shot put:
US Maggie Ewen set the world seasonal best of 20.45m in the third round to beat Jamaica's Danielle Thomas Dodd, who improved the national record with 19.77m. Ewen produced her second best mark of 20.12m in the fourth round. Chase Ealey placed third with 19.56m beating China's Jiayuan Song (19.39m).
Men's 1500 metres:
Former world champion Timothy Cheruiyot held off world under 20 champion Reynold Kipkorir Cheruiyot to set a world leading time of 3:31.47. Kipkorir Cheruiyot finished second in 3:32.01. USA's Hobbs Kessler took third place in 3:32.61. Matthew Centrowitz, Olympic champion in Rio de Janeiro 2016, took third place in 3:36.64.
Men's hammer throw:
Olympic champion Wojciech Nowicki threw 77.18m in the sixth attempt to beat US Rudy Winkler by one cm. Both throwers tied with 77.17m until the final round.
Men's javelin throw:
World champion Anderson Peters won the men's javelin throw with 83.16m
Men's 800 metres:
Clayton Murphy, who won the Olympic bronze medal in Rio de Janeiro 2016, took the win in the men's 800 metres in a seasonal best of 1:44.75 after running the second lap in 52.70. Kenya's Festus Lagat dipped under 1:45 to finish second in 1:44.98 ahead of Isaiah Jewett (1:45.10).
Women's 800 metres:
World indoor champion Ajée Wilson won the women's 800 metres in 1:59.01 ahead of Uganda's Halimah Nakaaiy (1:59.35).
Wins by Camryn Rogers in the women's hammer throw, Sandi Morris in the women's pole vault and Abdirhamid Nur in the men's 5000m highlighted the first day of the Los Angeles Grand Prix.
Women's hammer throw:
Camryn Rogers won the women's hammer throw with a Canadian record of 78.62m on the final attempt. Rogers moves up to fifth in the world all-time list. World champion Brooke Andersen placed second with 76.06m. DeAnna Price set her seasonal best with 75.89m to beat world bronze medallist Janee Kassanavoid (73.23m). European bronze medallist Sara Fantini from Italy took fifth place with 71.40m.
Camryn Rogers: "I was very surprised, but also very happy. We have put in a lot of effort going into this competition and I feel like we are off we are off to a really good start to the season"
Women's pole vault:
Two-time world silver medallist Sandi Morris cleared 4.61 on her first attempt to beat Canadian champion Alysha Newman on countback. Both vaulters failed three attempts at 4.71m. Rachel Baxter placed third with 4.51m. Olympic and world champion Katie Moon failed three attempts at 4.41m.
Men's 5000 metres:
Abdihamid Nur won the men's 5000 metres setting a stadium record with a PB of 13:05.07 in the first day of the meeting on Friday. Thirteen of the finishing 24 athletes improved their PBs.
Men's 800 metres:
Craig Engels won a close men's 800 metres in 1:47.32 holding off Abraham Alvarado (1:47.48)
Women's 800 metres:
Laurie Barton took the win in the women's 800 metres in 2:02.54 ahead of Hanna Hermansson from Sweden (2:03.68).
3000 metres steeplechase:
Madie Boreman won the women's 3000m steeplechase in a PB of 9:22.99.
Ahmed Jaziri took the men's 3000m steeplechase in 8:17.64.
Emily Lipari claimed the win in the women's 5000m in 15:08.87. Lauren Ryan set her PB with 15:11.84 to finish second.
-->