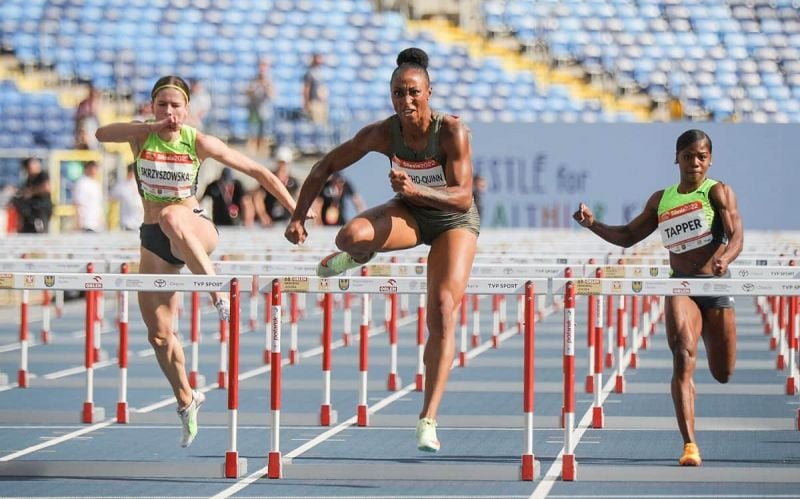 Jasmine Camacho Quinn, Tara Davis Woodhall, Christian Coleman and Steven Gardiner highlighted the Bermuda Grand Prix at the Flora Duffy Stadium in Devonshire, the fifth leg of the World Athletics Continental Tour Gold on Sunday (21).
Women's 100 metres hurdles:
Olympic champion Jasmine Camacho Quinn from Puerto Rico won the 100 metres hurdles for the second consecutive edition with a wind-assisted 12.17 (+3.5 m/s), the third fastest time ever in all conditions. Former world champion Danielle Williams recovered from a slow start to place second in 12.38 edging Tonea Marshall (12.39) and Olympic bronze medallist Megan Tapper from Jamaica (12.47).
Only Tobi Amusan ran faster than Camacho Quinn with her world record of 12.12 in the semifinal and her wind-assisted 12.06 in the final at the World Championships in Eugene last year.
Jasmine Camacho Quinn: "When I saw the time, I wondered if it was legal or not. I struggled to find the rhythm between the hurdles but I enjoyed the race".
Men's 100 metres:
Former world champion Christian Coleman won the men's 100 metres in a wind-assisted 9.78 (+4.4 m/s). Coleman got off to a fast start and then held off 200m world champion Lyles, who came close in the final metres to clock 9.80.
Christian Coleman: "I think it's a good shot. I just wanted to execute everything that we have been working on. I feel I executed pretty well. I knew I would be hard to beat if I do that".
Jamaica's Ackeem Blake and US Terrance Laird also broke the 10 barrier clocking 9.87 and 9.94 respectively. Emmanuel Matadi from Liberia finished fifth in 10.02.
Women's long jump:
Olympic finalist Tara Davis Woodhall from the USA took a narrow win in the women's long jump showdown with a wind-assisted jump of 7.11m (+2.1 m/s) in the sixth round moving past her compatriot Quanesha Burks, who was leading with a wind-assisted 7.04m (+2.9 m/s) in the third round.
Davis Woodhall also produced two more wind-assisted jumps of 7.03m in the second and third rounds, a windy 6.87m and a legal 6.83m in the fifth round.
Ruth Osoro from Nigeria finished third with an outdoor PB of 6.82m (+1.2 m/s) in the sixth round.
Men's 400 metres:
Olympic champion Steven Gardiner from the Bahamas cruised to a win in the men's 400 metres in his first 400m race since last June setting the third fastest time in the world this year with 44.42 in his first 400 metres race of the season. Alonzo Russell finished a distant second in 45.24.
Steven Gardiner: "It was a hard race, but I really enjoyed it. I think I am back. It's good".
Women's 100 metres:
Tamari Davis from the USA won the women's 100 metres in 10.91 with a legal wind of +2.0 m/s missing her seasonal best by two hundredths of a second. Davis finished fourth at the US National Championships in Eugene and set a lifetime best of 10.83 in Memphis last year. Jamaica's Shashalee Forbes also dipped under the 11 seconds for the first time in her career with 10.98.
Men's long jump:
Reigning Commonwealth champion La Quan Nairn from the Bahamas leapt to a wind-assisted 8.32m (+2.2 m/s) to beat Steffin McCarter from the USA, who jumped 8.23m in the fifth round (+2.5 m/s). USA's Will Williams took third place with 8.18m (+3.8 m/s).
Men's triple jump:
Two-time Olympic silver medallist Will Claye bounded out to a wind-assisted 17.45m (+3.1 m/s) in the second round to win the men's triple jump over Donald Scott, who finished second with a windy 17.06m beating his namesake Jordan Scott on countback.
Women's 200 metres:
Last year's US champion Abby Steiner won her third consecutive 200 metres race this season in a wind-assisted 22.06 (+3.1 m/s) beating former 100m and 200m world under 20 champion Anthonique Strachan (22.34) and Mackenzie Dunmore (22.50).
Men's 110 metres hurdles:
Jamal Britt broke the 13 seconds barrier to take the win with a wind-assisted 12.99 (+4.0 m/s) holding off Eric Edwards (13.07) and Freddie Crittenden (13.13). Robert Dunning suffered a fall in the final stages of the race.
Men's 200 metres:
USA's Elijah Morrow won the men's 200 metres in a wind-assisted 20.11 (+4.7 m/s) holding off Olympic 200 metres champion André De Grasse and Kendal Williams, who shared the same time time of 20.28.
Women's 400 metres hurdles:
Jamaica's Andrenette Knight won the women's 400 metres hurdles in her seasonal best of 54.90 edging US Cassandra Tate (55.06) in the final metres. Knight, who studies at the University of Virginia, won two silver medals in the 4x400 relay and in the mixed 4x400 relay in Freeport last year and set her PB of 53.39 in Nashville last year. Ashley Spencer fell at the first hurdle.
Women's 400 metres:
Gabby Scott took the win in the women's 400 metres in 51.665 ahead of Courtney Okolo (52.23) and Olympic finalist Candice McLeod (52.30).
Men's 4x100 relay:
The Red US team formed by Christian Coleman, Kendal Williams, Josephus Lyles and Terrance Lairs won the men's 4x100 relay in 38.21 beating USA Blue (38.81) and Jamaica (39.51).
Women's 4x100 relay:
The Jamaican team formed by Ramona Burchell, Ashanti Moore, Shashalee Forbes and Jonielle Smith claimed the win in the women's 4x100 relay in in 42.80 holding off US Red (Mikiah Brisco, Abby Steiner, English Gardner and Celera Barnes) by three hundredths of a second.
Women's 800 metres:
World indoor silver medallist Olivia Baker took a narrow win in the women's 800 metres in 2:03.15 edging Susan Aneno by just 0.02.
Men's 1500 metres:
Canada's Rob Heppenstall took the win in the men's 1500 metres in 3:41.83 beating Ethan Hussey from Great Britain (3:42.52).
-->