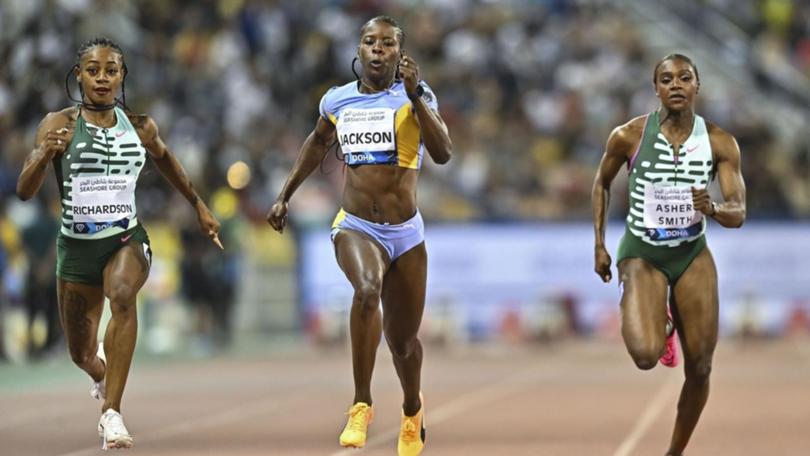 Five world leading performances and three meeting records at the Seashore Group Doha Diamond League meeting on a night of great performances at the Qatar's Sports Club.
Women's 100 metres:
Sha'Carri Richardson set the meeting record and the world leading time of 10.76 to win the first Diamond League competition of her career. Richardson recently clocked a wind-assisted 10.57 in Miramar last April. It was the most emotional moment of the Doha meeting as Richardson took 0.03 of a second off the seven-year-old meeting record held by late Tori Bowie, who passed away earlier this week. World 200m champion Shericka Jackson placed second with 10.85 beating former 200 metres champion Dina Asher Smith, who dipped under the 11 seconds with 10.98. Twanisha Terry placed fourth in 11.07 edging Oceanian record holder Zoe Hobbs (11.08).
Sha'Carri Richardson: "I am blessed and thankful. I feel at peace. All I do and I am excited to do it. Like I said before, I had to be kicked out from another 100m race, so I had to do my best no matter what. Peace, love and life".
Dina Asher Smith: "The whole point about my season is to race against the best, and I did tonight. I am really happy with the race. Third place is a good start, and the time is decent. I have good memories of Doha. I won the 200m world title in this city. It's really nice to be back. I enjoy the warm weather. I am looking forward to a big year ahead".
Men's 200 metres:
World 100 metres champion Fred Kerley caught Olympic 200m silver medallist and 2021 Diamond League winner Kenny Bednarek in the final 40 metres to win the 200 metres in 19.92. Bednarek finished second in 20.11 ahead of world and Olympic finalist Aaron Brown from Canada (20.20).
Fred Kerley: "I was comfortable, but I know I have still a lot of work to do. The most important was to win, and I did. I was happy with the competition. It was a good race. The guys gave a fight. In my next race I will open the season in the 100m in Yokohama on 21 May".
Men's 3000 metres:
World indoor 3000 metres record holder Lamecha Girma broke the meeting record held by his compatriot Yanew Alamirew clocking a world leading time of 7:26.18.
Olympic 10000 metres champion Selemon Barega improved his PB to 7:27.16 to finish second ahead of 2021 Diamond League champion Berihu Aregawi, who also dipped under the 7:30 barrier with 7:27.61. Olympic 3000m steeplechase champion Soufiane El Bakkali finished fourth in 7:33.67 ahead of former world 1500m champion Timothy Cheruiyot (7:36.72) and Getnet Wale (7:36.81).
Men's discus throw:
Reigning world champion Kristjan Ceh set a meeting record and seasonal best of 70.89m in the first round to win his sixth consecutive Diamond League. Ceh came close to Mykolas Alekna's world leading mark of 71.00m set in Berkeley last week. Ceh backed up this performance with a second throw over the 70 metres with 70.70m in the fifth round and two throws over the 68 metres (68.95m and 68.46m).
Krjstian Ceh: "This means a lot to me. I just started the season and it was good. I aim to raise my average".
Olympic gold medallist Daniel Stahl from Sweden threw the discus to 67.14m to finish second ahead of US Sam Mattis (64.49m) and Australia's Matthew Denny (64.42m).
Men's triple jump:
Olympic, world and European champion Pedro Pablo Pichardo opened the men's triple jump competition with a world seasonal best of 17.65m in the first round. The Portuguese jumper then leapt to a wind-assisted 17.91m in the second round, which earned him the win.
Cuban-born Andy Diaz leapt to a wind-assisted 17.80m (+2.5 m/s) in the second round. Diaz lives and trains in Italy under the guidance of 2012 Olympic bronze medallist Fabrizio Donato, but he is not eligible yet to compete for Italy.
World silver medallist Fabrice Zango from Burkina Faso improved the world lead with a legal 17.78m in the third round to place third. Lazaro Martinez had to settle with fourth place with a wind-assisted 17.71m. The African record holder moved past Diaz with a leap to a world lead of 17.81m in the final 3.
Fabrice Zango: "It was my second jump. I am pretty happy and I am excited for the upcoming World Championships. The triple jump is very exciting right now and I am glad to be performing well. The top three jumpers were really crazy, so I need to be on the top of the game. My next competition is the Diamond League meeting in Florence".
Women's 1500 metres:
Two-time Olympic champion Faith Kipyegon won the 1500m for the first time in her career at the Doha Diamond League meeting in a world lead of 3:58.57 in the final race of the evening following her victories in the 800m in 2020 and 2021.
Faith Kipyegon: "I am very pleased with the start of the season. It was an exciting race, but it was a little bit windy, so I decided not to push too much and just focus on winning the race. I have been training hard. I like racing in Doha. The fans are really amazing. Thank you for coming out to cheer for us. I am really grateful to be here, and I am looking forward to the rest of the season. My big goal is to win the world title in Budapest and break the world record".
Ethiopia's Diribe Welteji also broke the 4 minutes barrier to finish second in 3:59.34 ahead of her compatriot Freweyni Hailu (4:00.29) and Australian middle-distance runners Jessica Hull (4:00.90) and Abbey Caldwell (4:01:15).
Women's pole vault:
Olympic and world champion Katie Moon cleared a world lead of 4.81m on her second attempt to win for the second time in her career at the Doha meeting. World bronze medallist Tina Sutej from Slovenia equalled her national record with 4.76m to place second ahead of two-time world indoor champion Sandi Morris (4.71m). Italian record holder Roberta Bruni took fourth place with 4.55m beating 2016 Olympic champion Ekaterini Stefanidi and 2019 World University bronze medallist Bridget Willams on countback.
Katie Moon: "I feel great. I am so happy with how it went. It's a classic first Diamond League meeting and I am figuring it out and working my ways through poles. I am really happy that I came in first place. The crowd here is always unbelievable. I definitely want to defend my title and try to jump as high as I can and break some records. I know that I can break the world record. It can take some hard work. My next competitions are Los Angeles Continental Tour, the Paris Diamond League, the US Championships and the World Championships".
Men's javelin throw:
Olympic champion Neeraj Chopra from India started his season on a high note with a world lead of 88.67m in the first round. Jakub Vadlejch also threw the javelin over the 88 metres with 88.63m in the second round. Two-time world champion Anderson Peters placed third with a throw of 85.88m ahead of Julian Weber from Germany (82.62m).
Neeraj Chopra: "It was a very hard win. It's a really good start for me. I hope to come in the first place in the next competitions and to keep consistent during the season. I feel really good. Today was challenging for all athletes, but I am still satisfied with the result. It was a good start and it's a great atmosphere. Lot of people came to support us. They are really happy. For this season I plan to stay fit and do more than I can. Sometimes it's really hard because we have a big country and people hope for me. Now more people will join me in the Diamond League and other competitions. The Doha meeting is great. This year I will stay consistent and I will do my best in next competitions".
Anderson Peters: "The wind was a bit strong. I was hoping we would get a tailwind. It was a good competition because the top guys are here. My next competition is in Hengelo".
Women's 100 metres hurdles:
Olympic champion Jasmine Camacho Quinn won her seventh Diamond League race in the last 12 months in the women's 100 metres hurdles in 12.48 with a legal tailwind of 1.1 m/s.
Jasmine Camacho Quinn: "I feel great. The last time I have been here was in 2019, but I am back in Doha. This is my third Diamond League meeting here. The atmosphere is amazing. It's very exciting to be here. I am facing a lot of challenges here. I am going to process every race. It's good to be here. I am going to my mind and body back healthy. I am taking one race at a time. My goal is to be the world champion, but also to stay physically and mentally positive. My next race is in Bermuda".
US Alaysha Johnson took second place with 12.66 ahead of former world champion Nia Ali (12.69), Olympic bronze medallist Megan Tapper from Jamaica (12.78) and US Tonea Marshall (12.79). European indoor champion Reetta Hurske from Finland finished sixth in 12.92.
Men's 400 metres hurdles:
World and Olympic silver medallist Raj Benjamin won the men's 400 metres hurdles for the second time in his career in Doha with 47.78 to hold off US CJ Allen, who broke the 48 metres barrier for the first time in his career with 47.93m.
Raj Benjamin: "It was really fun. I come here every year. I love it here. Yesterday was really fun. We went to children school. Doha is always good.. I expect to achieve more wins and fast times here".
Men's high jump:
Mr. Jump Ju'Vaughn Harrison continues his good season to win the men's high jump with 2.32m, just one cm off his seasonal best of 2.33m set in Atlanta last April. The Olympic and world finalist finished second to Gianmarco Tamberi in the final of the Diamond League in Zurich last year. World indoor champion Sanghyeok Woo from South Korea had a clean sheet until 2.24m before clearing 2.27m in the third attempt. Olympic and world champion Mutaz Barshim needed three attempts to clear 2.21m before jumping 2.24m at the second time of asking. The home star failed three attempts at 2.27m and ended the competition in third place.
Women's 400 metres:
Olympic and world silver medallist Marileidy Paulino from Dominican Republic won the women's 400 metres for the second consecutive edition at the Doha meeting in 50.51 on a windy evening.
Women's 3000 metres steeplechase:
Olympic and world fourth placer Winfred Yavi Mutile from Barhein went to the front in the final lap and won the women's 3000m steeplechase in 9:04.38. Sembo Almayehu improved her PB to 9:05.83 to finish second ahead of Faith Cherotich (9:06.43) and world record holder Betrice Chepkoech (9:06.89). Marusa Mismas Zrimsek set the Slovenian record with 9:13.61.
Wilfried Yavi Mutile: "I am extremely happy. My goal is the World Championship in Budapest. I am aiming to reach the podium. I also want to win the gold medal at the Asian Games. I am so happy to be here in Doha. It feels like home."
Men's 800 metres:
Slimane Moula from Algeria pulled away in the final straight to win the second Diamond League competition of his career with 1:46.06 ahead of two-time Commonwealth Games champion Wyclife Kinyamal Kisasi (1:46.61) and the other Algerian middle distance runner Djamel Sedjati (1:46.97).
-->