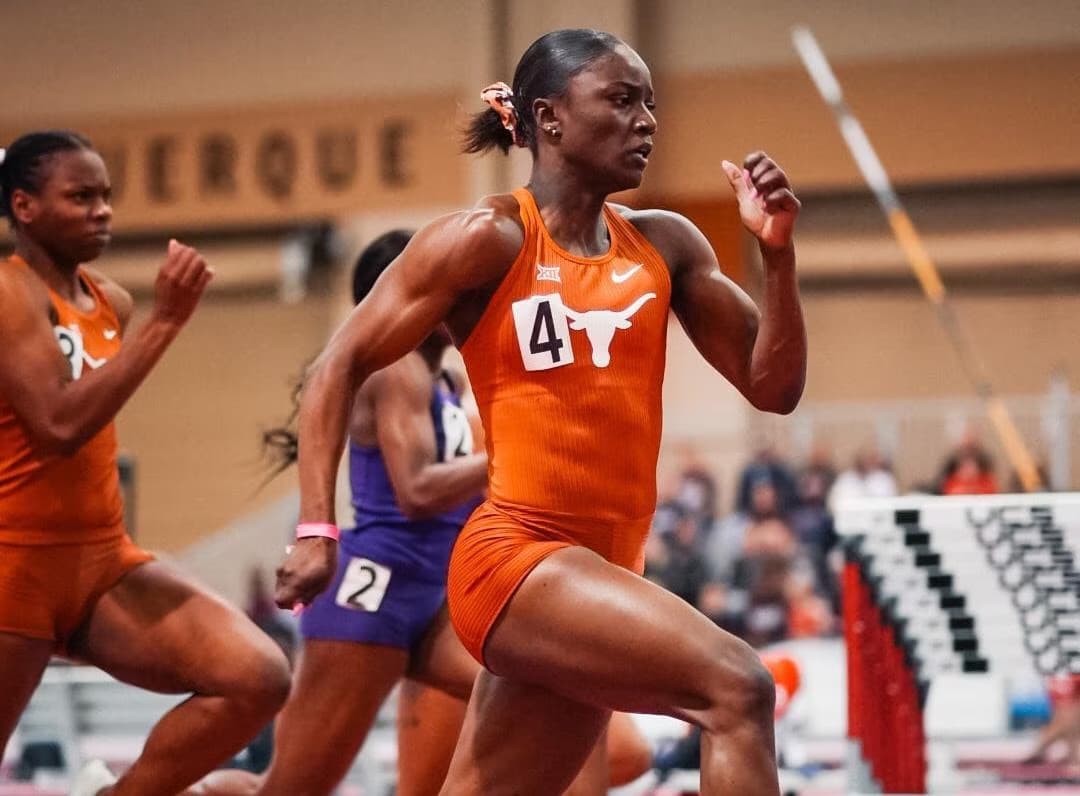 Julien Alfred, Jasmine Moore, Ackera Nugent, and Sondre Guttormsen set new records during the opening day of the 2023 NCAA division 1 indoor championships, on Friday, March 10, at the Albuquerque Convention Center, situated at 5,312 ft/1.620m altitude in New Mexico.
Santa Lucia's Julien Alfred, a senior from the University of Texas, smashed her previous NCAA record in the women's 60m dash, finishing at 6.96 seconds in the semi-finals. The 21-year-old became the first female athlete in the NCAA to run the 60m faster than 7.00 seconds.
In the women's long jump final, Jasmine Moore of the University of Florida won the NCAA title, setting a new US collegiate record of 7.03m (23-¾) on her first attempt. Her mark is also the best in the World this year indoors or outdoors.
The third NCAA record was set by Ackera Nugent, a 20-year-old Jamaican who runs for the University of Arkansas. Nugent set an impressive Jamaican national, NCAA, and championships record with 7.72 seconds in the 60m hurdles semi-finals.
In the 60m hurdles final on Saturday, Nugent will face Masai Russell of the University of Kentucky, who moved to the final, clocking .77 seconds in her semi-final.
The final record came with the day's last effort, as Sondre Guttormsen of Princeton cleared 6.00m (19-8¼) to tie the CR set by KC Lightfoot of Baylor in 2021. He broke his personal best twice in the contest, and runner-up Zach Bradford of Texas Tech matched him at 5.91m (19-4¾), becoming equal No. 5 on the all-time collegiate list.
Women's 5000m
Katelyn Tuohy's continued her successful 2023 indoor season as the North Carolina State star won her first NCAA indoor title easily in 16:09.65. Two Alabama runners took second and third as freshman Hilda Olemomoi clocked 16:11.08, with two-time NCAA champ Mercy Chelangat taking third in 16:11.63.
Men's 5000m
Tennessee's Dylan Jacobs ran brilliantly in the men's 5000m final. Northern Arizona's Nico Young and Drew Bosley, the NCAA 3000 record holder, led the race with a fast pace until Bosley took the lead with little more than two laps to go and never lost it.
Jacobs closed the final lap with a blistering 26.25 seconds to win the NCAA with 13:37.59. Meanwhile, BYU's Casey Clinger, managed to take second with 13:38.12, as Bosley and Young finsished third and fourth in 13:38.62 and 13:40.55, respectively.
Men's Long Jump final
Carey McLeod led the men's long jump after round 2 with a leap of 8.22m (26-11¾), but several jumpers passed him in the following rounds. McLeod, sitting in fourth place before the final round, leaped 8.40m (27-6¾) to capture the lead and NCAA title and move to No. 5 all-time in collegiate history.
McLeod defeated Mississippi State's Cameron Crump, who had equaled his PB of 8.39m (27-6½), No. 6 all-time. Jeremiah Davis of Florida State also produced a fantastic jump of 8.37m (27-5½) to be No. 8 all-time.
A total of seven jumpers were over 8 meters (26-3) – the most ever in collegiate competition.
Women's Pentathlon
Jadin O'Brien of Notre Dame won the pentathlon with a big PB of 4512 points and became the No. 10 collegian all-time. Allie Jones of Southern California was second in 4440, a PR by 269 points.
Distance Medley Relay
In the women's distance medley relay (DMR), Stanford (10:56.34) held off Arkansas (10:56.61) as four squads ran sub-11. The Cardinal were anchored by Juliette Whittaker in 4:38.67, about an hour after clocking the fastest 800-meter qualifying time of 2:01.82.
In the men's DMR, Oklahoma State Cowboys took the title, clocking 9:28.77.
-->