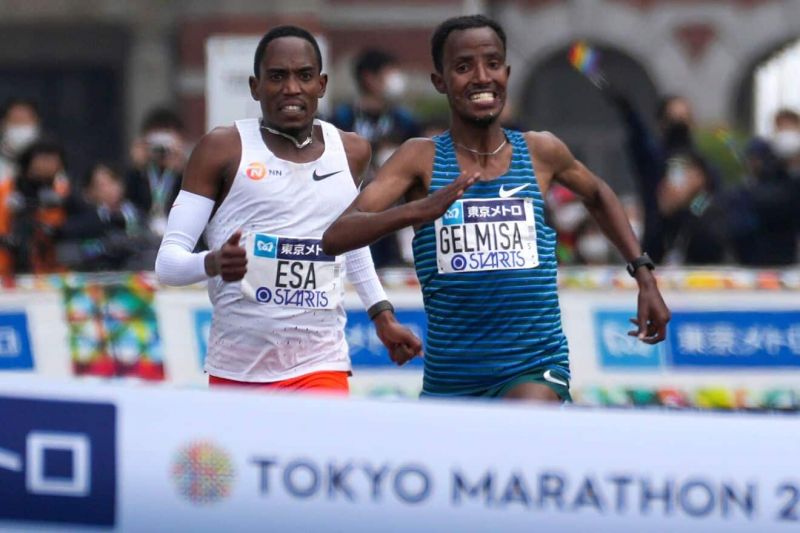 Deso Gelmisa of Ethiopia and Kenya's Rosemary Wanjiru were winners at the 2023 Tokyo Marathon on Sunday, March 5.
The first two finishers ran within 2 hours and 17 minutes in the women's race as Kenya's Wanjiru put in a dominant display to win the race. Wanjiru pushed away from the lead pack a few kilometers from the line. On her own, the 2022 Berlin marathon runner-up Wanjiru moved up the pace, targeting the course record of 2:16:02 set the previous year by Brigid Kosgei. Just before the final kilometer Wanjiru ran all-out despite the course record looked impossible. Wanjiru was as amazed as she broke the tape at 2:16:28, setting the sixth-fastest time in history. Tsehay came in second in a new personal best time and the eighth-fastest time in the history of 2:16:56.
Ethiopia's Ashete Bekere took the third place with a time of 2:19:11. The top Japanese woman was Mizuki Matsuda crossing the finish line in sixth place with a time of 2:21:44.
The men's race winner in Tokyo was decided in a three-way heated sprint in the last 100 meters between Deso Gelmisa, Mohamed Esa, and Tsegaye Getachew. Gelmisa slightly held off Esa to win in 2:05:22. Mohamed clocked the same time to take second, with Tsegaye in third in 2:05:25. Titus Kipruto was just back in a new lifetime best of 2:05:32. Cameron Levins outsprinted Tadu Deme by 2 seconds to set a new Candian national record for the second time in a row of 2:05:36 to take 5th place.
The top Japanese runners were Ichitaka Yamashita (2:05:51) and Kenya Sonota (2:05:59), who finished 7th and 8th, respectively.
Tokyo Marathon 2023 Complete Results
-->