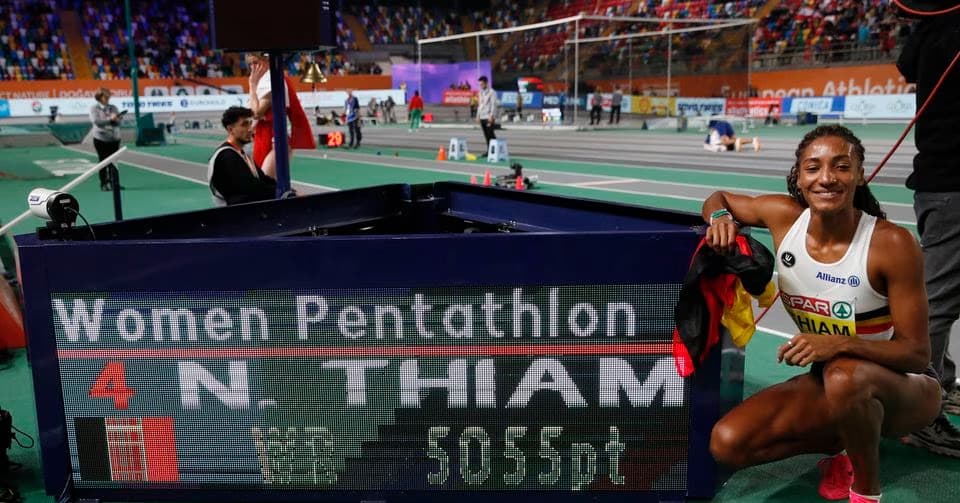 Olympic, world and European champion Nafissatou Thiam and Adrianna Sulek have both improved the previous world indoor pentathlon record after an exciting competition at the Atakoy Arena in Istanbul.
Thiam won the third European Indoor gold medal of her career in the pentathlon setting the world indoor record with 5055 points. Thiam improved the previous best mark set by Natalya Dobrynska with 5013 points at the World Indoor Championships in the same Atakoy Arena in 2012.
Adrianna Sulek from Poland won the silver medal with 5014 points surpassing Dobrynska's previous world record.
The previous best performance achieved in the history of the European Indoor Championships was held by Katarina Johnson Thompson with 5000 points since the 2015 edition in Prague.
World Indoor champion Noor Vidts won the bronze medal with her seasonal best of 4823 points after recovering from a viral illness.
Thiam equaled her PB of 8.23 in the 60 metres hurdles before jumping 1.92m in the high jump. The 28-year-old Belgian combined events star improved her outright PB to 15.54m in the shot put and leapt to 6.59m in the long jump.
Sulek improved her PB to 8.21 in the 60 metres hurdles, cleared 1.89m in the high jump and threw 13.89 in the shot put before improving her PB to 6.62m in the long jump.
Vidts won the 60 metres hurdles in 8.21 edging Adrianna Sulek from Poland with the same time. jumped 1.83m one cm off her PB of 1.84m. The Belgian athlete missed her indoor PB by 10 cm in the shot put with 14.12m before leaping to 6.55m in the long jump.
Thiam needed to run 2:16 to break the world record and improved her previous PB from 2:18.80 to 2:13.60 to take the overall score to 5055 points. Sulek needed 2:07 to surpass Dobrynska's record and achieved her goal by improving her previous PB from 2:09.56 to 2:07.17.
Nafissatou Thiam: "Coming here, I felt very confident. I have done a lot of good work and, of course, the record was in my mind, but you need a good competition, to feel good and to perform well. It is a good information for me that I managed to show this result despite the fact that not all events were perfect today. The long jump and the high jump could have been better. So I can build on this, it is a big motivation for me to move further. After the 60 metres, I already felt like, Oh, this is can be my day. When you have good competitors like we had today, they just push you to show your best. At the 800 metres, I did not watch anyone, I knew I had to get a good time and I will be the first".
-->