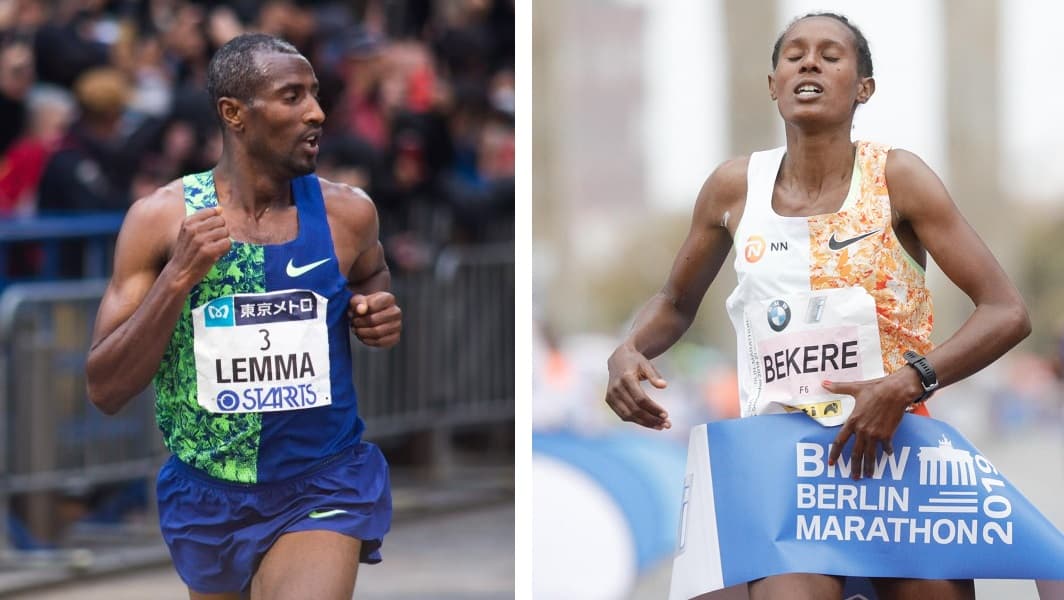 The 2023 Tokyo Marathon on Sunday, March 5, has assembled one of the best men's and women's elite fields in themost significant running event in Japanof the year.
Ethiopian Sisay Lemma leads a profound men's elite race in honors with his 2021 London Marathon win and the fastest personal best time in the field of 2:03:36.
Read More: Tokyo Marathon live stream and TV coverage
Among the men's elite are a dozen runners who have scored victories in prominent marathons. Deso Gelmisa of Ethiopia won the Paris Marathon last year with 2:05:07. Kenya's CyBrian Kotut won the 2022 Hamburg Marathon in 2:04:47, while his compatriot Titus Kipruto took the 2022 Milano Marathon title with 2:05:05. The top Japanese marathoner is Kengo Suzuki, who holds his nations record with 2:04:56. The latest edition in the men's field is the 2022 New York City runner up Mohamed El Aaraby from Morrocco, who like other runners will be aiming for their first World Marathon victory.
The women's elite race is also loaded with talented runners who have the potential to break into the top positions of the World's marathon all-time lists.
Six runners hold lifetime best marks within 2 hours and 19 minutes. Ethiopian Ashete Bekere is the only runner holding the personal best within 2:18. Bekere was a runner up at the 2022 Tokyo Marathon, setting a PB of 2:17:58.The The 34-year-old Ethiopian will face the 2022 Berlin Marathon second-place finisher Rosemary Wanjiru of Kenya and third-placer Tigist Abayechew of Ethiopia.
The fastest Japanese runner in the women's field is Mao Ichiyama, with a PB of 2:20:29.
Men Elite
1. LEMMA, Sisay ETH - 2:03:36 - 2019(Berlin)
2. KOECH, Bernard KEN - 2:04:09 - 2021(Amsterdam)
3. WOLDE, Dawit ETH - 2:04:27 - 2021(Rotterdam)
3. KOTUT, CyBrian KEN - 2:04:47 - 2022(Hamburg)
4. KISSA, Stephen UGA - 2:04:48 - 2022(Hamburg)
5. SUZUKI, Kengo (Japan) - 2:04:56 - 2021
6. GETACHEW KEBEDE, Tsegaye ETH - 2:04:49 - 2022(Amsterdam)
7. GELMISA, Deso ETH - 2:04:53 - 2020(Valencia)
8. KIPRUTO, Titus KEN - 2:04:54 - 2022(Amsterdam)
9. ESA, Mohamed ETH - 2:05:05 - 2022(Amsterdam)
10. OSAKO, Suguru - 2:05:29 - 2020(Tokyo)
11. KIPTUM , Mike KEN - 2:06:08 - 2022(Barcelona)
12. MISOI, Brimin KEN - 2:06:11 - 2022(Frankfurt)
13. ABATE, Deme Tadu ETH - 2:06:13 - 2019(Amsterdam)
14. HIJIKATA, Hidekazu - 2:06:26 - 2021
15. HOSOYA, Kyohei - 2:06:35 - 2021
16. TAKAKU, Ryu - 2:06:45 - 2020 (Tokyo)
17. INOUE, Hiroto - 2:06:47 - 2021
18. EL AARABY, Mohamed Reda - MAR 2:06:55 - 2022(Paris)
19. RAIMOI, Vincent KEN - 2:07:01 - 2022
20. LEVINS, Cameron - CAN 2:07:09 - 2022(Oregon)
21. YOSHIDA, Yuya - 2:07:05 - 2020
22. SONOTA, Kenya - 2:07:14 - 2022(Berlin)
23. KOYAMA, Naoki - 2:08:59 - 2022(Tokyo)
24. HOSHI, Gaku - 2:07:31 - 2022
25. YUZAWA, Shun - 2:07:31 - 2022(Tokyo)
26. MURAMOTO, Kazuki - 2:07:36 - 2021
27. YAMASHITA, Ichitaka - 2:07:42 - 2022
28. SHITARA, Yuta - 2:07:45- 2020(Tokyo)
29. ASHIWA, Atsumi - 2:07:54 - 2021
30. UCHIDA, Kenta - 2:08:12 - 2021
31. FUJIMAGARI, Hiroto - 2:08:20 - 2022
32. HORIO, Kensuke - 2:08:25 - 2022 2021(Tokyo)
33. HOSOMORI, Daisuke - 2:08:28 - 2021
34. KOGA, Kiyoshi - 2:08:30 - 2022
35. KAWAI, Daiji - 2:08:31 - 2022 2021(Tokyo)
36. YAMAMOTO, Kenji - 2:08:38 - 2022
37. AIBA, Naoki - 2:08:44 - 2022
38. FUJIKAWA, Takuya - 2:08:45 - 2020(Tokyo)
39. KUBO, Kazuma - 2:08:48 - 2022 (Tokyo)
40. TOMIYASU, Akira - 2:08:55 - 2022 202(Tokyo)
41. MATSUMURA, Yuki - 2:09:01 - 2021
42. MIYAWAKI, Chihiro - 2:09:04 - 2020(Tokyo)
43. FUTAOKA, Kouhei - 2:09:14 - 2021
44. HOSOYA, Shoma - 2:09:18 - 2022 2021(Tokyo)
45. MINATOYA, Haruki - 2:09:19 - 2020
46. KUNIYUKI, Reo - 2:09:21 - 2022
47. BATOCHIR, Serod - 2:09:26 - 2021
48. TAGUCHI, Masaya - 2:09:27 - 2022 2021(Tokyo)
49. KATANISHI, Kei - 2:09:27 - 2021
50. OMARE DOMINIC, Nyairo KEN - 2:09:34 - 2021
51. TAKADA, Koki - 2:09:45 - 2022
52. MATSUO, Junnosuke - 2:09:48 - 2022 2021(Tokyo)
53. HIRATA, Koshiro - 2:09:57 - 2022
54. NONAKA, Masashi - 2:09:57 - 2022
Women Elite
1. BEKERE, Ashete - ETH - 2:17:58 - 2022 (Tokyo)
2.WANJIRU, Rosemary - KEN - 2:18:00 - 2022 (Berlin)
3. ABAYECHEW, Tigist - ETH - 2:18:03 - 2022 (Berlin)
4. MELLY, Joan Chelimo - ROU - 2:18:04 - 2022 (Seoul)
5. EDESA, Worknesh - ETH - 2:18:51 - 2022 (Berlin)
6. GEMECHU, Tsehay - ETH - 2:18:59 - 2022 (Amsterdam)
7. FLANAGAN, Lindsay - USA - 2:24:35 - 2022 (Gold Coast)
8. ICHIYAMA, Mao - 2:20:29 - 2020
9. MATSUDA, Mizuki - 2:20:52 - 2022
10. HOSODA, Ai - 2:21:42 - 2022 (London)
11. MATSUSHITA, Natsumi - 2:23:05 - 2022
12. SAINA, Betsy - USA - 2:22:43 - 2019 (Toronto)
13. KWAMBAI, Antonina - KEN - 2:23:20 - 2022 (Toronto)
14. WEIGHTMAN, Lisa- AUS - 2:24:00 - 2022(Berlin)
15. ABE, Yukari - 2:24:02 - 2022
16. OTA, Kotona - 2:25:56 - 2022
17. COCKRAM, Natasha - GBR - 2:26:14 - 2022(Valencia)
18. TANAKA, Hanae - 2:26:49 - 2021
19. MORITA, Kaori - 2:27:38 - 2022 (Tokyo)
20. OKADA, Yui - 2:30:03 - 2022 (Tokyo)
21. DEUTSCH, Beatie - ISR - 2:31:36 - 2022 (Sevilla)
22. HORIE, Misato - 2:32:01 - 2019
24. 23DUCHENE, Krista - CAN - 2:32:27 - 2019 (Berlin)
25. MIZUGUCHI, Hitomi - 2:32:33 - 2020
26. IKEMOTO, Ai - 2:34:17 - 2022
27. MORIKAWA, Chiaki - 2:35:06 - 2022 (Tokyo)
28. FUJISAWA, Mai - 2:35:52 - 2021
29. OI, Chizuru NARA-X - 2:39:32 - 2022
30. NAKATA, Miho - 2:39:51 - 2022 (Tokyo)
31. MIZUSEDA, Yuki - 2:40:29 - 2020 (Tokyo)
32. AYABE, Shinobu - 2:40:31 - 2019 (Tokyo)
33. NAKAMURA, Ruka - 2:41:21 - 2019
34. SUZUKI, Eri - 2:42:35 - 2020 (Tokyo)
35. GODA, Nagisa - 2:42:57- 2022
36. HIROSE, Mitsuko - 2:43:19 - 2019 (Tokyo)
37. OBUCHI, Meari - 2:44:20 - 2022
38. MORINO, Asami - 2:44:35 - 2022
39. KONDOU, Hitomi - 2:44:38 - 2022
40. MATSUMOTO, Kyoko - 2:44:46 - 2019
41. TUTIYA, Naoko - 2:45:38 - 2021
42. KUROSAWA, Kana - 2:45:46 - 2022
43. TAKANO, Haruna - 2:46:02 - 2022
44. TAKINAMI, Mio - 2:46:29 - 2022
45. MABUCHI, Yuko - 2:46:29 - 2020 (Tokyo)
-->