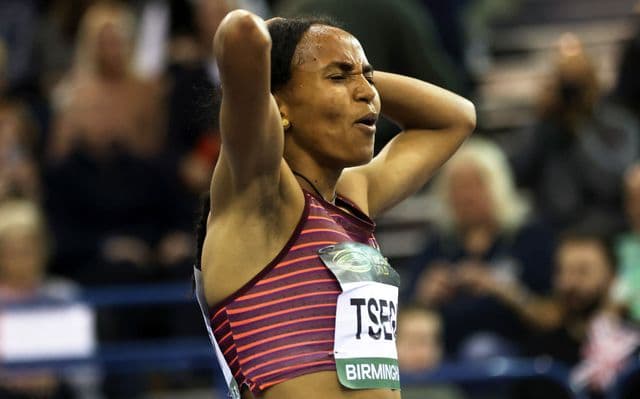 World 5000 meters champion Gudaf Tsegay won the women's 3000 meters in 8:16.69, setting the meeting record and the second-fastest time in history at the World Indoor Tour Final in a packed Utilita Arena in Birmingham.
Tsegay fell just nine-hundredths of a second short of the world indoor record held by her compatriot Genzebe Dibaba, who clocked 8:16.60 in Stockholm in 2016.
Tsegay went through the 2000m in 5:31.06 and hit the bell in 7:45.18 before clocking the final 200 meters in 31:51.
Tsegay scored her third win this winter, maintaining her unbeaten streak after her victories in the mile in Torun in 4:16.16 and Liévin in the 1500 meters in 3:57.47. Tsegay has clocked the second-best performance in history behind a world indoor record held by Dibaba after her 4:16.16 in Torun on 8 February.
Gudaf Tsegay: "It was so close. My body is more tired from the traveling, but I am sure I will break the world record next time".
Her compatriot Mizan Alem, who won the world under 20 title in the 5000 meters in Nairobi 2021, finished a distant second in 8:31.20. European 5000m Konstanze Klosterhalfen took third place in 8:35.14 ahead of 3000 meters world under 20 champion Teresiah Muthoni Gateri (8:36.64).
Women's 800 meters:
European indoor and outdoor champion Keely Hodgkinson won the women's 800 meters in Birmingham for the second consecutive year, improving her British indoor record by two-hundredths of a second with 1:57.18 strengthening her place at number 8 in the world indoor all-time list. Hodgkinson secured her World Indoor Tour Gold title.
Keely Hodgkinson: "It was pretty smooth running, but the line got away from me towards the end. I am a bit gutted because I can run faster than that, but I am happy to come away with another British record".
The British middle-distance running star won by over two-and-a-half seconds over Oceania record holder Catriona Bisset, who dipped under the 2 minutes barrier clocking 1:59.83. Isabelle Boffey from Great Britain finished third in 2:00.25 ahead of Anita Horvat (2:00.62).
Men's 1500 meters:
Neil Gourley launched his kick down the back straight to win the men's 1500 meters improving the British record to 3:32.48, moving up to eighth in the world indoor all-time list.
Gourley secured the overall win in the World Indoor Tour standings after finishing first in the mile in Boston in 3:52.84 and second in the Wanamaker Mile at the Millrose Games in New York in 3:49.49. Olympic 1500 meters bronze medallist Josh Kerr set the previous British record with 3:32.86 in Boston last year.
Neil Gourley: "I knew it was going to be quick. It was a case of hanging on and using my pace in the last 150 meters, and thankfully, I managed to do that".
Adel Mechaal finished runner-up in 3:33.28, improving the long-standing Spanish indoor record held by Andres Manuel Diaz since 1999. Andrew Coscoran set the Irish record by clocking 3:33.49, beating Luke McCann (3:34.76). Kerr placed fifth in 3:34.93.
Women's 60 meters:
Dina Asher-Smith broke her own British indoor record in the 60 metre heats by one-hundredth of a second, clocking 7.03. The 200m world bronze and European silver medallist won the final later in the afternoon with 7.05. Her compatriot Darryil Neita finished runner-up in 7.13 ahead of US Destiny Smith Burnett (7.15) and world 200 meters champion Shericka Jackson (7.18).
Dina Asher-Smith: "I am thrilled to have run the British record. I was aiming for sub-7 today, but it's good that I am frustrated, running so good. It bodes well".
Men's 60 meters hurdles:
World indoor and outdoor champion Grant Holloway has extended his winning streak to more than 60 consecutive races, including heats and finals in the men's 60 meters hurdles improving his own world seasonal best by one-hundredth of a second with a stadium record of 7.35. Only two other hurdlers have ever run faster than Holloway's today time.
Holloway, who won for the second consecutive year in Birmingham after finishing first in 2022 in 7.41, also secured the overall World Indoor Tour title.
Grant Holloway: "It was a great race. The stadium record makes it much better. Coming out and executing feels excellent, and I look forward to the outdoor season. I can't wait to get back home, see the family and get to work. My goal was to come out here and have some fun. The future is bright for me.
Daniel Roberts finished second to Holloway for the third time this indoor season, clocking 7.47. Roger Iribarne placed third in 7.58, holding off Michael Dickson by two-hundredths of a second.
Women's 1000 meters:
Double European champion Laura Muir won the women's 1000 meters in 2:34.53. The Scottish star was on pace to break Maria Mutola's world record in the first half of the race, but she fell short of her goal in the second part.
Laura Muir: "I was going to go for it, and I think when you run at that pace, it will hit at some point. Unfortunately, it hit a bit too soon, but I had to go for it and run those times at the start. I know I am in a good spot ahead of the European Indoors. It's hard to get that perfect. I gave it a good shot, and I feel strong in training".
Claudia Bobocea set the Romanian indoor record to finish second in 2:35.34 ahead of Sofia Ennaoui, who improved Lidja Chojecka's Polish record by clocking2:35.69. Elena Bellò broke Gaia Sabbatini's Italian indoor record with 2:37.09 to finish fourth ahead of Katie Snowden from Great Britain (2:37.46) and Maureen Koster from Great Britain (2:37.85).
Women's pole vault:
Canadian record holder, Alysha Newman had a clean sheet clearing all heights at 4.41m, 4.51m, 4.61m, 4.71m, and 4.78m in her first attempt. Newman made three unsuccessful attempts at 4.84m. The 2018 Commonwealth Games champion claimed the overall title in the World Indoor Tour.
World indoor bronze medallist Tina Sutej needed three attempts to clear 4.71m for second place. Gabriela Leon cleared 4.61m in her second attempt to place third on countback over Italian record holder Roberta Bruni, who needed three tries to vault this height. Former Olympic champion Ekaterini Stefanidi placed fifth with 4.51m beating this year's Boston World Indoor Tour winner Bridget Williams and European outdoor champion Wilma Murto from Finland.
Alysha Newman: "Indoor champion sounds so great. I love jumping with these girls. They push me to be the best athlete I can be and push me to extremes. To get the wildcard so early for the World Champs next year, courtesy of being the World Indoor Tour champion, is a huge weight off my shoulders. It allows me to focus on each event as it comes".
Men's long jump:
Three-time world indoor medallist Marquis Dendy set his seasonal best of 8.28m in the sixth round. Dendy, who wears a bucket hat during his competitions, led the competition with 8.01m and 8.07m in the first two rounds. Tajay Gayle from Jamaica leaped to 8.13m to reach the first position in the final round. Dendy saved his best jump for last with a leap of 8.28m in his final attempt to take second place in the overall standing of the World Indoor Tour with 20 points. Thobias Montler had to settle for sixth place with 7.63m and pulled out of the competition after three rounds, but he won the World Indoor Tour with 22 points following his win in Torun, his second place in Liévin, and his third place in Madrid.
Marquis Dendy: "This is what I am practicing for. I knew it was going to be a long tour. I had a few hamstring problems, but I have kept going, and this is where I wanted to be. I am a hat guy, and now it has become my lucky hat, so it will be following me to the outdoor season."
Men's high jump:
World indoor bronze medallist Hamish Kerr cleared all heights until 2.28m in his first attempt to win the men's high jump on countback over Erik Portillo, who needed two tries to clear this height. Kerr claimed the World Indoor tour title. The athlete from New Zealand, who cleared 2.34m in Banska Bystrika earlier this month, made one unsuccessful attempt at 2.32m.
Men's 400 meters:
World indoor 400 meters champion Jereem Richards from Trinidad and Tobago scored his second win in the World Indoor Tour Gold this year with 45.74 holding off Olympic 4x400 champion Vernon Norwood from the USA (45.92). Richards clinched the win in the World Indoor Tour standing.
Jereem Richards: "It's been a competitive series and has driven me forward. Every time I stepped out on the track, I tried to improve, and I have done that in every race so far this season. I am grateful and very happy for it".
Men's 60 meters:
Charlie Dobson won a domestic 60 meters race in 6.64. Ojie Edoburun, Jeremiah Azu, and Richard Akinyiebo were disqualified by false starts.
-->