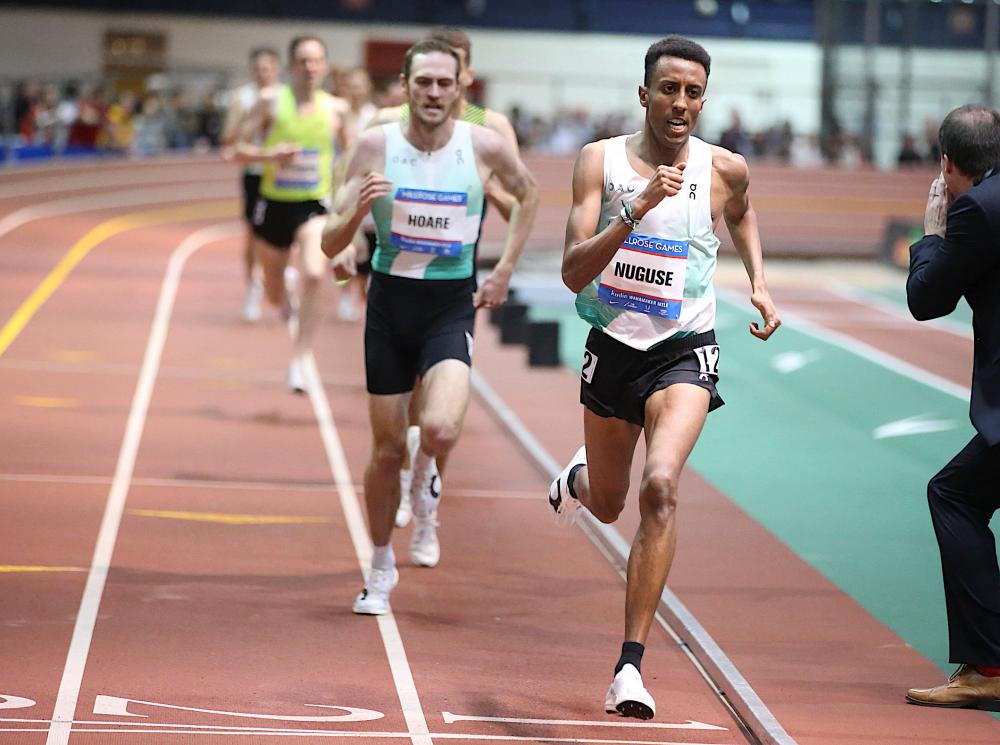 Nuguse crashed Bernard Lagat's American mile record by more than seconds and became the #2 fastest miler indoors behind only Yomif Kejelcha. Another six world-leading performances were among the highlights at the 115th edition of Millrose Games in New York, the oldest indoor meeting at the Armory Track, packed with 5000 spectators.
Men's Wanamaker Mile:
US Yared Nuguse attacked the world record and won the men's Wanamaker Mile setting the national record and world-leading time with 3:47.38. Nuguse has moved to second in the all-time world list, just 0.37 behind Yomif Kejelcha, who set the world record by clocking 3:47.01 in Boston on 3 March 2019.
The pace was set to break Kejelcha's world record. Nuguse went through the 800m in 1:53.8 and ran 1:53.5 in the second half to take the win. Nuguse broke Bernard Lagat's Wanamaker Mile record of 3:49.98 from 2008. Nuguse set his second US record of the indoor season after breaking the indoor 3000m record with 7:28.34 in Boston.
Nuguse ran the second-fastest mile by an American in history, including indoor and outdoor times. Only Alan Webb ran faster, with his US Outdoor record of 3:46.91 in 2007.
Nuguse lives and trains in Boulder, Colorado, with On Athletics Club.
Yared Nuguse: "We ran that race the way we did, all three of us up for the first half of the race. I felt good knowing I had my closest guys having my back. In the last part, I gave it everything I had, and I was able to close with something crazy, and I got it. I am always excited to see what else I can do next. There was a nice confidence boost. After the 3000m in Boston on 28 January, where I set the world record, I was pretty confident, but to do this in the event that I love the most and the one that I feel like I am going for at the World Championships, that makes me feel even better".
Neil Gourley from Great Britain dipped under the 3:50 to finish second with a leading European time of 3:49.46. Gourley moves to second in the all-time European list behind Irish middle-distance legend Eammon Coghlan, who won seven editions of the Wanamaker Mile.
Last year's Commonwealth Games champion Ollie Hoare from Australia, equaled his PB of 3:50.83, which earned him the win at last year's edition of the Wanamaker Mile. Sam Tanner from New Zealand improved his PB to 3:51.70. Mario Garcia Romo from Spain set the national record by clocking 3:51.79.
Women's Wanamaker Mile:
Double European champion Laura Muir won the Wanamaker Mile on her debut at the Millrose Games, clocking a leading European time of 4:20.15.
Josette Andrews went to the front with two laps to go, but Muir produced a solid finish to fight back and took the win ahead of US Josette Andrews (4:20.88) and Katie Snowden from Great Britain (4:21.19). Lucie Stafford from Canada set her third PB of this indoor season with 4:22.72 beating Hellen Schlachtenhaufen (4:23.94). Stafford took nearly a second off her PB set at the New Balance Indoor Grand Prix. Last year's NCAA 1500 meters champion Sintayehu Vissa improved the Italian record for the second time this season, clocking 4:24.54.
Laura Muir: "It was amazing. That last lap I said: "I have not done all this hard work for nothing".
Women's 3000 meters:
Alicia Monson won the 3000 meters for the second consecutive year at the Millrose Games, improving Karissa Schweizer's US record by 65 hundredths of a second with the world seasonal best to 8:25.05. Whittni Morgan improved her PB to 8:30.13 to finish runner-up ahead of Katelyn Tuohy, who improved the NCAA record with 8'35" 20.
Alicia Monson: "I tried to go hard and break everyone behind me, so it feels good to come out with a win and a record. I saw the clock and said: This is going to be close, so I am glad I got it".
Men's 60 meters:
World indoor record holder Christian Coleman won the 60 meters at the Millrose Games for the second consecutive year in a seasonal best of 6.47, setting the second-world fastest time of the year. Only Trayvon Bromell ran faster this year with 6.42 at the Tiger Paw Invitational in Clemson on Saturday, a few hours before the Millrose Games. Jamaica's Travis Williams placed second in 6.59, sharing the same time with Josephus Lyles, who improved his PB by 0.02. Noah Lyles ran under protest after a false start and clocked 6.53, but his disqualification was later confirmed.
Christian Coleman: "You have to be professional in those moments, try to stay composed and relaxed, and just execute your race plan. I feel like this is what I do best, and I came to put on a show".
Noah Lyles: "Everybody knows that I am just here to play around. I am not a 60m sprinter, but if I can take some heads, I am going to do it".
Women's 60 meters:
Aleia Hobbs clinched her second win in the women's 60 meters at this year's World Indoor Tour Gold in 7.04, one week after placing first in Boston. Tamari Davis placed second in 7.08, edging world indoor bronze medallist Marybeth Sant Price (7.11) and world indoor silver medallist Mikiah Brisco (7.13). Shawnti Jackson, the daughter of the former world 400 meters hurdles champion Bershawn Jackson, improved her PB by 0.02 to 7.16.
Aleia Hobbs: "I don't think my start was as good as it's been, but I was patient. I have been training in the weight room. I am stronger than I have ever been. Putting the work in and it's paying off".
Men's 3000 meters:
The men's 3000 meters produced great depth, as the top eleven athletes improved their PBs. Olympic 1500 meters bronze medallist Josh Kerr launched his kick in the final lap to win in a meeting record of 7:33.47. Kerr set the Scottish record and the third fastest time in the UK list.
Luis Grijalva from Guatemala, who finished fourth in the 5000 meters at the World Championships in Eugene, set the national record with 7:33.86 to finish runner-up ahead of Joe Klecker (7:34.14) and Cooper Teare (7:34.70). Jonas Raess set the Swiss record in fifth place in 7:35.24 beating last year's Millrose Games winner Goerdie Beamish from New Zealand (7:36.22).
Women's 600 meters:
World indoor 800 meters champion Ajée Wilson has extended her winning streak to eight victories at Millrose Games and to 19 straight races at the Armory Track over the past decade, clocking 1:24.85. Wilson beat former 400m hurdles world silver medallist Shamier Little, who clocked 1:26.16 after a fast 400m split in 54.25.
Men's shot put:
Double Olympic champion Ryan Crouser won the eagerly awaited men's shot put showdown against his friend and rival Joe Kovacs, setting the world-leading mark and meeting a record of 22.58m in the second round. Crouser produced two more valid puts of 22.50m and 21.98m.
Crouser set his second-best-ever throw-in in his indoor season opener.
Kovacs placed second with a shot of 21.34m in the first round.
Ryan Crouser: "It's a good start to the season for me. I am making some technical changes in training. The new technique is an attempt to generate more momentum and increase his radius so that I generate more rotation power. It also led to a little inconsistency, so hopefully, we can get that worked in the coming months".
Women's shot put:
World champion Chase Ealey set the world-leading mark and the meeting record of 20.03m to win the women's race. The US shot putter produced two more shots over the 19 meters of 19.48m and 19.49m. Last year's Commonwealth Games champion Sarah Mitton placed second with a best attempt of 19.52m in the second round.
Chase Ealey: "It's not completely dialed in yet, but I am thrilled with how it's going."
Women's pole vault:
Olympic and world champion Katie Moon won at the Millrose Games for the first time in her fourth appearance at this meeting with a 4.81m clearance in her first attempt to beat this year's Boston World Indoor Tour meeting winner Bridget Williams, who cleared 4.76m in her third attempt. Former Olympic and world champion Katerina Stefanidi from Greece earned 4.62m for the first time of asking before failing her three attempts at 4.71m.
Women's 300 meters:
World 4x100 and 4x400 relay champion Abby Steiner won the women's 300 meters setting the third-fastest time in history with 35.54. Only Irina Privalova and Shaunae Miller Uibo ran faster than Steiner clocking 35.45. Steiner broke the US record held by Quanera Hayes with 35.71 since 2018.
Abby Steiner: "It's one of those races you learn a little bit about every time you run it. I clean up my start a little bit, and I think it's there".
Women's 60 meters hurdles:
World indoor silver medallist Devynne Charlton won the women's 60 meters hurdles in 7.91, holding off Tonea Marshall (7.94), Sharika Nelvis (7.96), and 2019 world outdoor champion Nia Ali (7.97).
Devynne Charlton: "I did not start well but finished strongly. My work is paying off".
Men's 800 meters:
World indoor bronze medallist Noah Kibet broke the 1:45 barrier for the first time in his career to win the men's 800 meters in his lifetime best of 1:44.98 at 18. Isaiah Harris placed second, setting a lifetime best of 1:45.64. Kibet é stato il più giovane medagliato a livello individuale ai Mondiali di Belgrado 2022.
Men's 400 meters:
World indoor champion Jereem Richards improved his seasonal best to 45.84, avenging his last week's defeat in Boston against Noah Williams las the men's 400 meters. Williams finished second in 46.20 ahead of Bryce Deadmon (46.34).
-->