Duplantis nearly breaks world record as Prescod and Neita deliver strong British sprint double

Posted by:
Watch Athletics
Saturday, 11 February 2023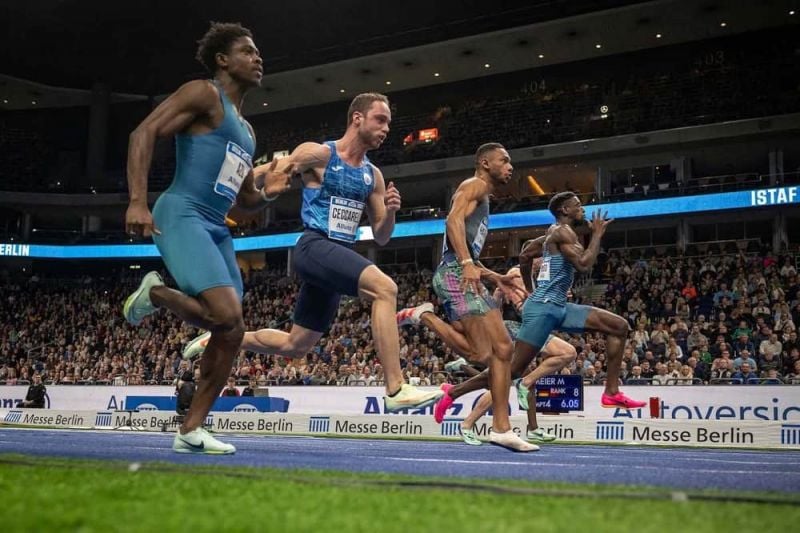 "Mondo" Duplantis came close to breaking his world record at the 10th edition of the ISTAF INDOOR in Berlin. In front of 11,850 spectators in the Mercedes Benz Arena the Swede just missed a new mark of 6.22 m in the Pole Vault which he won with a meeting record of 6.06 m. British sprinters Reece Prescod and Daryll Neita produced top winning times in the 60 m sprints. Prescod tied the world lead with 6.49 while Neita also stormed to a PB of 7.05 seconds. "It was amazing - that's what athletics is about! We celebrated an emotional and spectacular ISTAF INDOOR anniversary together," said Meeting Director Martin Seeber.
There was still plenty of room to the bar when Armand "Mondo" Duplantis sailed over 5.91 m, a height no other competitor was able to clear in Berlin on Friday night. Ernest John Obiena of the Phillippines and Australia's Kurtis Marschall had to settle for second and third places with 5.82 m each. It was a very similar picture for the Olympic Champion at 6.06 m with which Duplantis improved his own meeting record by three centimeters. That was the second highest jump ever indoors on German soil. Only Ukraine's Sergej Bubka jumped higher, when he broke the indoor world record with 6.13 m back in 1992 at Berlin's "Springer-Meeting". After his 6.06 m clearance "Mondo" Duplantis went for 6.22 m. He had enough height at all of his three attempts, however in each of them he struck the bar with a knee when coming down. The second attempt was particularly close and Duplantis was visibly annoyed after this attempt.
"My attempts at 6.22 m felt good. I was closer than last week, that is the good thing. I would say it was more the distance than the height. But that is part of the game. For 6.22m you have to get everything really perfect. I felt really good today, but I was not perfect enough for that. I do not know if I have ever experienced an atmosphere like that indoors. It was great fun and I hope to be back next year," said "Mondo" Duplantis.
With just three weeks to go to the European Indoor Championships in Istanbul Reece Prescod threw down a marker in the 60 m. Showing a very strong performance from start to finish he stormed to a personal best of 6.49 seconds, tying the world lead. Prescod is now the number one in Europe this season and broke the ISTAF INDOOR record which was held by Kim Collins. The 2003 100 m World Champion from St Kitts and Nevis ran a time of 6.50 back in 2015. Joshua Hartmann was second with a personal best of 6.53 while fellow-German Julian Wagner took third in 6.56.
"It is the music, it is the crowd, everything - the ISTAF INDOOR is one of my favourite meetings. I was here in 2019 and I won. This year I broke the meeting record and won again," said Reece Prescod and explained: "I have been training really hard. My coach and I have worked on new things. I have moved to Italy together with Jeremiah Azu to work with Marco Airale. New coach, new vibes. Let's see what happens over 100m."
Apart from may be the start Daryll Neita had an excellent 60 m race as well. Dominating the field the British sprinter won the event with a great personal best of 7.05 seconds. Evelyn Tristan of Barbados was second, improving her own national record to 7.14. However she injured herself in the process and needed support when badly limping after the race. Germany's European 100 m champion Gina Lückenkemper finished third with a season's best of 7.16.
"I was really excited to come here and to execute the race like that, it is a massive PB. It is incredible. This time means I am in fantastic shape. I am really excited regarding the European Indoor Championships. For me 60m is just about improving my 100m race. And this made a huge difference today. I love it here, the atmosphere is electric," said Daryll Neita.
Britany Anderson was a late addition to Berlin's 60 m hurdles race. The Jamaican, who took the silver medal in the 100 m hurdles at the World Championships in Eugene (USA) last summer, then was a late starter in the final as well. Coming out of the blocks slowly she then had to make up ground and did so. Just before the last hurdle she had almost closed the gap to Michelle Jenneke and then she passed the Australian to secure victory. With 7.85 seconds Britany Anderson missed her personal best by just 0.03 in Berlin. Michelle Jenneke clocked two personal records at the ISTAF INDOOR: First she took her heat with 7.95 and then she improve to 7.89 in the final. Natalia Christofi of Cyprus was third with 8.01. "I think I could work on the start a little bit more and clean up my first hurdle. But other than that, the race was good. It was a fantastic show here in Berlin. I was here for the first time and I hope I will get a chance to come back," said Britany Anderson.
There was a third victory for Great Britain in Berlin as David King took the men's sprint hurdles. In a close race he clocked a season's best of 7.63 seconds and just edged out Jamaica's Damion Thomas who crossed the line in 7.65. Paolo dal Molin of Italy took third place with 7.69. In the first round Daniel Roberts had run the fastest time of the day with 7.57. However the American then retired and did not start in the final.
Germany's long jump Olympic and World Champion Malaika Mihambo took the lead early when she jumped 6.72 m in round one. After problems with her run-up she then improved to 6.81 m with her last attempt. Larissa Iapichino of Italy and Great Britain's Jazmin Sawyers took second and third with 6.69 m each. "Today's competition felt good, but I hurt my knee in the third attempt. I needed to get treated by physiotherapists and then find my focus again," said Malaika Mihambo.
A discus team event with men competing against women concluded the ISTAF INDOOR Berlin. The women came out on top with Germany's Shanice Craft producing the best performance of the night. Her mark of 65.23 m is a meeting record and the furthest throw indoors ever. Fellow-German Daniel Jasinski had the best throw among the men with 62.81.
More information is available at: www.istaf-indoor.de
-->