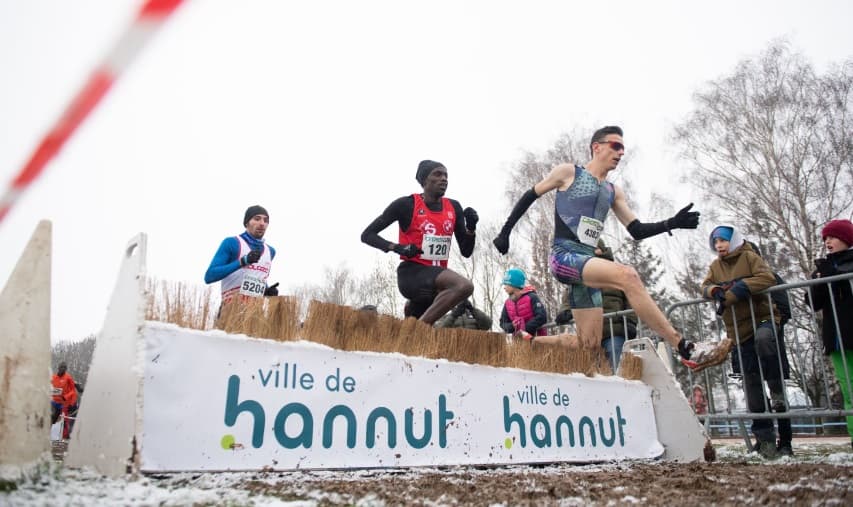 Frenchman Yann Schrub and Rahel Daniel from Eritrea triumphed at the Cross Cup in Hannut, the Belgian leg of the World Athletics Cross Country Tour Gold held in snowy weather conditions.
European 10000 metres bronze medallist Schrub broke away from European cross country bronze medallist Isaac Kimeli from Belgium over the final 1500 metres lap to win the men's 9 km over the local athlete by 19 seconds in 28:29. Guillarme Grimard from Belgium and finished third in 28:59 ahead of last week's Cinque Mulini winner Gideon Rono (29:07) and Ned Potter from Great Britain (29:08).
The leading quartet formed by Kimeli, Schrub, Grimard and Rono pulled away on the first of four laps. Rono could not keep up with the pace set by Schrub, Kimeli and Grimard and was dropped at halfway.
Schrub built a five-second lead over Kimeli at the bell and increased his gap in the final lap.
Yann Schrub: "My legs felt wonderful today. I knew I was in good shape after a period at the end of last year when things did not feel completely right. During the past few weeks, I have been preparing for my next couple of races under the Portuguese sun and this race was a last-minute decision. I am glad it was worth the trip to snowy Belgium. I hope to combine cross country and indoors this year, yet the main goal remains the main season. It did not feel like revenge for the European Cross Country Championships, where Isaac Kimeli won bronze and I did not end up on the podium. I respect him a lot as an athlete, given his track record and today was a nice battle for sure, but most of all, I am happy to take the win here, especially with the lovely feeling I had in my legs".
Women's race:
Sarah Lathi from Sweden and European Under 23 cross-country silver medallist Megan Keith from Great Britain kept up the pace set by Daniel during the first laps.
Lathi pushed the pace at the front while Daniel slipped and lost ground. The Eritrean caught up with Lathi.
Daniel went to the front with three laps to go, but Lathi managed to keep pace with the Eritrean athlete. Keith pushed the pace during the penultimate lap.
In the final lap Daniel and Lathi dropped Keith. Daniel launched her decisive attack to win the race in 28:41 with a lead of four seconds over Lathi. Keith crossed the finish line in 28:49. Veerle Bakker finished fourth in 28:55, beating Cloe Herbiet from Belgium by 20 seconds.
Daniel scored her third win in this season's edition of the World Cross Country Tour, maintaining her unbeaten streak following her wins in Campaccio and Elgoibar.
"The snow and mud made it very difficult today. I had to dig deep to grab the win. Halfway I crashed, yet I didn't feel any pain. I feel ready for my next race. I am excited about my trip to Australia", said Daniel.
Innes Fitzgerald from Great Britain won the women's under 20 race beating her compatriots Rebecca Flaherty, Sophie Nicholls and Hattie Reynolds. Luke Birdsey clinched the men's under-20 race ahead of his countryman Jacob Deacon and Jonas Stafford from Ireland.
-->