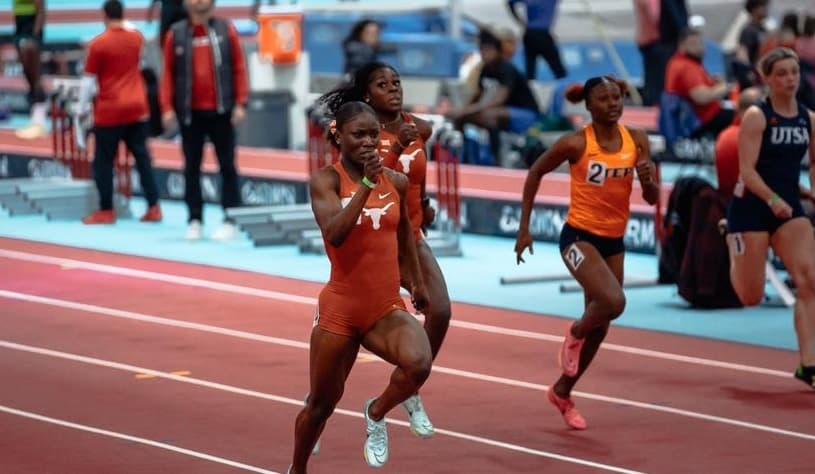 Several outstanding performances highlighted the Dr. Martin Luther King Collegiate Invitational on Saturday in Albuquerque, New Mexico.
The University of Texas sprint stars Julien Alfred, and Rhasidat Adeleke set world-leading times in the 60m and 200m dash at Martin Luther King, Jr. Collegiate Invitational on Saturday.
The St. Lucia native, Alfred, opened her season in the 60m prelims equaling her second-fastest time ever in the event at 7.05, just .03 second off her U.S. collegiate (NCAA) record of 7.02 she set at the NCAA Indoor Championships last year. The 2022 NCAA 100m and 4x100 champion broke her record in the final, improving the NCAA record to 7.02 seconds. Her fellow Texas teammate Rhasidat Adeleke ran 7.20 for second place and Maboundou Kone concluded the top three in the event with 7.21.
Alfred now holds three of the top-four fastest 60m dash times in NCAA history and is now tied as the 20th fastest performer in history.
The 20-year-old Irish sprinter Adeleke, who reached the final at last year's World championships, set the world-leading and lifetime best of 22.52 to win the 200m dash.
Elsewhere, Marcellus Moore of Texas successfully completed a 60m and 200m double.
Moore won the 60m dash final, crossing the line at 6.62. Later in the day, Moore dominated the men's 200m, winning the event with a new personal best of 20.64 seconds.
In the men's 400m, Ashton Allen of USC was the winner with a time of 45.94, which is the 3rd fastest in the World this year.
Kennedy Simon of Texas won the women's 600m with 1:26.69, the fifth-fastest time in NCAA history. Will Sumner of Georgia claimed the men's 600m with a time of 1:15.32.
-->