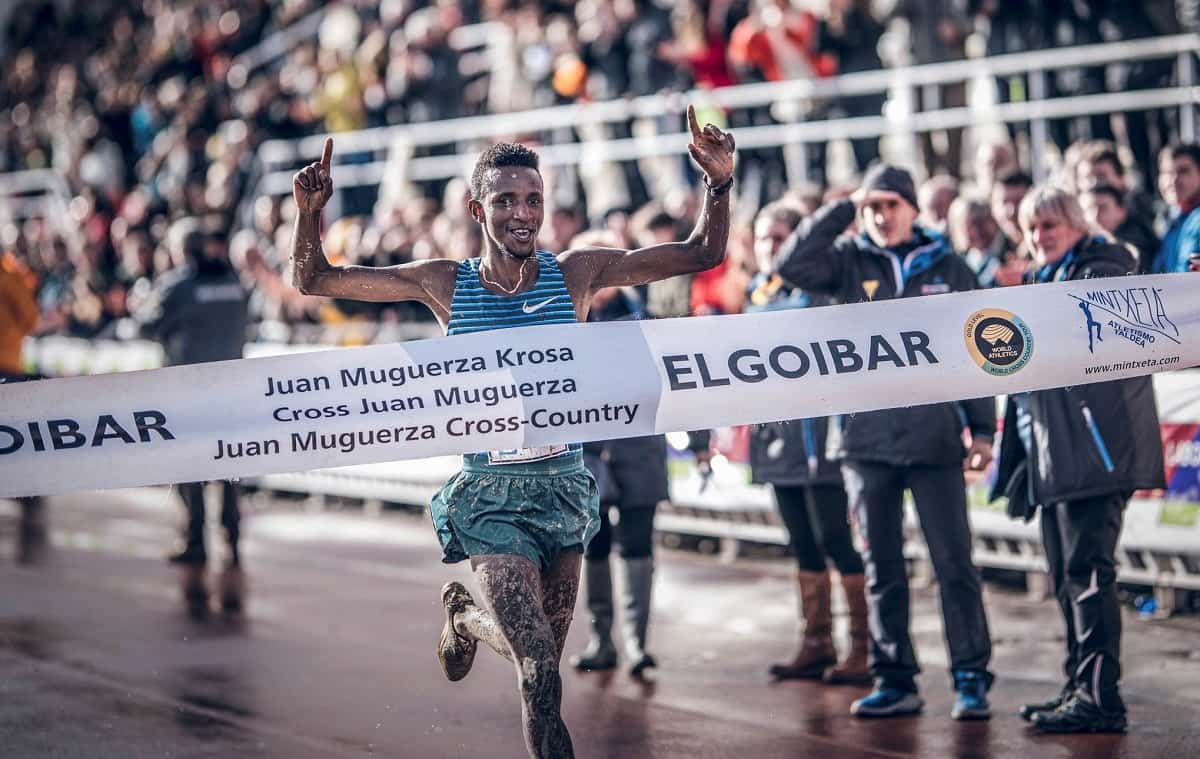 Eritrea's Rahel Daniel and Olympic 10000 champion Selemon Barega clinched the win the 79th edition of the Cross Internacional Juan Muguerza in Elgoibar, a World Athletics Cross Country Tour Gold. The race was held on a cloudy day without rain.
European indoor 3000m bronze medalist Adel Mechaal took the early lead in the men's 10.8 km race, closely followed by European Under 23 champion Carlos Mayo from Spain, Barega, Birhanu Balew from Barhien, and Mohamed Aferdi from Morocco. They went through the first 2.1 km lap in 6:29.
Barega went to the lead for the first time during the penultimate lap. Only Balew and Aferdi were able to follow Barega. Mayo, Mechaal, and Las Heras began losing ground.
Barega stepped up the pace with 2500 meters to go and built a lead of seven seconds on Balew after clocking 6:20 in the penultimate lap. Balew had a lead of 16 seconds over Aferdi and Mechaal, who had managed to catch up with the Moroccan runner.
Barega increased his lead over Balew during the final lap and crossed the finish line in 33:14, beating Balew by 13 seconds. Mechaal pulled away from Aferdi to clinch third place in 33:39.
Barega won the Elgoibar race for the second time in his third appearance at this event. The Ethiopian athlete had previously claimed the Elgoibar race in 2018, beating Jacob Kiplimo and finished runner-up to Rhonex Kipruto in 2019. He finished fifth in the 10000 meters in Eugene before making his debut over the half marathon distance at the Great North Run in Newcastle last September when he finished fifth in 1:00:39. Barega finished seventh in his first cross-country race this season at Jan Meda race, which served as the Ethiopian Trials for the World Cross Country Championships in Bathurst.
"I am satisfied with my third podium in as many appearances in Elgoibar. It's not sure, but I will skip the World Cross Country Championships in Bathurst, and I will run some indoor races instead: I will try to make the Ethiopian team compete in the 10000m at the World Championships in Budapest, but I have not ruled out trying a double in either the 5000m or the 1500m", said Barega.
Balew will run the Noche de San Anton, a 10 km road race in the Spanish town of San Jaen.
Women's race:
The 7.6 km women's race started at a slow pace. The leading group ran the opening 400 meters in 1:31. Six women ran in the front group after the first small lap.
Rahel Daniel led the race, closely followed by world 10000 meters bronze medallist Margaret Kipkemboi Chelimo and Edinah Jebitok from Kenya, Winfred Yavi from Bahrein, Ehlat Mulugeta from Ethiopia and Francine Nyonsaba from Burundi.
Nyonsaba and Mulugeta were the first to lose ground 11 minutes into the race.
Jebitok ran in the lead for most of the race, but Daniel followed closely on her shoulders. Kipkemboi and Yavi completed the leading pack. Jebitok stepped up the pace and only Daniel could follow her, while Kipkemboi and Yavi began losing ground. Daniel and Jebitok built a three-second lead on Yavi, who was nine seconds ahead of Kipkemboi. Nyonsaba was running in fifth place 25 seconds behind Jebitok and Daniel.
Daniel launched her kick with 600 meters to go breaking away from Jebitok. The 21-year-old Eritrean athlete crossed the finish line in 25:43 to claim her second win in this season's World Cross Country Tour a few days after her triumph at Campaccio in San Giorgio su Legnano. Daniel beat Jebitok by eight seconds. Yavi completed the podium In third place at 25:58, ahead of Kipkemboi (26:16) and Nyonsaba (26:30).
Poppy Tank from Great Britain finished seventh in 27:29, holding off Malet Mulugeta by four seconds.
"It was a muddy and tough race, so I prefer to kick off conservatively, especially because I was tired after the Campaccio race in San Giorgio su Legnano", said Daniel.
Zoe Gilbody from Great Britain won the women's under 20 race, valid for the Mamo Wolde prize beating her compatriot Liby Luxley. France's Imad El Goumry won the men's under-20 race ahead of pre-race favorite Sam Mills from Great Britain. The Mamo Wolde prize was introduced in 2003 in memory of two-time Olympic champion Mamo Wolde, who won four editions of the Elgoibar race in the 1960s.
-->