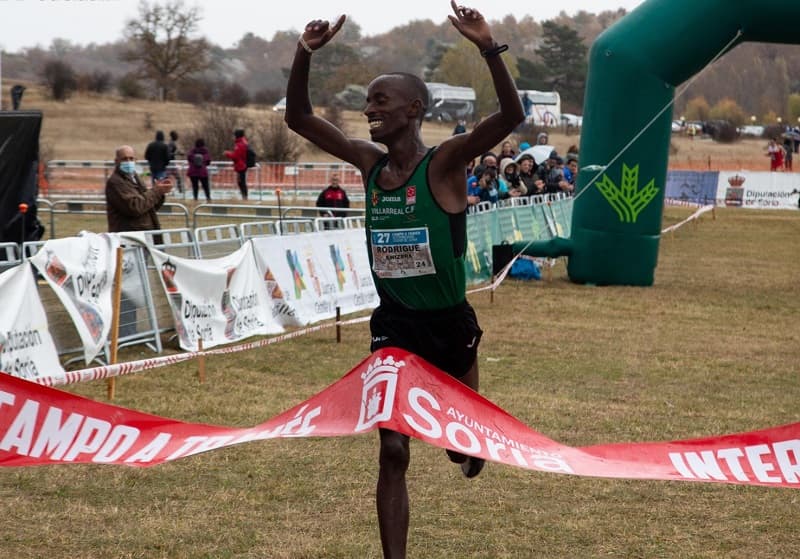 Lucy Maiwa from Kenya and Rodrigue Kwizera from Burundi took the honors at the 40th edition of the Cross Internacional de la Constitution in Alcobendas near Madrid, the seventh leg of the World Athletics Cross Country Tour Gold. The Spanish cross-country race was held on a sunny and warm day with a temperature of 13°C.
Maiwa improved her performance from last year when she finished second.
Argentina's Maria Luz Tesuri took the early lead, closely followed by Mawia, Francine Niyomukunzi from Burundi and European Under 23 champion Nadia Battocletti from Italy. This quartet built a 10-second gap over the chasing group. Tesuri lost the ground as Maiwa went to the front, while Niyomukunzi was running at her shoulder in second place ahead of Battocletti.
The race turned into a battle between Maiwa and Niyomukunzi. Maiwa pulled away shortly before the bell and built a gap of 2 seconds over Niyomukunzi and 5 seconds over Battocletti.
During the final lap, Battocletti overtook Niyomukunzi to take second place.
Maiwa crossed the finish line first in 27:06, beating Battocletti by 11 seconds. Niyomukunzi finished third in 27:30, beating Laura Luengo by 24 seconds.
Lucy Maiwa: "I am quite satisfied. With my third cross-country win this season after Bydgoszcz and Soria, I feel much more comfortable on cross-country than on the track. After my European tour of four races, I now return to my country to contest the Kenyan Trials for the World Cross Country Championships."
Battocletti ran her final race before the European Cross Championships at Mandria Park in Turin. The Olympic 5000m finalist finished sixth in Atapuerca a couple of weeks ago, beating four-time European Cross Country Championships Yasemin Can.
Nadia Battocletti: "I am happy with the result on a difficult course with ups and downs. I was not in my shape in the past few days. I will have to work hard ahead of the European Cross Country Championships. I am very confident ahead of this event".
Men's race:
When Rodrigue Kwizera began to push the pace for the first time with 14 minutes on the clock, the lead pack whittled down to Yayha Aouina, Spanish 3000m steeplechase Fernando Carro and 1500m specialist Sergio Pianagua.
Kwizera broke away from his rivals before the bell and launched his kick on a downhill section to cross the finish line in 29:59. Pianagua took second place beating Carro by three seconds.
"I wanted to make amends for what happened last year, so my win today makes me happy. Tomorrow I will be traveling for a 25-day training camp in the altitude of Sierra Nevada. My primary goal this winter is the World Cross Championships in Bathurst where I want to win a medal", said Kwizera.
-->