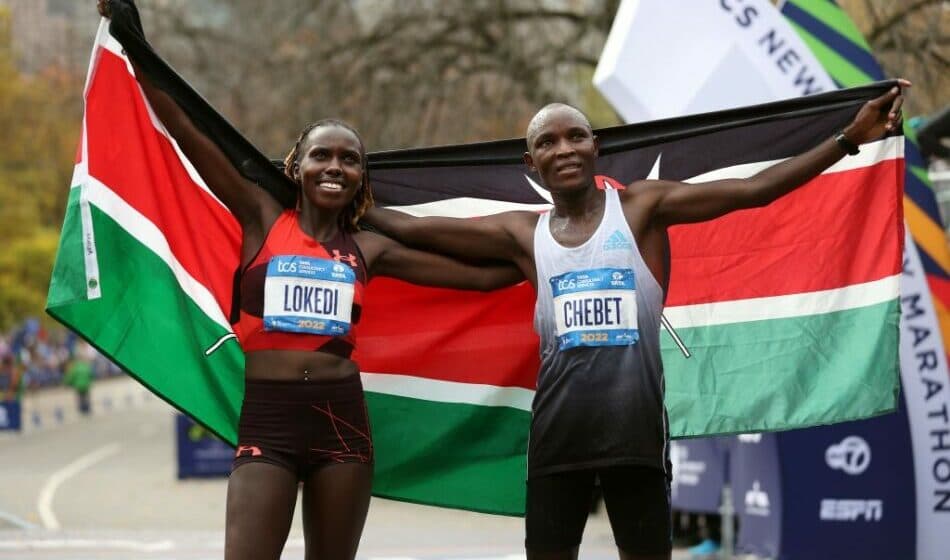 Evans Chebet and Sharon Lokedi claimed a Kenyan winning sweep at the 51st edition of the TCS New York City Marathon, a World Athletics Platinum Marathon, and a World Marathon Majors race. Both Kenyan runners competed in the New York Marathon for the first time in their careers.
Chebet crossed the finish line in Central Park in 2:08:41, completing a double win in the two US top races in Boston and New York in the same year. Former London Marathon champion Shura Kitata finished runner-up in 2:08:54.
Chebet has become the first man to score the New York-Boston double in the same year since Geoffrey Mutai in 2011.
Olympic silver medallist Abdi Nageeye finished third in 2:10:31.
Brazil's Daniel Do Nascimento made an early break from the rest of the field at 5 km.
Do Nascimento reached the 10 km mark in 28:42 with a lead of 97 seconds over the chasing pack and went through the 21 km in a sensational 1:01:22 on the challenging New York course, on course to smash the course record of 2:05:06 set by Geoffrey Mutai in 2011. He built a lead of more than two minutes over the chasing group.
The Brazilian runner, who set the South American record of 2:04:51 in Seoul last April, led by more than two minutes through the 24 km, but he began to slow. He took a toilet break at 28 km. He went through the 30 km mark in 1:29:09, just over a minute ahead of Chebet. Do Nascimento had a lead of just 40 seconds by 32 km.
The Brazilian athlete stopped running and crashed to the ground at 32 km just before reaching Manhattan. Chebet pulled away from the pack chasing Do Nascimento as they headed over the bridge into Manhattan and took a 30-second lead over Kitata and Nageeye.
Kitata had a strong finish, but Chebet held on to his lead and crossed the finish-line in 2:08:41. Last years second placer Mohamed El Aaraby finished fourth in 2:11:00 ahead of Japanese runners Suguru Osako (2:11:34) and Tetsuya Yoroizaka (2:12:12). Last year's New York winner Albert Korir crossed the finish-line in seventh place in 2:13:27 two seconds ahead of 2014 European champion Daniele Meucci from Italy, who achieved the best result in his three career appearances in New York.
Chebet, coached by Italian trainer Claudio Berardelli, completed an excellent marathon year in which two of his athletes, Amos Kiruto and Benson Kipruto, won two more World Marathon races in London and Chicago, respectively.
Evans Chebet: "Boston was harder, and it prepared me for the win in New York. I trusted that I would eventually overtake Do Nascimento. I knew how far in front he was. It was hot and humid. I have a lot of experience, and I knew that I was going to pass him".
Women's race:
A sizeable big group featuring world champion Gotytom Gebreslase, two-time world 5000m champion Hellen Obiri, Lonah Salpeter, and Sharon Lokedi went through the 10 km in 34:24 before reaching the halfway mark in 1:12:17. The leading pack whittled down to eight women. Gebrselase, Obiri, and Viola Cheptoo Lagat broke away from the rest of the field, reaching the 30 km mark in 1:42:27. Salpeter, Lokedi, and Edna Kiplagat were running in the chasing group 11 seconds behind the leading pack.
Salpeter and Lokedi caught the leading trio a few km later, and Cheptoo began losing ground.
A quartet formed by Gebrselase, Obiri, Lokedi, and Salpeter remained in contention in the closing stages of the race in Central Park.
Obiri was the first to drop back. Gebrselase was the next to lose ground.
Lokedi pulled away from world bronze medallist Lonah Salpeter Chemtai from Israel with one mile to go and took a surprising win on her debut over the distance by a margin of seven seconds over Salpeter. Lokedi missed Margaret Okayo's course record by 48 seconds.
Gebrselase finished third in 2:23:39. Edna Kiplagat finished fourth nine days before her 43rd birthday.in 2:24:18, she ran four minutes faster than her winning time in 2010. Cheptoo took fifth place in 2:25:34 ahead of Obiri (2:25:49). Aliphine Tuliamuk was the top US finisher in seventh place in 2:26:18.
Lokedi started running two miles to and from school every day as a child. When she was 14 years old, her family fled their home in Burnt Village, which became an area of violence after a Kenyan Presidential Election. Her family lived with no shelter or a source of food before returning home after the conflict ended.
Lokedi won the 10000m title at the NCAA Championships while studying at the University of Kansas. She finished fourth in the New York Half Marathon last March and in the Great Manchester Run over 10 km.
Sharon Lokedi: "I am out of words. I am excited that I have just won. I don't know what to say. I am happy that I managed to do it here. The course was amazing. I received cheers from the crowd. I am just going to enjoy this. I am going to go back to my training base in Arizona. We are going to lay out the plan for moving forward. I did not expect to win, but I expected to run well".
-->