Istanbul Marathon targets Turkish Allcomers' Record

Posted by:
Races News Service
Thursday, 27 October 2022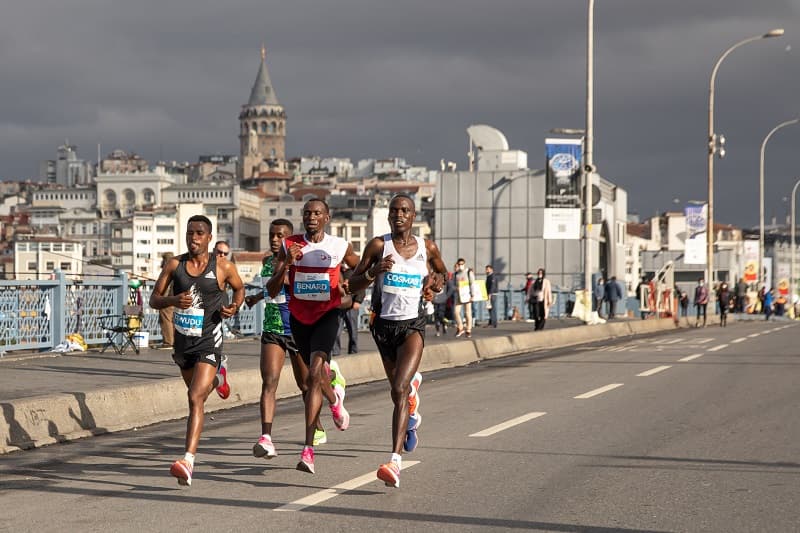 The course record and the Turkish allcomers' record will be targeted at the N Kolay Istanbul Marathon on 6th November. To achieve these goals for the men's race organisers have put together an elite field with very good strength in depth. Seven men are on the start list who feature personal bests of sub 2:08. Bahrain's Marius Kimutai heads the current list with a time of 2:05:47. In the women's race Kenyan Agnes Barsosio is the fastest on paper with a PB of 2:20:59. Turkey's premier marathon race, which uniquely starts on the Asian side of the Bosphorus and then leads the runners over the July 15 Martyrs Bridge into the European part of the city, will be staged in Istanbul for the 44th time. A total of 60,000 runners are expected to take part including races at shorter distances.
"The world's only intercontinental marathon is being conducted for the 44th time. In the race which starts in Asia and ends in Europe with the bridge connecting two continents, the participants enjoy Istanbul, the Bosphorus, and the historical peninsula of the 2000-year-old city with its finish in Sultanahmet Square, the historical center of Istanbul. A fast race is anticipated among the elite athletes competing in the race," said Renay Onur, the Race Director from Spor Istanbul. His organising team achieved a remarkable feat by staging the N Kolay Istanbul Marathon and its sister race, the N Kolay Istanbul Half Marathon, throughout the pandemic in 2020 and 2021 with an exceptional effort. Both events are Elite Label Road Races of World Athletics, the international athletics federation.
Back in 2019 Kenyan Daniel Kibet established the current record of 2:09:44 while Turkey's allcomers' record currently stands at 2:09:27. These are the times organisers had in mind when they assembled the men's elite field. Former Kenyan Marius Kimutai ran his PB of 2:05:47 when he was third in Amsterdam in 2016. On two more occasions the 29 year-old achieved times faster than 2:07. Competing for Bahrain for the first time he took the Rotterdam Marathon with 2:06:04 in 2017 and a year ago he finished sixth in Barcelona with 2:06:54. Two other athletes on Istanbul's start list have run sub 2:07 times: Kenya's Samuel Kosgei, who is the former 25k world record holder (1:11:50 in Berlin in 2010), won the 2021 Barcelona Marathon with 2:06:04 and Ethiopia's Abayneh Ayele clocked 2:06:45 in Dubai where he was sixth in 2016. In the same year Ayele was fourth in the World Half Marathon Championships, where he just missed out in the fight for the bronze medal against Britain's Mo Farah. Both were given the same time of 59:59.
Tadesse Mamo is a runner who has shown very promising form earlier this year. The Ethiopian ran the best race of his career when he took second in Rome with 2:07:04, which was his first sub 2:10 time. Meanwhile Robert Kipkemboi returns to the N Kolay Istanbul Marathon where he was the runner-up a year ago. Showing one of his best performances he clocked 2:10:23 in 2021 while his personal best is 2:07:09 from Seoul in 2019. The other two runners with PBs of sub 2:08 on the start list are Ethiopia's Alemayehu Mekonen and Evans Kiplagat of Azerbaijan with 2:07:23 and 2:07:46 respectively.
In contrast to the men's race Istanbul's world-class course record of 2:18:35 set by Ruth Chepngetich in 2018 will most likely remain unchallenged. Fellow-Kenyan Agnes Barsosio is the fastest runner on the women's elite start. She clocked 2:20:59 when she finished second in Paris in 2017. While this was five years ago and she turned 40 earlier this year Barsosio showed excellent form this spring: She won the Nairobi Marathon, running 2:24:45 despite the high altitude.
Three other athletes with personal bests of sub 2:27 have achieved strong results and PBs this spring: Sechale Dalasa was the winner of the Rome Marathon with 2:26:09 while fellow-Ethiopian Melesech Tsegaye clocked 2:24:47 for fourth place in Milan. Despite her age of 34 Judith Jerubet is still a newcomer in international road running. She ran her first major race in 2021 and this year improved to 2:26:17 when she was third in Daegu, South Korea.
Trying a comeback Turkey's national record holder Sultan Haydar surprisingly entered the N Kolay Istanbul Marathon more than six years after competing in the Rio Olympic Marathon where she finished in 111th position. The 35 year-old established the current national record of 2:24:44 back in 2015 in Dubai. It will be interesting to see what Sultan Haydar can achieve on home soil in Istanbul after such a long break.
More information and online entry is available at: https://maraton.istanbul
-->