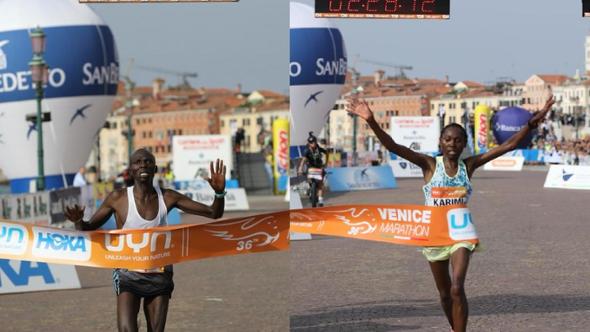 Solomon Mutai from Uganda won the men's race at the 36th edition of the Venice Marathon in 2:08:10, improving the course record held by John Komen since 2009 with 2:08:13.
A group of eighteen runners led by pacemakers Solomon Maritim and Jacob Kirui went through the 5 km in 15:01, the 10 km in 30:01, the 15 km in 45:15. The leading pack that included Emmanuel Naibei, Emmanuel Sikiuku, Solomon Mutai, Dumecha Lemi, Robert Kipchirchir, John Langat, Gashahun Talahun and Hailu Negasa reached the halfway mark in 1:03:56 inside the course record.
An African trio formed by Mutai, Sikuku, and Naibei pulled away at the 30 km mark, which they reached in 1:31:08.
Mutai, who won the world championships bronze medal in Beijing 2015, broke away from Emmanuel Rutto Naibei at 34 km on the Ponte della Libertà when the Venice Marathon reached the decisive stage.
With 4 km to go, the Ugandan runner took the wrong way at a crossroad, but he returned to the right course and managed to win with a lead of one minute and a half over Naibei, who crossed the finish line in second place in 2:09:41.
Tefesa Abebe Dalelegn from Ethiopia also dipped under the 2:10 barrier setting his PB with 2:09:54 completing the best-ever edition for depth of results.
Mutai missed the chance to break the 2:08 barrier, but he improved his previous lifetime best of 2:08:25, set in Vienna in 2019. He has become the first Ugandan runner to win the Venice Marathon.
"It was a good race, but the course was a bit challenging because of the 14 bridges. I started my running career because other runners inspired me in my country", said Mutai.
Lucy Karimi wins the women's race:
Kenyan runner Lucy Karimi triumphed in the women's race in 2:28:12, scoring the 14th Kenyan win in the history of the Venice Marathon. Rebecca Kangogo Chesir and Caroline Jebet Korir completed the Kenyan podium finishing second and third, respectively in 2:29:14 and 2:29:46.
A leading pack formed by Rebecca Chesir Kangogo, Siyum Alemayehu, Jifar Fantu Zewude, Caroline Kirui Jebet, Elvanie Nimbona, Amane Gemeda Gobena, and Lucy Karimi went through at 15 km 52:01 and 21 km in 1:13:11.
The group was whittled to five athletes at 30 km when Korir, Chesir Kangogo, Jifar, and Karimi pulled away from the rest of the field.
Karimi launched her decisive kick at 35 km, building up a gap of 18 seconds over Chesir.
Karimi set her PB of 2:24:24 in Geneva in 2021 and clocked two more sub-2:26 times in Prague in 2016 with 2:24:46 and Rotterdam in 2017 with 2:25:17.
-->