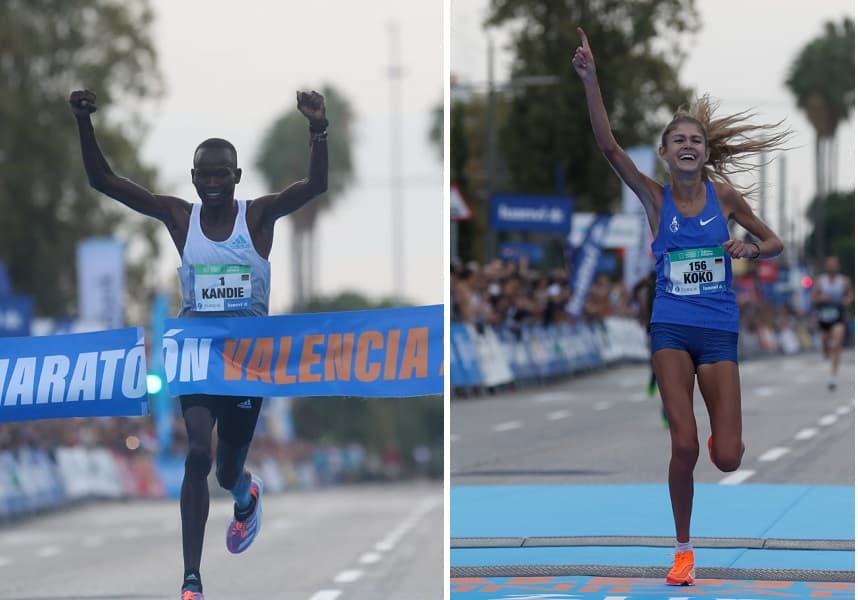 European 5000m champion Konstanze Klosterhalfen from Germany won the women's race at the Valencia Half Marathon Trinidad Alfonso (World Athletics Elite Label Race) in 1:05:41 on her debut over this distance and just her fourth road race, becoming the third fastest European athlete in history over this distance behind Sifan Hassan from the Netherlands (1:05:14) and 2020 World Half Marathon silver medallist Melat Kejeta from Germany (1:05:18).
Klosterhalfen was the first non-African runner to win in Valencia since 2003.
The top three finishers ran 66 minutes or quicker. Tsigie Gebreselama from Ethiopia finished runner-up in 1:05:45 ahead of Hawi Feysa (1:06:00), Agnes Ngolo (1:06:38), Margaret Chelimo from Kenya (1:06.50).
The leading group featuring Klosterhalfen, world 10000m silver medallist Margaret Chelimo, Vicoty Chepnggeno, Ngolo, Feysa and Gerbrselama went through the 5 km in 15:29 and the 10 km 31:08, inside 1:05 pace. They covered the next 5 km section in 15:35. Klosterhalfen Feya and Gebreselama broke away from the rest of the field with 2 km to go. Klosterhalfen built up with 1 km to go.
Klosterhalfen trained in Kenya to prepare for this race.
Konstanze Klosterhalfen: "I am very surprised and excited about what I achieved today. I could not have picked a better place to start with. I will try to improve my time at the next half marathon. I only lost a bit of time in the last 3 km. I will work on that for the next race and hopefully I can break the German record. I chose Valencia because of the fast times set over the past years and my decision proved to be right".
Former record holder Kibiwott Kandie from Kenya won the men's half marathon race in 58:10 becoming the second fastest runner in the world this year behind Jacob Kiplimo, who clocked 57.56 in Ras Al Khaimah last February.
Kandie won the Spanish half marathon race for the second time in his career two years after setting the previous world record of 57.32 on this course.
Yomif Kejelcha from Ethiopia finished second improving the Ethiopian record to 58:32. Kenya's Daniel Mateiko and 3000m former world under 20 champion Tadese Worku from Ethiopia broke the 59 minutes barrier clocking respectively 58.40 and 58:47. Sebastian Sawe from Kenya, who won two half marathon races in Seville and Roma Ostia, set the third fastest time in his career finishing fifth in 59.04.
The leading group featuring Kandie, Sawe, Mateiko, Rodgers Kwemoi, Yomif Kejelcha and Tadese Worku went through the first 5 km in 13:56 on schedule for a final time of 58:40. They reached the 10 km in 27:51.
Kandie broke away at 13 km to open up a big lead over Mateiko, Kejelcha and Worku. Kandie reached the 15 km in 41:17 after a fast split in 2:39 in the 14 km. Kandie covered the 5 km section between 10 and 15 km in 13:26.
Kibiwott Kandie: "I have been preparing so hard for this race over the last two months and that effort has paid off today. Despite the humidity, I felt great throughout and decided to increase the pace after midway. I am quite satisfied with my performance".
TOP RESULTS MEN
1. Kandie Kibiwott (KEN) - 58:10
2. Yomif Kejelcha (ETH) - 58:32
3. Daniel Kibet Mateiko - 58:40
4. Tadese Worku - 58:47
5. Kennedy Kimuati - 59:04
6. Sebastiean Kimaru Sawe - 59:04
7. Ronald Kiprotich Kirui - 1:00:10
8. Isaac Kipkemboi - 1:00:12
9. Edward Kimutai Cheserek - 1:00:14
10. Weldon Kipkirui Langat - 1:00:28
TOP RESULTS WOMEN
1. Konstanze Klosterhalfen - 1:05:41
2. Tsigie Gebreselama - 1:05:46
3. Hawi Feysa Gejia - 1:06:00
4. Margaret Chelimo - 1:06:50
5. Magdalena Shauri - 1:07:09
6. Irne Kimais - 1:07:12
7. Purity Komen - 1:07:29
8. Yasemin Can - 1:07:46
9. Vicoty Chepngeno - 1:07:55
10. Dorcas Kimeli - 1:08:16
-->