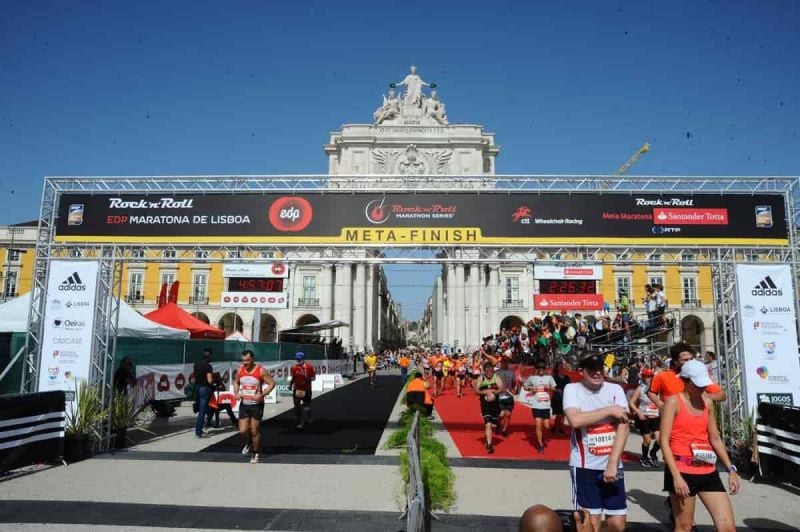 Results for the 2022 EDP Lisbon Marathon, a World Athletics elite label road race.
Event Date: Sunday, October 9
Ethiopia's Andualem Shiferaw and Kenya's Bornes Kitur were the winners of the 2022 EDP Lisbon Marathon on Sunday (9). Shiferaw won the men's race, clocking a new course record at 2:05:45, while Kitur took the women's title in 2:24:17, missing the event record by 3 seconds. The top five runners in the men's race broke the 2 hours and 10 minutes barrier meanwhile in the women's race the top six finished the course inside 2 hours and 30 minutes.
Top Results Men Marathon
| POS | NAME | COUNTRY | RESULT |
| --- | --- | --- | --- |
| 1 | ANDUALEM BELAY SHIFERAW | ETH | 02:05:45 |
| 2 | HAFTU TEKLU ASEFA | ETH | 02:06:33 |
| 3 | BIRHAN NEBEBEW TESFAYE | ETH | 02:07:04 |
| 4 | JULIUS KIPKORIR TUWEI | KEN | 02:08:23 |
| 5 | TSEDAT ABEJE AYANA | ETH | 02:08:32 |
| 6 | MEKUANT AYENEW GEBRE | ETH | 02:10:13 |
| 7 | DEBEKO DAKAMO DASA | ETH | 02:10:31 |
| 8 | PAUL EYANAE | KEN | 02:13:46 |
| 9 | NICHOLAS KIRWA | KEN | 02:14:31 |
| 10 | BELACHEW ALEMAYEHU AMETA | ETH | 02:14:51 |
Top Results Women Marathon
| POS | NAME | COUNTRY | RESULT |
| --- | --- | --- | --- |
| 1 | BORNES JEPKIRUI KITUR | KEN | 02:24:17 |
| 2 | SOROME NEGASH AMENTE | ETH | 02:25:57 |
| 3 | BUZUNESH GETACHEW GUDETA | ETH | 02:26:01 |
| 4 | URGE DIRO SOBOKA | ETH | 02:27:34 |
| 5 | FOZYA JEMAL AMID | ETH | 02:28:30 |
| 6 | ZERFIE LIMENEH TESEMA | ETH | 02:29:56 |
| 7 | JANE JELAGAT SEUREY | KEN | 02:30:34 |
| 8 | TSEDAL GEBRETSADIK CHEKOLE | ETH | 02:35:30 |
| 9 | JOANA FONSECA | POR | 02:40:24 |
| 10 | GETE GUTA GALATO | ETH | 02:43:01 |
-->