London Marathon Final Men's and Women's Elite Fields

Posted by:
Watch Athletics
Friday, 30 September 2022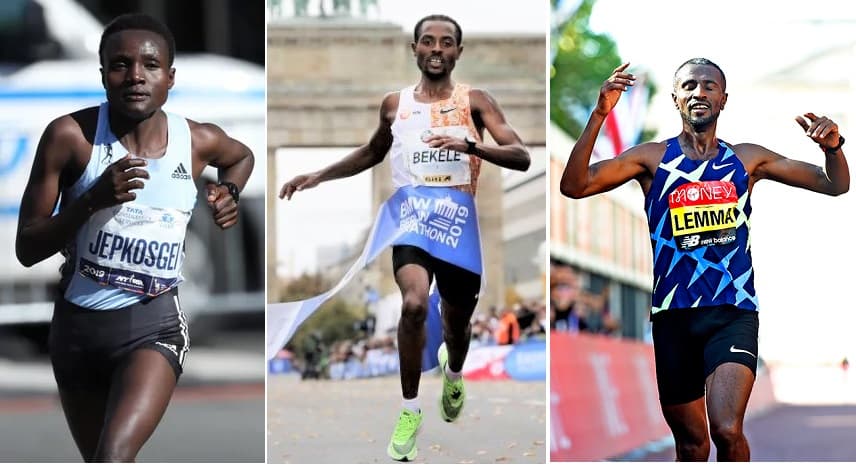 The iconic London Marathon takes place this Sunday, October 30, and the men's and women's elite fields once again are amazing.
The women's elite field has extraordinary depth for the 2022 London Marathon. For the first time in history, a single marathon race will feature no less than seven ladies with lifetime bests under 2 hours and 19 minutes. The field will is led by the defending champion Joyciline Jepkosgei from Kenya. Jepkosgei set her personal best time and #8 all-time of 2:17:43 to win London last year. Her strongest opponent in London on Sunday will be Ethiopia's Yalemzerf Yehualaw, who won Hamburg marathon in April with 2:17:23, the fastest debut marathon in history. Another solid runner that will be in the mix for the win on Sunday will be the 2019 Berlin marathon winner Ashete Bekere who holds a PB of 2:17:58, and world championships silver medalist Judith Korir who has a PB of 2:18:20.
Men's Elite Field
Several elite runners withdrew from the men's field over the last four weeks. Tamirat Tola, a 2:03:39 marathoner, dropped the race in August, while two weeks ago, Mosinet Geremew, the 4th fastest marathon of all time with 2:02:55 PB, had to withdraw with an injury. This week, Vincent Kipchumba, 2nd in London in 2020 and 2021, also scraped. Lastly, Great Britain's great Mo Farah scratched out on Wednesday with a hip injury.
The field still contains a mouth-watering list of long-distance running talent, featuring six runners with personal best marks inside 2 hours and 4 minutes. No other marathon in history has gathered that many sub-2:04 marathon runners.
The race in London is headed by last year's champion Sisay Lemma. However, a of attention will go to Ethiopian legend Kenenisa Bekele, who, at the age of 40, will attempt to take the top position in London. The 3rd fattest marathoner in history, Birhanu Legese, the Olympic games and world championships bronze medalist Belgium's Bashir Abdi, will be attempting to win first title at a major marathon.
Women's Elite Field
Joyciline JEPKOSGEI - KEN - 2:17:43
Yalemzerf YEHUALAW - ETH - 2:17:23
Ashete BEKERE - ETH - 2:17:58
Joan Chelimo MELLY - ROU - 2:18:04
Sutume Asefa KEBEDE - ETH - 2:18:12
Judith Jeptum KORIR - KEN - 2:18:20
Alemu MEGERTU - ETH - 2:18:51
Hiwot GEBREKIDAN - ETH - 2:19:10
Mary NGUGI - KEN - 2:21:32
Charlotte PURDUE - GBR - 2:23:26
Reia IWADE - JPN - 2:23:52
Ai HOSODA - JPN - 2:24:26
Stephanie TWELL - GBR - 2:26:40
Rose HARVEY - GBR - 2:27:20
Marci KLIMEK - USA - 2:30:48
Emma STYLES - GBR - 2:37:36
Men's Elite Field
Sisay LEMMA - ETH - 2:03:36
Kenenisa BEKELE - ETH - 2:01:41
Birhanu LEGESE - ETH - 2:02:48
Amos KIPRUTO - KEN - 2:03:13
Bashir ABDI - BEL - 2:03:36
Kinde ATANAW - ETH - 2:03:51
Leul GEBRESILASE - ETH - 2:04:12
Naoki OKAMOTO - JPN - 2:08:04
Naoki AIBA - JPN - 2:08:44
Kohei FUTAOKA - JPN - 2:09:14
Brett ROBINSON - AUS - 2:10:55
Weynay GHEBRESILASIE - GBR - 2:12:17
Mohamud AADAN - GBR - 2:12:20
Jia ERENJIA - CHN - 2:12:44
Philip SESEMANN - GBR - 2:12:58
Edward GODDARD - AUS - 2:13:45
Matthew LEACH - GBR - 2:15:31
Ross BRADEN - GBR - 2:16:48
Tony Ah-Thit PAYNE - THA - 2:16:56
Andrew MCCANN - USA - 2:17:35
Alexander LAWRENCE - GBR - 2:17:41
William STRANGEWAY - GBR - 2:18:01
Nick BOWKER - GBR - 2:18:09
Matthew CREHAN - GBR - 2:18:16
Kieran WALKER - GBR - 2:19:36
Yoann KOWAL - FRA - Debut
-->